How to Use a Ninja Blender for Juicing: A Comprehensive Guide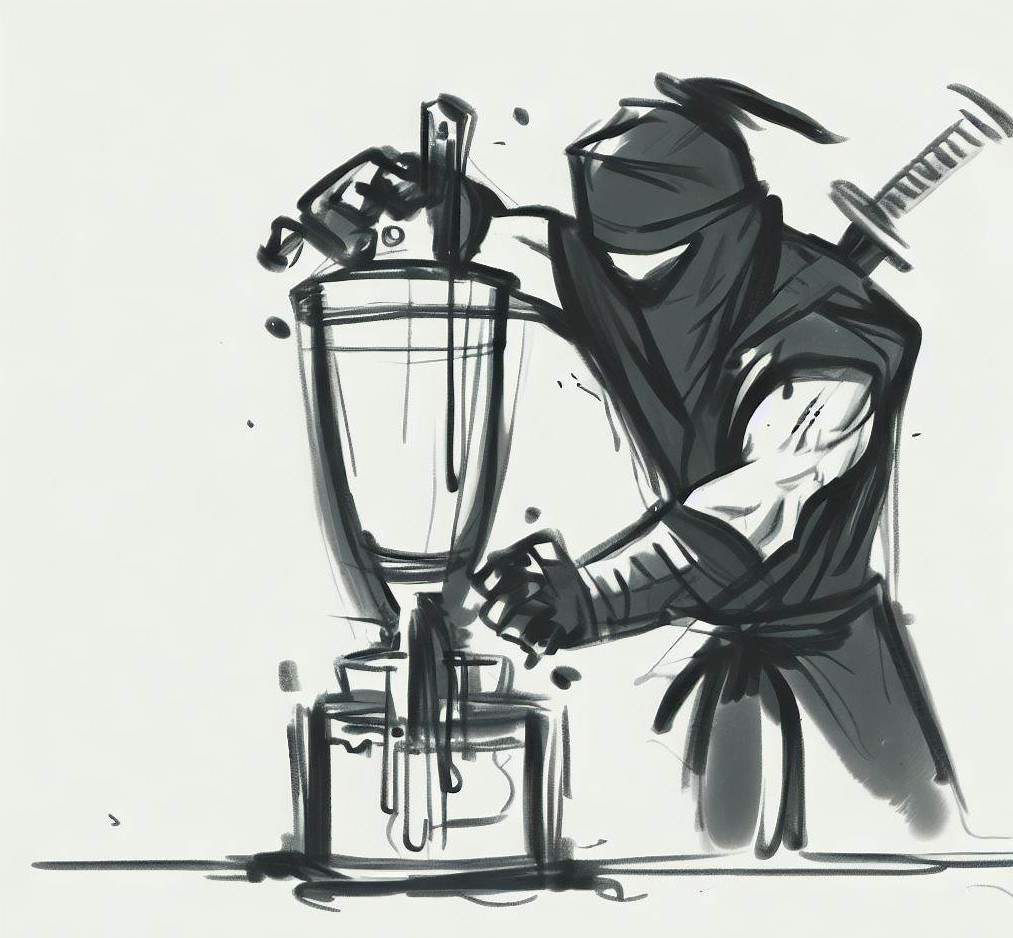 Ninja blenders have gained immense popularity for their versatility in the kitchen. While they are widely recognized for their prowess in making smoothies and crushing ice, did you know that you can also use your Ninja blender for juicing? Yes, you read that right! In this comprehensive guide, we'll walk you through the step-by-step process of harnessing the juicing potential of your trusty Ninja blender.
The first "fancy" blender I ever had was a Ninja blender. I upgraded my super cheap blender to a Ninja and it was amazing! That is also the first time I tried making juice with a blender. I quickly found out that it's easy to use a Ninja blender for juicing. It was a great way to see if I like juicing without spending a ton of money.
If you've ever hesitated to invest in an expensive juicer or have been curious about how to make fresh, healthy juice at home without breaking the bank, you're in the right place. Ninja blenders are affordable, efficient, and can be a game-changer for your daily dose of fresh juice. Say goodbye to store-bought juices laden with additives and sugar and hello to the goodness of homemade, nutrient-rich juice.
In this blog post, we'll cover everything you need to know to start juicing with your Ninja blender, from the essential preparation steps to a delicious Ninja blender juice recipe. We'll also explore the advantages of using a blender for juicing over traditional juicers. So, let's dive right in and unlock the full potential of your Ninja blender for juicing!
Table of Contents
Uses Of Ninja Blenders: More Than Just Smoothies
Ninja blenders are known for their impressive ability to blend up silky smooth smoothies and crush ice effortlessly. However, what often goes unnoticed is their capacity to become your go-to tool for creating fresh and nutritious juices right in the comfort of your own kitchen.
Why Choose a Ninja Blender for Juicing?
Cost-Effective: One of the standout advantages of using a Ninja blender for juicing is its cost-effectiveness. Unlike dedicated juicers, which can be quite expensive, Ninja blenders offer a budget-friendly alternative without compromising on performance. You don't need to make a significant financial investment to enjoy the benefits of fresh juice. If you're not sure about juicing, a blender is a low-risk item to buy as you can also use the blender for soups, smoothies, salsas, dips, and more.
Versatility: Ninja blenders are incredibly versatile. In addition to juicing, they can handle a wide range of kitchen tasks, from making smoothies and soups to mixing batters and grinding spices. This versatility makes them a valuable addition to any kitchen.
Ease of Use: Making juice with a Ninja blender is simple and straightforward. You don't need to be a culinary expert to create delicious and healthy juices. With the right techniques and a bit of preparation, you can be well on your way to enjoying fresh juice in no time.
Minimal Preparation: Unlike some juicers that require meticulous preparation of ingredients, Ninja blenders can often handle whole fruits and vegetables with minimal chopping. This means less prep time and more convenience.
Efficient Cleaning: Cleaning a Ninja blender is a breeze, thanks to its removable blade and easy-to-clean components. You can spend less time on cleanup and more time savoring your homemade juice.
Now that you know why Ninja blenders are a fantastic choice for juicing, let's explore the step-by-step process of using your Ninja blender to make fresh, delicious juice. With the right techniques and a few handy tips, you'll be able to create a variety of juices tailored to your taste preferences and dietary needs. You might find yourself using your Ninja blender for juicing daily.
The Key to Successful Juicing with Your Ninja Blender
Using your Ninja blender for juicing is not just about tossing in some fruits and vegetables and hitting the power button. To achieve the best results and extract the most flavor and nutrients from your ingredients, you'll want to follow a few essential steps and techniques. In this section, we'll delve into the specifics of preparing and using your Ninja blender for juicing.
Preparing Your Ingredients
To juice effectively with your Ninja blender, start by slicing your fruits and vegetables into smaller pieces that can easily fit into the blender's cup. While some ingredients can be juiced whole, it's generally a good practice to chop them into manageable chunks. The goal is to make sure that the chunks can easily move around your blender without getting stuck. When using a Ninja blender for juicing you need to fully blend each ingredient.
Keep in mind that the water content of your ingredients varies. So, for a smooth blending process, consider adding a bit of water if needed. Softer fruits and vegetables with higher water content may not require extra liquid, while denser ones, like apples, can benefit from a splash of water to help the blending process along. This simple preparation step ensures efficient juicing and a smoother texture in your final product.
The Juicing Process
Now that you've gathered your equipment, let's dive into the juicing process:
Chop Your Ingredients: Start by cutting your fruits and vegetables into small pieces. While some fruits and vegetables can be juiced whole, it's usually better to chop them into smaller chunks to ensure efficient blending. Berries are an exception and can often be blended whole. In this sense a Ninja blender for juicing is similar to one used for making smoothies.
Add Water as Needed: Depending on the juicer you're trying to make and the water content of your ingredients, you may need to add a bit of water to facilitate blending. Soft fruits and vegetables with high water content may not require additional water, while harder ones like apples might benefit from a splash. Feel free to use something like left-over juice from your last batch or almond milk. The liquid is just needed to make sure the blending goes smoothly.
Blend Until Smooth: Place the chopped ingredients in your Ninja blender's cup and blend until everything is thoroughly combined. The blending time may vary based on the ingredients and your desired consistency. If you need to you can turn the blender off and use a rubber spatula to mix things up and then try blending again.
Strain the Mixture: To separate the juice from the pulp, use a fine mesh strainer. Alternatively, you can employ a nut milk bag placed over another medium-sized bowl. For those seeking a pulp-free experience, line your strainer with paper towels to ensure only the juice passes through. You can add the pulp to a compost pile or even try to cook with it.
Extract Every Drop: Use a rubber spatula, wooden spoon, or a similar utensil to press down on the contents of your strainer, ensuring you extract as much liquid as possible. The use of a Ninja blender for juicing will allow you to easily separate the liquid from the solids.
Enjoy Your Fresh Juice: Pour the freshly extracted juice into a glass, and savor the pure, unadulterated taste of your homemade juice.
The process is remarkably straightforward, and you'll be amazed at how simple it is to create fresh juice with your Ninja blender. No need for expensive juicers or store-bought options filled with additives. With a bit of practice, you'll become a juicing pro in no time, enjoying the full flavor and health benefits of your homemade concoctions. Some people use their Ninja blender for juicing everyday.
Separating Juice from Pulp
As mentioned above, once your ingredients are blended to a smooth consistency in your Ninja blender, the next step is to separate the juice from the pulp. This step ensures a pure, pulp-free juice.
For this purpose, you have two primary options:
Fine Mesh Strainer: Using a fine mesh strainer is a common choice. It effectively strains the mixture, allowing the juice to pass through while retaining the pulp.
Nut Milk Bag: Alternatively, you can use a nut milk bag stretched over another medium-sized bowl. This serves the same purpose as a strainer, with the added benefit of being reusable and easy to clean.
The goal is the same for both options. Squeeze out all the liquid juices from the solid pulp. Think of squeezing out the water from a sponge or wet towel. You need to apply pressure to the blended mixture and the juice will separate and run through the strainer or nut milk bag.
Make sure you have a bowl or jar to capture all the juice you just created.
When using a Ninja blender for juicing you can decide just how much pulp you want. If you want more pulp just use a strainer with larger openings.
The Benefits of Using A Ninja Blender For Juicing
Juicing with a blender offers several notable advantages that make it an appealing choice:
1. Cost-Effectiveness: Using your Ninja blender for juicing is a wallet-friendly option. It eliminates the need for purchasing a dedicated juicer, saving you money in the process. The initial investment in a quality blender is often more affordable, and you can use it for various kitchen tasks beyond juicing.
2. Pulp Control: Blender juicing tends to yield a juice with less pulp compared to traditional juicers. While some may prefer the added fiber in their juice, others enjoy a smoother, pulp-free experience. Blender juicing allows you to tailor your juice's texture to your preferences. You can control how much pulp is in your juice by using different strainers. The more fine the strainer the less pulp.
3. Versatility: Your Ninja blender is a versatile kitchen tool that can handle a wide range of tasks beyond juicing. From making smoothies and soups to grinding spices and mixing batters, it offers multifunctionality, making it a valuable addition to your kitchen.
Incorporating these benefits into your juicing routine can make the process more convenient, cost-effective, and adaptable to your taste and dietary preferences. Using a Ninja blender for juicing is a win-win for both your wallet and your health.
Juicing Ingredients To Use In A Blender
When juicing with a blender, you can use a wide range of ingredients to create delicious and nutritious juices. Here are some excellent ingredients for blender juicing:
Fruits:
Apples: Sweet and add natural sweetness to your juice.
Oranges: Citrusy and high in vitamin C.
Berries (e.g., blueberries, strawberries, raspberries): Packed with antioxidants and a burst of flavor.
Pineapple: Offers a tropical twist and adds natural sweetness.
Grapes: Sweet and can be used as a base for juice.
Bananas: Creamy texture and natural sweetness.
Mango: Adds a tropical flair and a sweet, creamy texture.
Vegetables:
Carrots: Sweet and rich in beta-carotene. These will likely need added water or liquid to fully blend.
Spinach: Mild flavor and high in iron and vitamins.
Kale: Adds a slightly earthy taste and is incredibly nutritious.
Cucumber: Refreshing and hydrating.
Celery: Provides a clean, mild flavor and is hydrating.
Beets: Earthy and vibrant in color; packed with antioxidants. Also might need added liquid when blending/juicing.
Ginger: Adds a spicy kick and has anti-inflammatory properties.
Leafy Greens:
Spinach: Mild and easy to blend with other ingredients.
Kale: Nutrient-dense and offers a slightly earthy flavor.
Swiss Chard: Adds a mild, earthy taste and vibrant color.
Collard Greens: Slightly bitter but packed with nutrients.
Lettuce (e.g., Romaine, Butterhead): Mild and hydrating.
Extras:
Chia Seeds: Add texture, fiber, and omega-3 fatty acids to your juice. You can add these to the blender or to the juice after straining.
Flaxseeds: Rich in healthy fats. Same as above, add before blending or after straining.
Turmeric: Known for its anti-inflammatory properties and earthy flavor.
Cinnamon: Adds warmth and a hint of spice.
Honey or Agave Nectar: For natural sweetness, if needed.
Feel free to mix and match these ingredients to create a variety of flavorful and nutrient-packed juices. The beauty of using your Ninja blender for juicing is that you decide exactly what does and doesn't go into the juice. Remember to balance the flavors and adjust the sweetness according to your taste preferences. Blending with a variety of ingredients allows you to enjoy the health benefits of different fruits, vegetables, and greens.
Frequently Asked Questions (FAQs) About Ninja Blender Juicing
1. Does Ninja Have a Juicer Attachment?
Most Ninja blenders do not come with a dedicated juicer attachment. However, that doesn't mean you can't use them for juicing. Ninja blenders can effectively substitute for juicers, and this blog post explains how to do it. If you're specifically interested in juicing, you may also explore Ninja's Cold Press Juicer as an alternative. It's an excellent product for juicing, and takes less work than juicing with a blender.
2. Is Ninja Fit a Juicer or Blender?
The Ninja Fit is primarily a blender designed for personal shakes, smoothies, frozen blending, and food prep. While its main function is not juicing, you can still use it to make juice by following the techniques outlined in this guide.
3. Can a Ninja Blender Juice Fruit?
Yes, Ninja blenders can be used to juice fruit effectively. While Ninja offers dedicated juicers for this purpose, many Ninja blender models are versatile enough to extract juice from fruits. The key is knowing the right process and preparation techniques, which we've covered in this blog post.
4. How Long Does the Juicing Process Take with a Ninja Blender?
The time required to make juice with a Ninja blender depends on factors like the type and amount of ingredients, as well as your desired consistency. In general, the process should take about 15 minutes or less for a single serving. Keep in mind that as you become more proficient, you'll likely streamline your juicing routine.
Fresh juice lasts for a few days in the refrigerator, so you can always make your juice ahead of time and drink it later.
5. Can I Make Juice with a Nutri Ninja Blender?
Yes, you can use a Nutri Ninja blender for juicing. The Nutri Ninja line of blenders is designed to blend and extract nutrients from fruits and vegetables effectively, making them suitable for juicing when following the techniques outlined in this guide.
6. How Do I Clean My Ninja Blender After Juicing?
Cleaning your Ninja blender after juicing is straightforward and the same as any other blender cleaning. Disassemble the components, such as the blender cup and blades, and wash them with warm, soapy water. Ensure thorough cleaning to remove any residue. Many parts are also dishwasher safe for added convenience.
7. Can I Juice Leafy Greens with a Ninja Blender?
Yes, you can juice leafy greens with a Ninja blender. Leafy greens like spinach, kale, and lettuce can be juiced effectively. Ensure you chop large leafs into manageable pieces and blend them with adequate water to extract their juices efficiently. Making a green juice is a great way to get important vitamins into your diet.
8. Are Blender-Juiced Fruits and Vegetables Healthy?
Yes, blender-juiced fruits and vegetables can be very healthy. You retain the natural vitamins, and minerals present in the ingredients, making your homemade juices a nutritious choice. However, be mindful of your ingredient selection and avoid excessive sugar or additives to maintain their health benefits.
The one big difference between juices and smoothies is that with a juice you are removing the natural fiber (the pulp) from the ingredients. Smoothies keep this fiber. Fiber is useful for digestion health and you should make sure you get enough fiber in your diet from other sources if you are juicing. If you want the benefits of a high fiber diet, try using your Ninja blender for smoothies instead of juices.
Embrace the Simplicity of Blender Juicing
In conclusion, using your Ninja blender for juicing is not only a practical choice but also a healthy one. This versatile kitchen appliance empowers you to create fresh and nutritious juices without the need for expensive juicers or store-bought options filled with additives and preservatives.
The process, as we've seen, is remarkably straightforward, requiring minimal preparation and effort. With a little practice, you'll become a juicing pro, crafting customized juices tailored to your taste and dietary needs. Blender juicing is all about simplicity, affordability, and convenience.
If you're looking for a new blender, check out our blender recommendations. Not just limited to Ninja blenders. All these blenders can be used for juicing and the methods are the same as using a Ninja blender for juicing described above.
Say goodbye to the hassle of shopping for pre-packaged, processed juices and hello to the joy of savoring your homemade creations. Your Ninja blender opens the door to a world of possibilities, allowing you to enjoy the full flavor and health benefits of fresh juice whenever you desire. So, blend away and relish the goodness of homemade juices, made easy with your Ninja blender. Your taste buds and your wallet will thank you!