Going To The Gym After A Tattoo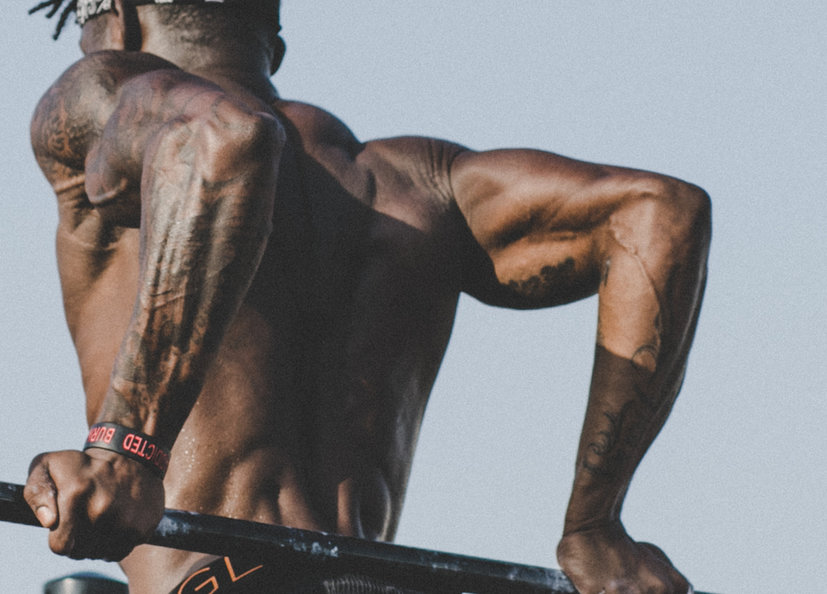 A tattoo will be visible for the rest of your life. How you care for your new tattoo in the first two weeks is more important than how you care for it in the next two years. I wanted to know what the best practices are for going to the gym after a new tattoo. I talked to a few local tattoo artists to find the dos and don'ts of going to the gym with a fresh tattoo.
Anyone who goes to the gym or trains in any other sport knows how important a steady routine is. Weight lifters, runners, rock climbers, etc. will do everything they can to train on a consistent basis. Consistency is key to a good fitness routine. Even a week's break can set you back in your fitness goals. The idea of staying out of the gym while a tattoo heals is difficult to cope with for true gym-rats.
So, can you continue your fitness routine right after you get a tattoo? It depends, but probably not. You're best off taking at least a few days off while your tattoo heals.
Should You Workout Before Getting A Tattoo?
This is something I never thought about, but one of the tattoo artists I talked to actually recommended avoiding the gym, and specifically avoiding weight lifting before getting a tattoo. There are a few reasons for this.
First, tattoos can be painful. If you get a tattoo on a sore muscle the experience will be worse for you and also worse for the tattoo artist. If you are getting a tattoo on a sore part of your body, the additional pain is more likely to make you squirm or ask for breaks. This will not only be annoying, it can lead to a tattoo that is less than perfect.
If you know you are going to get a tattoo in a certain spot, avoid working out those muscles to the point of soreness beforehand.
Another consideration is injury. If you have a tattoo scheduled for a few days, do not participate in sports that are likely to injure that part of your body. A good tattoo artist will refuse to work on injured skin, so don't get bruised up or cut up before your appointment. This is especially relevant for people doing martial arts and other sports when skin injuries are not uncommon.
Basically, you want to go into the tattoo shop with the part of your body that is going to be tattooed feeling healthy and uninjured.
Can You Exercise After A New Tattoo?
So you went in and got your dream tattoo. Can you go back to the gym while the tattoo is healing? It largely depends on the tattoo and what stage of the healing process the tattoo is in.
The First 24 Hours
The tattoo artists I talked to all said to avoid exercise in the first 24 hours. A new tattoo is basically an open wound that needs to heal. This is when your tattoo is most sensitive to becoming distorted or infected. Your body needs to use all its available energy to start the healing process. If you use up your body's energy working out, you will slow down the healing process.
Infection and distortion is a huge concern this early in the healing process. Your tattoo has just begun to heal. The last thing it needs is to be surrounded by all the germs and sweat of a gym. You also should avoid touching the tattoo as much as possible. Especially pressing on it. If you just had a shoulder tattoo and you attempt to do back squats, the bar is likely to screw your tattoo up.
Weight lift is also harmful because when you lift heavy weight your blood pressure goes up. This will increase the chance of unneeded bleeding from your tattoo.
Even a sport like running can have an impact on your tattoo. The way your body hits the ground can aggravate the tattoo, leading to a prolonged healing time.
Take a break and avoid exercise for the first 24 hours.
24-72 Hours After Your Tattoo
Some of the artists I talked to said to avoid working out for at least three days after a tattoo. A few said you might be OK, depending on your tattoo.
For the ones that said you will be OK, it really depend on what size of tattoo you got and what the location on your body is. If you got a small tattoo on your arm, then going and working out your legs is usually going to be OK. If anything, use slightly lower weights.
Continue to avoid working out the part of your body where you tattoo is located. Straining the muscles under a fresh tattoo will slow down the healing process.
Avoid very strenuous exercises. Soaking a new tattoo is a bad idea, and this includes sweating all over your new tattoo. Sweating all over the tattoo help increase the chance of infection and can also distort the ink of your tattoo.
The biggest thing to remember at this point is that you must continue to keep the tattoo clean. Don't go rubbing it against dirty gym benches. Be sure to wash your tattoo after you are done working out, especially is you were sweating. Wash it in the same manner as your tattoo artist told you to. Usually this means gently with your hands, using a mild scent-less soap like Dial Gold.
If you have a larger tattoo, or one that is constantly going to be touched if you are working out, then continue to avoid exercise. Do not play soccer 72 hours after getting a foot tattoo. Do not deadlift after getting a tattoo on your shin.
Post 72 Hours
All the tattoo artists I talked to said that it should be fine to workout after 72 hours have passed, depending on the size and location of your tattoo and depending on what kind of exercise you are doing. Continue to care for your tattoo at this point, taking care not to rub it, stretch it or get it dirty. A tattoo usually takes 2-4 weeks to completely heal. Before a tattoo is healed there is always a danger of damaging the appearance of the tattoo.
Here are some things to continue to think about when working out with a new tattoo:
Avoid The Sun
As your tattoo artist should have told you, avoid the sun, especially when your tattoo is still young. Do not put sun block on a tattoo that is still healing. Instead, just keep it out of the sun. This means, no jogging in shorts on the beach with a new ankle tattoo.
Don't Swim
Swimming and submerging a new tattoo in a hot tub, swimming pool or lake is a recipe for infection. Don't do it. If you are a swimmer, talk to your tattoo artist for when it is safe for you to go back into the pool, but likely it will be a few weeks to a month.
What To Do When Working Out With A New Tattoo
Wear loose fitting clothing that will not irritate the tattoo and that will not pull off the scabs that may be forming on your tattoo. Avoid tight fitting clothing such as yoga pants. A tattoo needs air to heal and the less your clothing touches the tattoo the better.
Be sure your clothes are clean.
Once your tattoo continues to heal you might notice flaking and scabbing on the skin. This is part of the healing process, but you need to avoid pulling off the scabs and flakes. Let them fall off on their own. Be sure that when working out, your gym attire is not going to pull off the scabs from your healing tattoo. This can damage the ink.
Clean Up After Yourself
As mentioned before, a fresh tattoo is basically an open wound. Do everyone else a favor and wipe down and equipment you use after you are done with it. You should be doing this anyway, but it's especially important if you have a new tattoo.
Better Safe Than Sorry
What's worse than a bad tattoo? Damaging a good tattoo so bad that it becomes a bad tattoo.
You're going to have a whole lifetime to go to the gym. Don't worry about missing a few days or even a few weeks. Your tattoo is also going to be there your whole life. Don't damage the new tattoo just because you really had to bench press. It's not worth it.
If you do notice that your tattoo is not healing properly, that it got damaged, or you want to speed up the healing process get some Bio Oil. This is a product developed for stretch marks, but was recommended by a few of the tattoo artists I talked to.