Cleaning Stains From Your Blender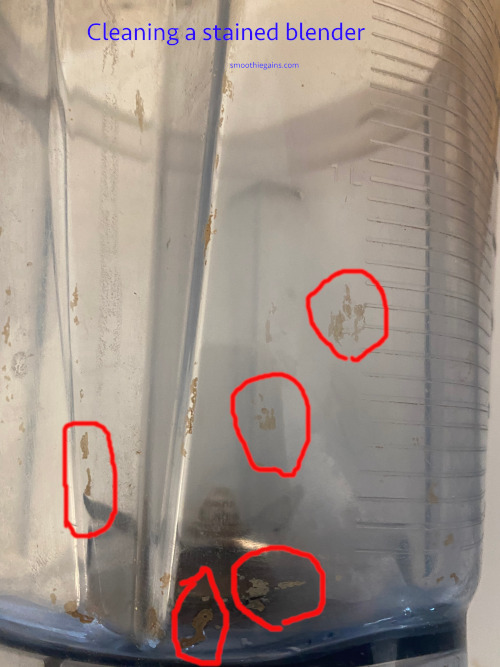 I have had my Vitamix blender for about eight years now. It continues to work great. I make an average of one smoothie a day, which often includes frozen fruit, ice cubes, nut butters, etc. I also regularly use the blender to make soups and anything else that might need a food processor.
After all these years, the jar of the blender has become deeply stained and foggy. I am not sure where these stains originate from. I think it is just due to heavy use and staining from food the same way coffee and tea mugs can get stained over time, even if they are cleaned at a regular basis.
I always wash my blender after using it, sometimes with soap and a sponge, but sometimes I just rinse out the remains of a smoothie with water.
I have a feeling that the staining comes from leaving the blender dirty overnight or long enough for the food particles to dry and attach to the walls of the jar.
Whatever the reason, my blender has become filthy and stained. The above photo is actually the state of the blender during a deep cleaning. I did not think to take a photo of the blender before starting to clean it. So that photo actually looks a lot better than the blender did before I started cleaning off the stains.
How To Clean Deep Stains From The Blender
I think I have figured out the best way to clean an old, stained Vitamix. I imagine this cleaning method will work for other blenders too. Here are the things I tried and how well they worked in cleaning my blender.
Dish Soap and Water?
The first thing I tried was dish soap and water. I put a few drops of dish soap in the blender along with some boiling water. I turned the blender on to high, thinking that it might just clean itself.
This is a fine way to clean a blender between uses, but it does not work for cleaning strains from a blender. This method did nothing for removing the old stains.
I tried to clean the stains using a sponge and scrubbing really hard, but the stains on my blender were set it so deep that I really was not making any progress with soap and water.
So while soap and water are fine for cleaning the inside of the blender, it just does not help for deeper stains.
Vinegar?
Since soap and scrubbing did not help, I figured I would try vinegar. Vinegar is a fairly gentle acid, and is safe to add to foods, so I knew I could try to clean my blender out with vinegar and still be totally safe to drink out of it after.
Vinegar is used in cooking, but is also a common cleaning solution. It is commonly used to clean surfaces in the kitchen and bathroom. It is also added when washing clothes to remove mold and mildew. I thought the acidity of vinegar would loosen the stains enough that I could scrub them off the blender.
Unfortunately, vinegar alone did not do much to help with the stains. Like with soap, the vinegar seemed to help clean the blender at a superficial level, but did not do much to help loosen deep seated stains.
Vinegar and Baking Soda?
Ok, I was starting to get frustrated. I did not want to use a strong chemical cleaning agent on my blender. I feared that too strong of a cleaning agent might damage the plastic components of the Vitamix and I was hesitant to drink out of a blender that I poured bleach into.
Combining baking soda and vinegar is a common cleaning solution found on the Internet. The vinegar is an acid and the baking soda is a base, so they kind of cancel each other out, but they do make a cool bubbling fizz when they are combined. I have actually never found this solution of using a base and an acid to be that great.
I did try it a few times in my dirty blender, and I did start to see results!
I would pour in some baking soda over the stains, then add a cup or two of vinegar and turn the mixer on to its highest setting. That seemed to loosen the stains because I would then pour out the baking soda and vinegar solution and start scrubbing and the stains slowly started to come off. Very slowly.
I did this a couple of times, and every time the blender got a little cleaner, but it was super slow going. It seemed like adding the vinegar to the baking soda was not really doing much. So then I tried…
Baking Soda and Elbow Grease!
The best solution I have found for cleaning my old, stained blender is just baking soda and a lot of scrubbing. As I mentioned above, the photo at the top of this page is what the blender looks like between cleans. You can see some dark stains remain, but there was a lot more of those when I started cleaning the blender, and I think a few more rounds of baking soda and scrubbing will clean the remaining ones off.
Baking soda is a base that is commonly used for cleaning things. I use it for cleaning stains off the stove all the time. What I do is wet the stain by wiping it with a wet sponge. I then cover that with a dusting of baking soda. I leave the baking soda on the stain for around 15 minutes. During this time the baking soda seems to absorb the stain. I then take a wet sponge and start scrubbing the stain. The stain becomes loose and easy to remove.
This is the same method I have been using on the Vitamix and it has worked well. I wet the surface of the stains with a sponge, and then pour in some baking soda. As the baking soda sits and dries on the stain is loosens the stains. After about 15 minutes I take a wet sponge and start scrubbing and the layers of stains start coming off.
My blender way very stained, so it have had to do a few rounds of this. But it is the best solution I have found for removing stains from the blender. And baking soda is natural and safe to consume so I do not have to worry about the next smoothie I make having chemicals in it.