Reddit Shows That You Can Have A High BMI And Still Look Good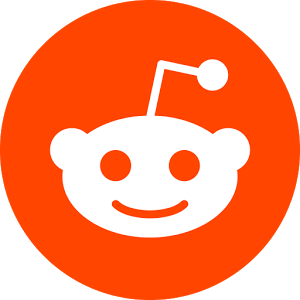 A simple and common way to measure obesity is to use the Body Mass Index (BMI). This is a formula based on a persons height and weight to guess at how much body fat they have. It is not a perfect formula, but it is simple and accurate enough that doctors and scientists have found it to be very useful.
Someone who has a high amount of body fat is much more likely to have health problems. Society also tends to find people with high body fat to be less attractive.
I recently looked at some statistics for two popular fitness transformation subreddits. The first is /r/progresspics. This is a subreddit where users post before and after photos of their diet and fitness progression. The majority of the posters are women who have lost weight. Take a look at all the progresspics statistics that I found.
The second subreddit that I looked at is /r/brogress. This is also a subreddit where users post before and after photos of their fitness progression, but it is almost all men who lift weights, the majority of whom have gained (muscle) weight. See all the statistics on brogress for more information.
I looked at the most upvoted posts for both of these subreddits and compared them to the recommended BMI amounts. I find that the average height to weight ratio for both of these subreddits is above the BMI range. This suggests that one does not have to be within the recommended BMI range to look good.
Brogress v. BMI
Lets start with the brogress subreddit. Most of the end weights in this subreddit are above the recommended BMI range. This makes sense as the BMI is a simple way to measure body fat in the average person. There are much more accurate tools to measure body fat. The people who post on brogress are not average. They are weightlifters and will have a much higher percentage of muscle than the average person.
Muscle weighs more than fat, so someone who is in shape and has a lot of muscle will have a higher body weight even though they do not have a lot of body fat.
Here are the average end body weights for the top male posts on the brogress subreddit compared to the recommended BMI range for each weight. These are the weights that the users were proud enough to post on the subreddit and other users were impressed enough to give them more upvotes than all other posts.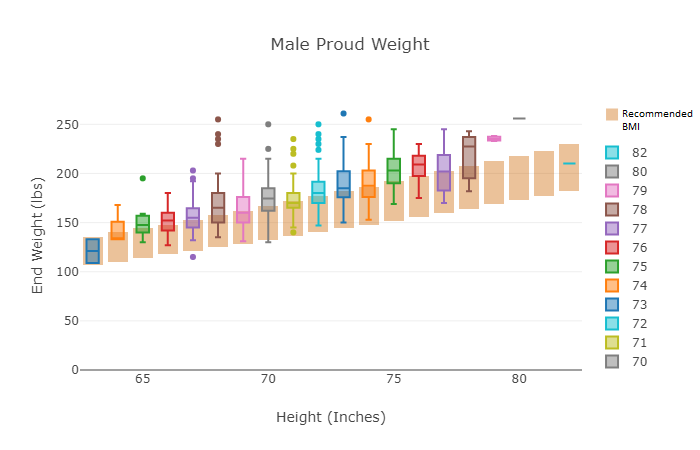 Note that the median weight for a given height seems to hover right above the BMI range. This data includes both, men who gained weight and men who lost weight.
The above indicates that the BMI recommendations should not be used for weightlifters. Remember that these are the most upvoted posts of all time, meaning that these were the most impressive progressions and photos posed on to the brogress subreddit.
Gainers Only
One possible skewing of this data is those who lost weight. It is possible that those who lost weight made great progress, but posted photos to reddit before they reached an ideal weight. Maybe they posted photos when they looked "good enough" or made a lot of progress but are not at their ideal weight.
To account for this, we can look at only those men who gained weight or did not change in weight. These are men who started out skinny and gained weight by building muscle.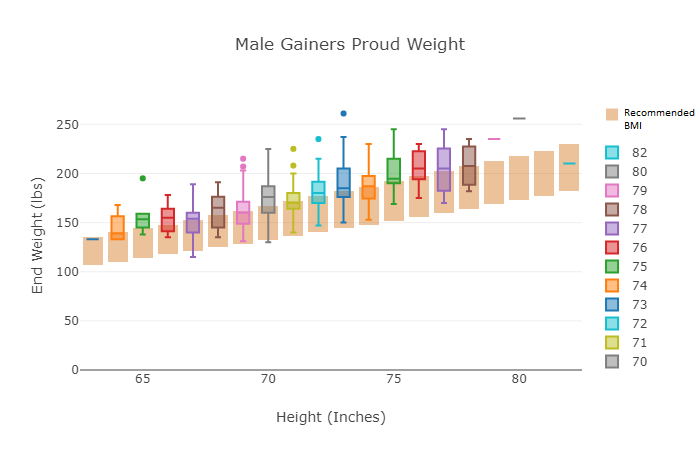 The results are much the same as above. Those who gained or maintained weight also have average weights that hover above the recommended BMI range.
This indicates that for weightlifters and bodybuilders, the BMI calculations are not going to be very useful. If you have a large amount of muscle, do not worry about being within the BMI range. If you are worried about the amount of body fat you have, use a more accurate measure than the BMI range.
Alternatives for measuring body fat can include anything from cheap skin calipers to complex Dual Energy X-Ray Absorptiometry.
ProgressPics v. BMI
The progresspics subreddit is a bit less obvious. This subreddit shows general progress pictures and includes weight loss and weight gain. It has photos of men and women, though women dominate the top posts.
As mentioned before, weight loss photos are a bit tricky because people may post progress photos before they are at their goal weight. If someone went from 400lbs to 250bs, they are likely to get a lot of upvotes because that is a very impressive transformation. 250lbs might not be their end goal weight though.
Even so, these are the top most upvoted posts on /r/progresspics, so the end result must be fairly impressive and good looking. Comparing the end weights of people to the BMI can give a good idea if someone needs to be within the recommended BMI range to look good.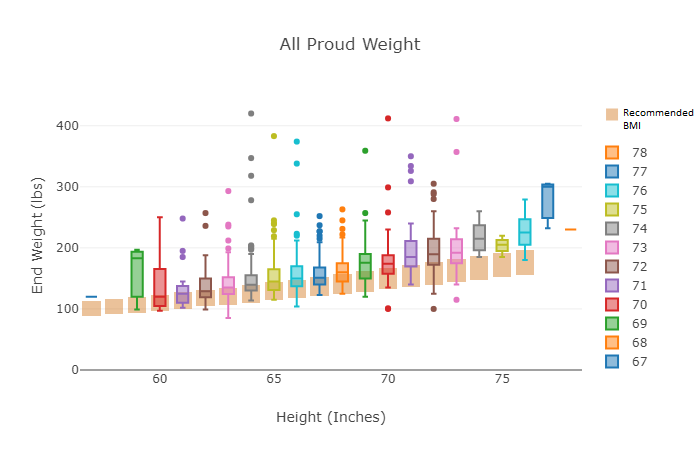 Looking at these results of all posters, men and women, who gained or lost weight, the average end weight is above the recommended BMI range.
Note that the recommended BMI ranges do not vary for men and women.
Men are often more muscular than women, so they may skew the results up a bit. We can take a look at all women posts. Since we already look at those who gained weight by looking at the /r/brogress subreddit, we will also remove those.
The result is over 600 posts showing women who have lost weight. These are the most upvoted progress photos, so the results are likely to be very impressive.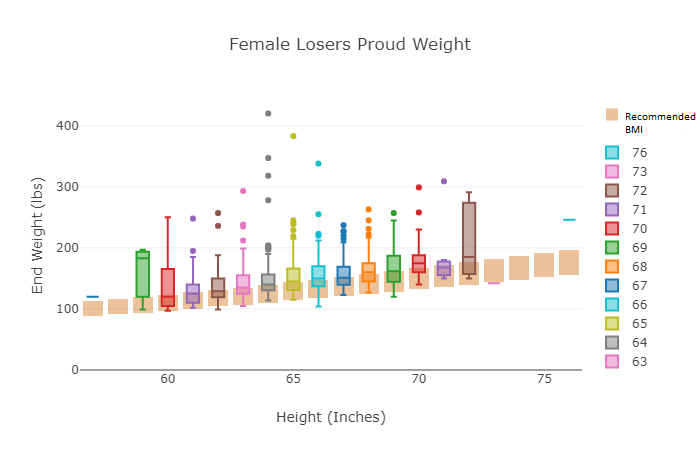 Again, the median weights are right at the top of the BMI range, indicating that someone can look pretty darn good and not be on the BMI range. However, note that there are a lot of outliers that sit well above the median or BMI range.
BMI Good For Indicating Underweight
Another thing worth mentioning is how few posts there are in either subreddit where the end weight is below of the BMI range. These are all individuals recovering from anorexia or other eating disorders.
The lack of posts below the BMI range indicates that the recommended BMI range is good at indicating if someone is underweight. If you weigh less than your recommended BMI, you may think about trying to gain weight.
BMI Health v Looks
Another important thing to remember is that fitness progress photos only show aesthetic changes. They do not have anything to do with health. The main purpose of the BMI range is to allow doctors and scientists to judge human health, not how good people look.
The above reddit data suggests that you can look great and still be above your recommended BMI range. It does not say anything about your health. Everyone is different. If you want to know what a healthy weight for you is, you should talk to your doctor.