Statistics For The Top /r/Brogress/ Posts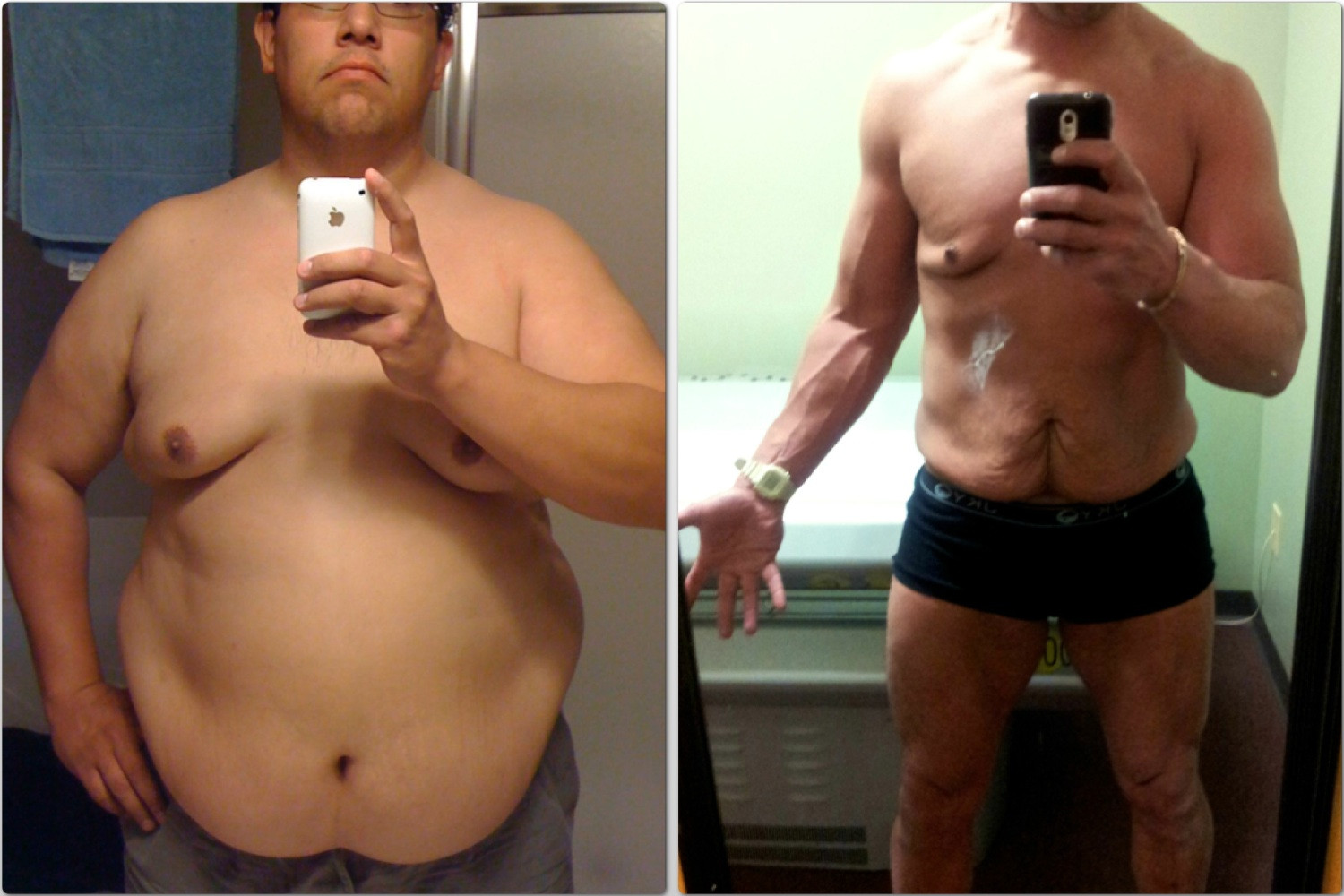 /r/Brogress/ is a Reddit community (a "subreddit") focused on showing off physical improvements to one's body. You can think of is as a forum for posting fitness progress pictures, but instead of focusing on weight loss, like a lot of other communities do, /r/Brogress/ focuses on muscle gain.
Most of the posts are from weightlifters and bodybuilders. People who want to get rid of fat and gain muscle, or people who want to bulk up. The majority of the members of /r/Brogress/ are young males, but there are also women weightlifters and older men who are active on the subreddit.
As with all Reddit communities, users are able to choose the best posts by giving them "upvotes" and "downvotes".
I wanted to find out what I could about the most upvoted /r/Brogress/ posts of all time. I gathered and analyzed over 900 of the top posts in the /r/Brogress/ subreddit. I had to remove some posts that did not have enough relevant information (such as weight).
These results can be used by weightlifters and bodybuilders to set an ideal weight goal.
These are some of my findings:
/r/Brogress/ Is Full Of Dudes
The gender makeup of /r/Brogress/ is mostly male. Most of the top posts are photos of men.
There are 37 female posts, compared to 873 male posts.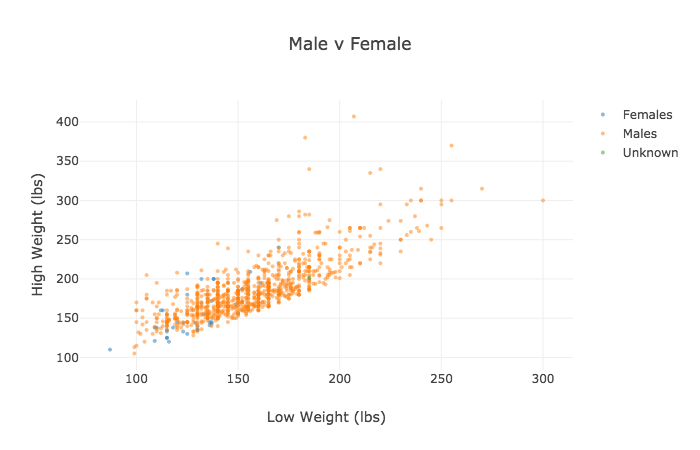 I took a look at over 900 of the newest posts on this subreddit to make sure that it was not male posts that were getting the most upvotes, but there was even less female to male votes when looking at the newest posts to /r/Brogress/ (25 female posts to 959 male posts). If anything, this indicates that female posts get slightly more upvotes than male posts.
More Gainers Than Losers
I was actually surprised that there was such a large amount of posters who lost weight in the top posts on /r/Brogress/. There is such a large amount of vocal people who attack the skinny-fat body type that I thought 90% of the top posts would be people who went from being skinny to those who gained muscle.
The majority of posters did gain weight, but the ratio was about 5:3. In total, there were 303 postsers who lost weight, 532 posters who gained weight and 76 posters who stayed at the same weight and just put on more muscle while losing fat.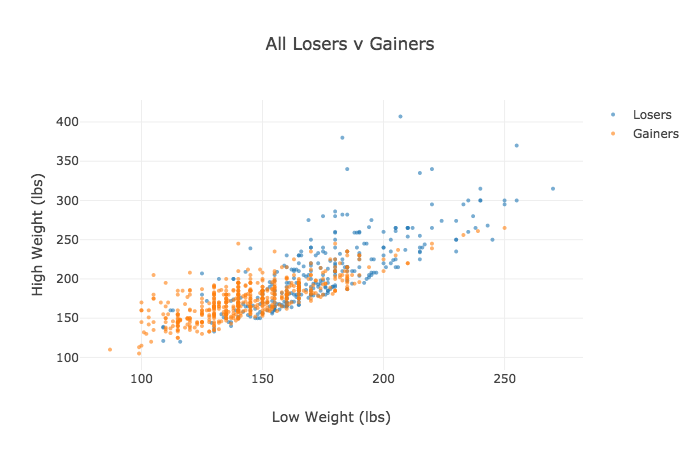 Those Who Weighed Least Gained The Most
As one might expect, for those who gained weight, the people who had the lowest starting weight gained the most pounds.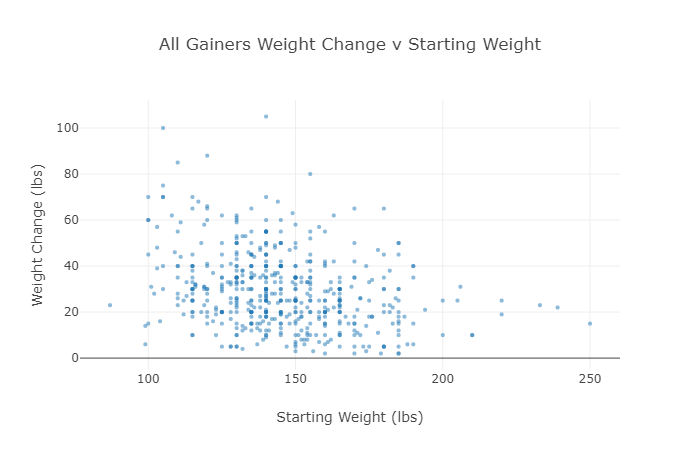 The reverse is true when looking at those who lost weight. The biggest weight change is for those individuals who weighed the most at the start of their fitness journey. This is true of the progresspics subreddit too.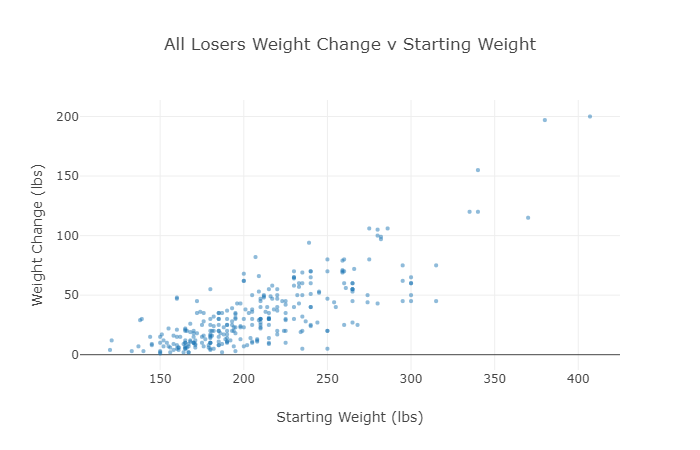 Male Target Weight For Weightlifters
The results for the top /r/Brogress/ posts might give us an idea of what an ideal weight range might be for each hight. These posts are the most upvoted posts of all time, meaning that the end result must be fairly impressive. These posts include both those who gained weight and those who lost weight, so the average end weight is unlikely to be too skewed in a single direction. The average end weight of the top /r/Brogress/ posts may give a good idea of what a good looking or 'ideal' weight might be for each hight.
Obviously take this with a grain of salt. Every body is different and anyone who is familiar with weightlifting or bodybuilding knows that as soon as you reach a certain weight or goal you immediately find a new weight or goal.
Since there are so few female posts they would just skew the results, so I ignore them when looking at an ideal weight.
An ideal weight for a weightlifter is going to be more than your average person on the street. Muscle weighs more than fat, so someone with a lot of muscle is going to weigh a fair amount.
To find the range for an ideal weight, I took the end weight of every male post from the top /r/Brogress/ posts. That is, if someone lost weight, I took their low weight. If someone gained weight, I took their high weight. I then plotted this against the height of the poster. I also included the weights of those who did not lose or gain weight but simply went from flabby to fit (someone who went from 160lbs skinny fat to 160lbs of muscle).
The heights are in inches (remember, 60 inches is 5 feet).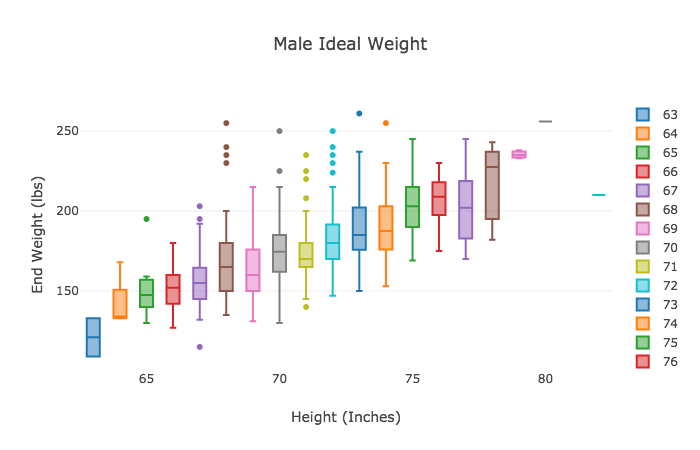 This creates a good range of impressive body weights for each height. For example, a man who is 6 feet tall, is muscular and weighs between 170lbs and 190lbs is going to have a very impressive physique.
If you are new to weightlifting, this chart should give you a good idea of a target weight. You can always adjust once you reach that weight.
Be sure to check out our progress picture finder to see what each body weight and height combination can look like.
One funny thing to note is that combining all those who gained weight and all those who lost weight, the average ending weight was 174 for both groups. In other words, the average high weight for those who gained is 174lbs, and the average low weight for those who lost weight is also 174lbs. Is this the perfect human weight?
More /r/Brogress/ Statistics
Here's even more information about the top posts on /r/Brogress/. All weights are in pounds and all heights in inches.
All
number of posts analyzed 911
number of posts with unknown high weight 0
number of posts with unknown low weight 0
number of posts with unknown height 30
number of posts with unknown age 31
Averages
average high weight 185
average low weight 156
average change in weight 29
average height 68
average age 21
Weight Loss v Weight Gain
number of posts who probably lost weight 303
number of posts who probably gained weight 532
number of posts who have unknown/unchanged weight: 76
Those Who Lost Weight
average high weight for losers 207
average low weight for losers 174
average amount lost for losers 33
max amount lost for losers 200
min amount lost for losers 1
Those Who Gained Weight
average high weight for gainers 174
average low weight for gainers 145
average amount gained for gainers 29
max amount gained for gainers 105
min amount gained for gainers 2
Male v Female
number of posts with unknown sex 1
Female
number of Female posts analyzed 37
number of posts with unknown high weight 0
number of posts with unknown low weight 0
number of posts with unknown height 0
number of posts with unknown age 0
Female Averages
average high weight 155
average low weight 128
average change in weight 26
average height 65
average age 26
Female Weight Loss v Weight Gain
number of posts who probably lost weight 21
number of posts who probably gained weight 15
number of posts who have unknown/unchanged weight: 1
Female Those Who Lost Weight
average high weight for losers 171
average low weight for losers 134
average amount lost for losers 36
max amount lost for losers 82
min amount lost for losers 4
Female Those Who Gained Weight
average high weight for gainers 133
average low weight for gainers 119
average amount gained for gainers 14
max amount gained for gainers 28
min amount gained for gainers 5
Male
number of Male posts analyzed 873
number of posts with unknown high weight 0
number of posts with unknown low weight 0
number of posts with unknown height 29
number of posts with unknown age 30
Male Averages
average high weight 187
average low weight 157
average change in weight 29
average height 68
average age 21
Male Weight Loss v Weight Gain
number of posts who probably lost weight 282
number of posts who probably gained weight 516
number of posts who have unknown/unchanged weight: 75
Male Those Who Lost Weight
average high weight for losers 210
average low weight for losers 177
average amount lost for losers 33
max amount lost for losers 200
min amount lost for losers 1
Male Those Who Gained Weight
average high weight for gainers 175
average low weight for gainers 145
average amount gained for gainers 29
max amount gained for gainers 105
min amount gained for gainers 2