Pushups v Bench Press – Which Is King?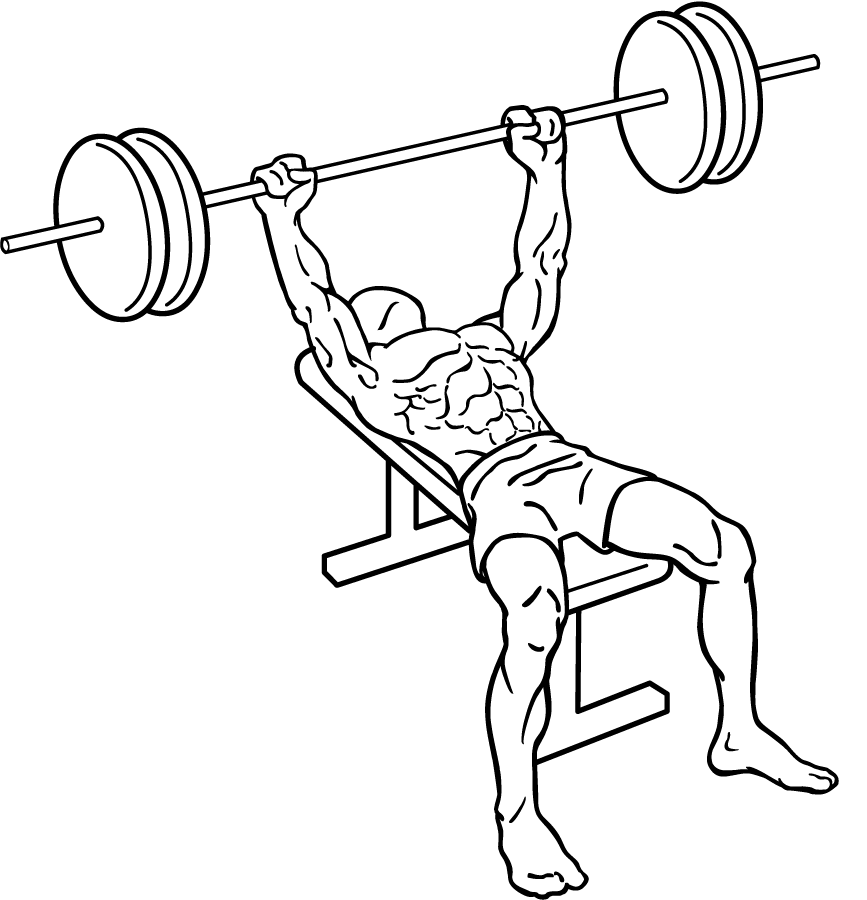 Pushups and bench pressing both work a similar set of muscles, but they do have very important differences that you should be aware of. Depending on what your fitness goals are, pushups might be better than the bench press, or vice versa, bench pressing might be better than pushups. If you are serious about fitness, you should know the benefits of doing each exercise. Read on to see if the bench press is better than pushups.
The Pushup
The pushup is a fantastic compound bodyweight exercise. You do it by raising your body using your arms. The beautiful thing about pushups is there there are so many varieties. You can do decline pushups, incline pushups, weighted pushups, assisted pushups (with a band), knuckle pushups, clap pushups, etc. You can easily change he position of your hands to focus on different muscle groups.
Pushups do not require any sort of equipment. They are a bodyweight exercise meaning that you can do them anywhere without a gym membership. While the bench press requires certain equipment, pushups can be done every single day of your life, no matter where you are or what kind of equipment you have.
Being able to do a large amount of pushups is impressive and a requirement for most military service. There are many 100 pushup challenges that encourage individuals to work up to 100 pushups in a single set.
The Bench Press
The bench press looks like an upside down pushup, were a bar is lifted and lowered to ones chest. It requires the bar and a bench
. You cannot do a bench press on the ground because your elbows need to go past your torso to get a full range of motion.
The bench press is one of the top three powerlifting exercises, along with the squat and the deadlift. These three exercises are the essential aspects of powerlifting. The bench press is also the most bragged about exercise. Asking someone how much they bench is a standard gauge of how strong they are.
There are a few different varieties of bench press, but it is not as versatile of an exercise as the pushup. You can do incline and decline and you can change the width of your grip, which is enough variance for most people.
Muscles Used
Both pushups and the bench press involve the chest and arm muscles. Both are stellar for working out your pecs and triceps. Your pecs are the main muscles of your chest: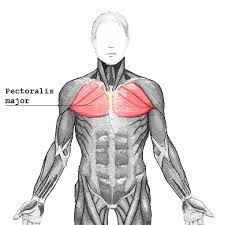 And triceps are part of the muscles in your upper arm. Triceps are actually the most important muscle is making your arms look big. Growing your triceps is going to make your arms more impressive than growing your biceps.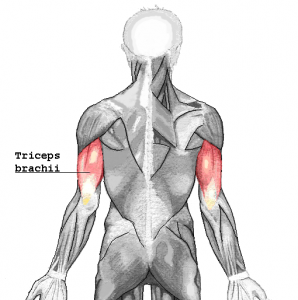 Both the pushup and the bench press are compound muscle movements that use multiple muscle groups. Both workout muscles beyond your pectorals and your triceps. When doing either movement, you are not just pushing something away from your chest, your are also stabilizing your arms. Bench press requires more stabilization from your rotator cuffs, while push-ups require more core stabilization.
The bench press almost completely ignores the serratus anterior muscles: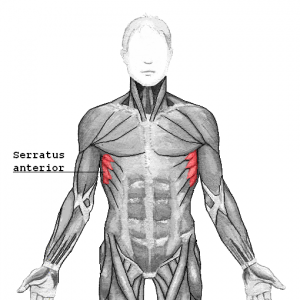 Lack of development of the serratus anterior muscle can lead to a winged scapulae. Not training this muscle can lead to imbalances in the back muscles. This is because the scapula is retracted during the bench press, but is free to move during pushups.
The pushup tends to work more muscles than the bench press.
Strength v Endurance
A common rule of thumb is that a pushup lifts about 60% of your bodyweight. So say you weight 200 pounds. Doing a pushup at this bodyweight would be similar to doing a 120 pound bench press. A 120 pound bench press for someone weighing 200 pounds just isn't very impressive. That is why pushups are not as effective at gaining strength as is the bench press. One way to check how much weight you are pushing up is to do pushups on a bathroom scale. The weight shown on the scale will be the amount of weight you are pushing up.
You can add weight to your pushups by putting on a weighted vest
or a backpack, however even then part of the weight will be distributed to your legs. It's easier to add weight to a bench press. And with a bench press you know exactly how much weight you are lifting, while with a pushup you cannot be totally certain because some of the weight is distributed to your feet.
This is why people who focus on doing pushups often focus on endurance. That is, being able to do a large amount of pushups in a single set. Being able to do 100 pushups is very impressive.
In terms of getting stronger, the bench press is king. In terms of endurance, both the bench press and the puhsup can be used. You can just as easily lift a medium weight bench press 100 times as you can do 100 pushups.
Impressive
As mentioned before, the bench press is the most common gauge of strength. When talking to a gym-bro, expect them to ask how much you can bench. Being able to bench a heavy weight is more impressive to gym-bros than a heavy squat or a heavy deadlift.
Being able to do a large amount of pushups is less impressive for a few reasons. Large amounts of pushups require strength, but also a lot of endurance. Honestly, endurance just isn't as impressive to most people as pure strength.
Another reason that pushups are less impressive than the bench press is that you do not have as many opportunities to do 100 pushups in front of someone. Even if you go to the gym and do a huge amount of pushups, people will be less likely to notice. When doing a heavy bench press session all it takes is a quick glance to see how much weight you are lifting. All anyone needs to see is a single rep to be impressed.
Pushups on the other hand require someone to see many reps for the amount of pushups done to be impressive. Of course you can do weighted pushups, which focus on strength and can be similar to the bench press, but the bench press is almost always going to be more impressive.
Big Muscles
You get big muscles by eating a lot of food and by lifting heavy things. It's a simple recipe. The heavier you lift, the bigger your muscles will be. Because of this, big muscles are better achieved through the bench press than the pushup. You are more easily able to lift more weight doing the bench press.
You progressively build muscle fastest when you overload your muscles. If you are an absolute beginner you will see progress with both the pushup and the bench press. However, soon you will see that it becomes more difficult to overload your muscles with the pushup. The bench press is extremely easy to progressively overload.
Variety
If you get bored with gym routines easily, the bench press might not be ideal for you. There's just not that many ways to adjust the bench press, and all the varieties are pretty similar. The main way of progressing with the bench press is to lift more weight.
Pushups on the other hand come in a larger variety of movements. And more importantly, you can use the pushup as part of a bodyweight progression to handstands, hand pushups and all kinds of impressive looking gymnastics. Pushups definitely offer more variety and more progression paths than the bench press.
Pushups v. Bench Press Conclusion
The pushup is great because it works more of your muscles than the bench press. It also allows more variety in types of workouts you can do, which is great for those individuals who get bored doing the same gym routine all the time.
The bench press is great because you will get bigger and strong faster. You'll also be able to impress others with a large bench press weight.
Both the pushup and the bench press are great exercises, and you don't have to pick one. Why not do both? It's certainly not a bad idea to have pushups be a warm up exercise for a heavy set of bench pressing.