The Best Pants For Deadlifting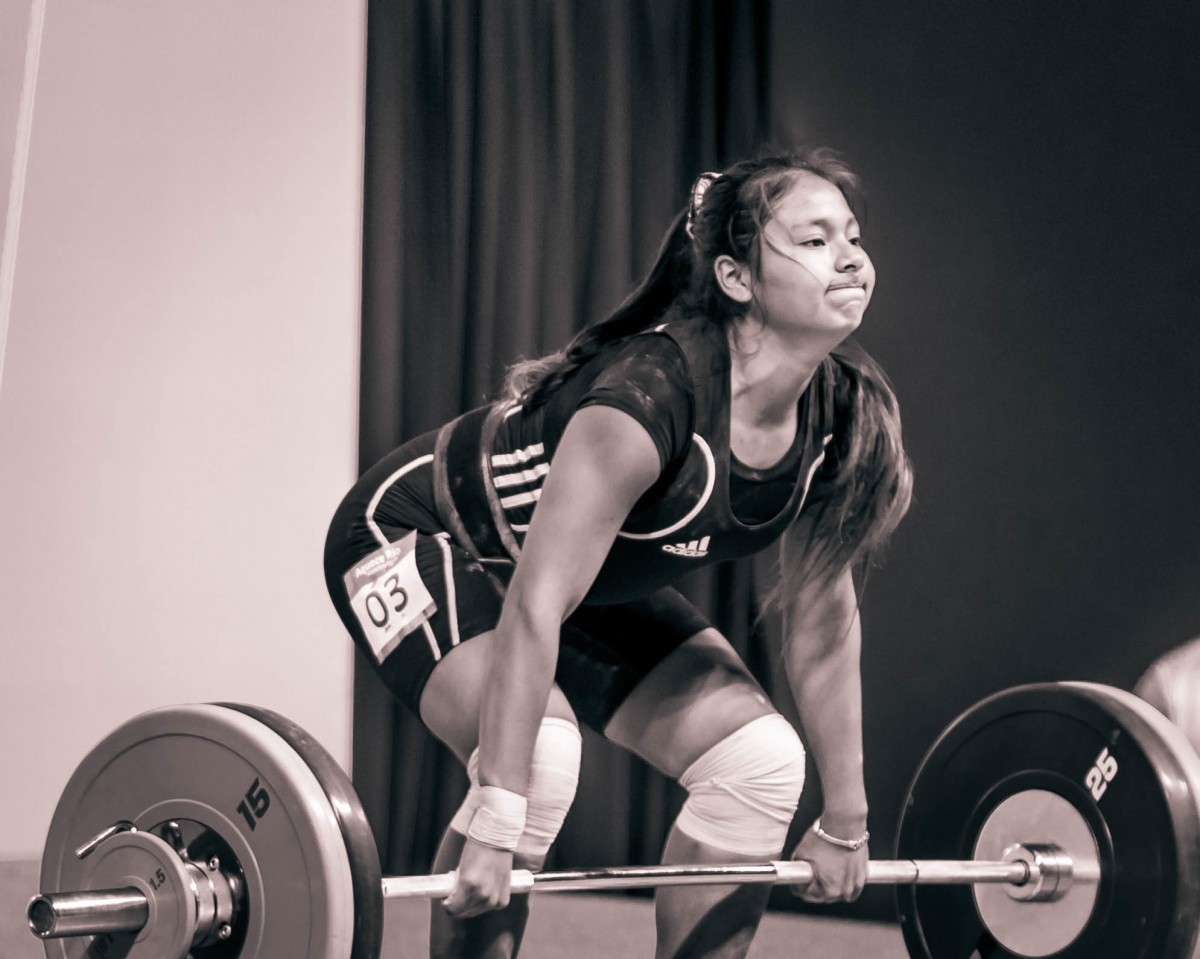 When you deadlift, the closer the bar is to your shins the better. This improves the amount of weight you can lift and helps prevent injury. The problem with keeping the bar too close to your sins in that it can lead to bruising and bleeding shins. Scratches, torn off leg hairs and other discomforts are very common during deadlift competitions. This is normal and does not mean there is anything wrong with your form.
At the same time, it sucks bleeding all over the place every time you deadlift a heavy weight. One simple solution is a good pair of pants. Not all pants are going to work, but a good pair of pants should offer protection to your shins while allowing you full flexibility so that you can deadlift in comfort.
A good pair of sweatpants is exactly what you need for deadlifting. These types of pants can also be used for squatting and other weightlifting workouts. No matter if you are a bodybuilder, weightlifter or powerlifter, you will benefit from a good pair of workout pants.
Most sweatpants (jogging pants to your brits) can also be used for running, basketball, football and most other sports. They're also comfortable to wear around the house or in casual settings.
Deadlifting Pants Material
Fitness pants come in two main materials: cotton and polyester. There are infinite blends of the two.
Cotton is great because it breaths well and is comfortable. If you need pants that breath well and wont make you seat a bunch, cotton is a good choice. It's also fairly absorbent, so if you do start to sweat you wont drip all over the place.
However, cotton does not wick away moisture very well, so once you do start to sweat, the moisture won't evaporate as quickly.
Polyester is not as breathable, but it will wick away moisture much better than cotton. It's also a bit more durable than cotton.
So if you sweat a lot, polyester is probably a better choice as the moisture will wick away.
Deadlifting Pants Color
This is something people do not often think about, but if you are getting a pair of pants to deadlift and lift weight in, choose gray or white. The reason is that the bar is probably going to have weightlifting chalk all over it. As soon as this white chalk/powder touches your clothes it will start to leave marks. This makes dark colored pants look dirty.
Most of the pants listed here come in a range of colors, but I would recommend getting gray pants.
Get Tapered Pants
When getting gym pants, look for ones that are tapered at the ankles. You don't want to create any safety issues by tripping over your pant legs.
Also, specifically for deadlifting, you don't want pants that will rise with the bar. If you are deadlifting and the bar pulls on the pant leg, the bar should continue to rise along the pants while the pant leg stays in place.
Great Weightlifting Pants
Each of the following pants are great, but as with most fitness things, the perfect pair of weightlifting pants depends on how you will use them and what else you will use them for. If I were to recommend a single pair of pants that would be ideal for everyone, I would choose Jed North Casual Fitted Sweatpants. Read on to see why, and check out the other pants I recommend. Some of the other recommendations might be better suited to what you need in a pair of workout pants.
Slim Fit Sweatpants
These are three great sweatpants that have a slimmer tapered fit. This type of fit makes your thigh muscles look extra large, but might not be great for anyone with large calves or lower legs.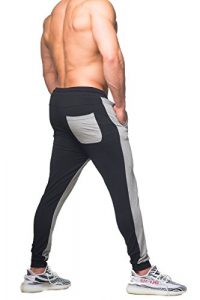 These are the pants I wear to the gym these days, especially if I am deadlifting that day.
The truth is I don't really like the weird double color patter of these pants. But besides that, I like everything else about them. These Jed North pants are specifically designed for bodybuilders and weightlifters, meaning they have extra room in the thigh area for large quads. The cut is great. Jed North also makes a slim fit version of these pants that seem to be more popular. The slim fit version is probably fine for your average Joe, but someone who has bodybuilder legs is going to look and feel better in the casual fit pants. It's up to you to decide how large your leg muscles are.
These pants are durable, so the bar you are deadlifting is not going to rip the shins on the pants. They are flexible, so you wont rip the butt of the pants when squatting ass to grass.
The casual fit version of these pants is 90% cotton, meaning that they breath well and are comfortable. However, they do not wick sweat away, so if you sweat a lot or plan on doing some high intensity cardio (or playing basketball) a different set of pants with less cotton might be a better choice.
Finally these pants are a bit expensive.
PROS:
Cut specifically for weightlifters/bodybuilders
Gray front
Casual and slim cuts available
Tapered fit
90% Cotton (pro if that's what you are looking for)
CONS:
Pricy
I dislike the color pattern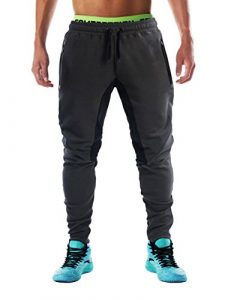 These pants have a great cut with extra room around the thighs and then a taper on the way down. This cut makes one's thigh muscles look even larger. These are good pants to get if you want to wear sweatpants outside of the gym a lot or if you will be using them for sports which have a lot of running. The reason is that they look good and they have zipper pockets.
Anyone who has worn sweatpants on a regular basis knows that things do not stay in sweatpants pockets. Putting a zipper on these allows you to safely keep your phone, wallet or keys in them.
The cut is on the slim side, so if you have large calves, these might be uncomfortable.
PROS:
Cut accents thigh muscles
Zipper pockets
Tapered fit
Available in gray
CONS:
Might be too tight for those with large calves
I don't like the red of the gray pants
Unknown cotton or polyester ratio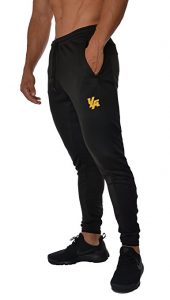 While these are soccer pants, they are also good weightlifting pants. The fit is definitely tapered, so if you have large calves or thicker lower legs these might not fit well. They are 100% polyester, meaning they will wick away moisture. Again, they are designed for soccer, and soccer players are constantly sweating. These are really good pants for anyone who is active in a lot of different sports, including weightlifting.
The pockets are zippered, so you can be sure your phone or keys will not get lost, no matter how active you are.
They also have a bit of mesh on the back of the pants for extra breathability. This helps make them as breathable as a lot of cotton poly blends, but they wick away moisture as well as other 100% polyester pants.
PROS:
Cut accents thigh muscles
Zipper pockets
Tapered fit
100% polyester (pro if that's what you are looking for)
Mesh line for extra breathability
CONS:
Might be too tight for those with large calves
Not available in gray
Regular Fit Sweatpants
These pants have elastics at the ankles to keep them in place, but do not have a slim cut. These are more of the 'classic' looking sweatpants. It's a classic look that never went out of style. This cut is going to be more comfortable for those who have larger calves and lower legs.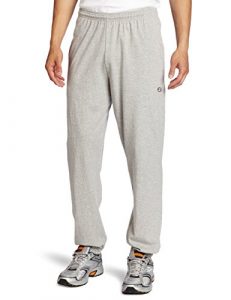 Champion is a classic brand and these are a classic look. These are mostly cotton, either 100% or 90%, depending on the color. The gray pants are 90% cotton and 10% polyester. There's nothing too fancy about these pants. They are regular sweat pants. They have pockets and tend to be a bit thinner than other brands.
These are actually the first pair of sweatpants that I lifted in. I used to deadlift in these all the time and never had any problems. They protected my shins and were durable enough that I still have them to this day.
Because these are a bit thin, they will help keep you cool during your workout, but might be too cold to wear outside during winter.
PROS:
Classic looking sweat pants
Available in gray
100% or 90% cotton (pro if that's what you are looking for)
Elastic band at the ankles
CONS:
Too thin for winter
Things can fall out of the pockets easily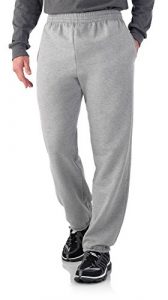 This is another pair of ordinary sweatpants. They do exactly what they are designed to do. The two biggest different between these and the Champion brand pants is the material and the thickness.
These pants are a 60% Cotton/40% Polyester blend, meaning that they provide good breathability and good moisture wicking. They are also thicker, meaning they are warmer and more durable. Their thickness will also protect your shins more during deadlifts, so if you are one of those people that really pushes the bar into your shins when lifting, these are a good choice. Thicker pants means more padding.
PROS:
Classic looking sweat pants
Available in gray
60% Cotton/40% Polyester (pro if that's what you are looking for)
Elastic band at the ankles
Thicker material means better shin protection
CONS:
Thicker material might make these too hot
Any of the above pants will help protect your shins while deadlifting, and will be comfortable enough for all your other weightlifting. If you still find that your shins are being bruised, even though you are wearing pants, try getting some high-rise socks and wear them under your pants. Pull the socks all the way up when deadlifting.