The Best Tennis Elbow Brace (Especially For Weight Lifters)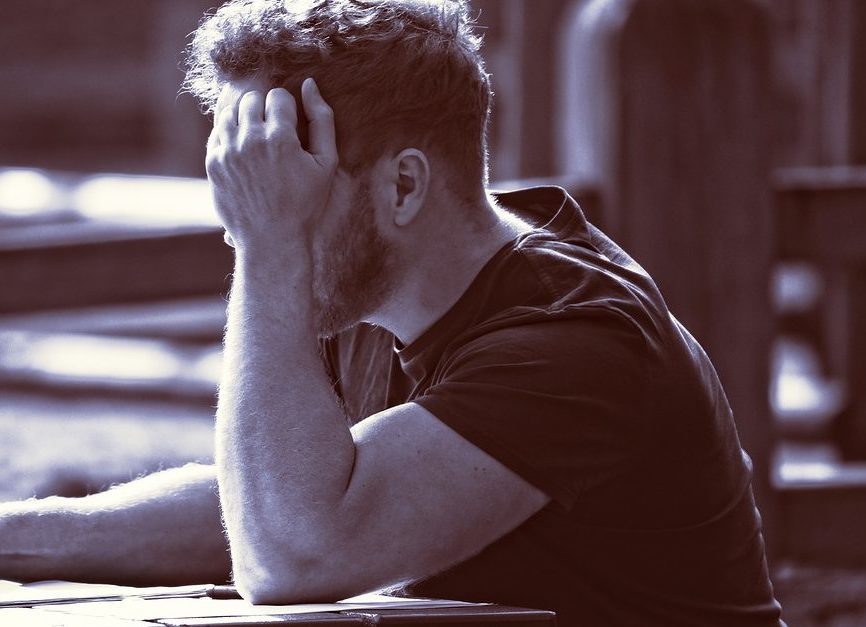 Tennis elbow (lateral epicondylitis) is a painful and often debilitating injury to the forearm. It is caused by repetitive movements of the arm and wrist. As the name suggests, it is common in tennis players, especially those who have poor form during their backhand. However, tennis elbow can also be commonly found in weight lifters, golfers, plumbers, carpenters, and can even be caused by repetitive computer mouse movement. Tennis elbow has other common names, like golfers elbow.
Tennis elbow is a strain of the tendons that connect the forearm to the elbow. The pain is usually centered on the elbow, but can also be felt in the forearm and wrist. The tendons become damaged due to overuse, especially during highly repetitive motions. This can include common weight lifting movements, especially curls and rows, but also any movement that uses the forearms and bends the elbow.
Weight lifting is all about repetition, so it is very common for the repetition to cause pain and inflammation of the elbow. At first, tennis elbow may be a slight irritation, but if nothing is done about it, it can lead to an inflamed forearm and a large amount of pain. Sever cases of tennis elbow can make simple things like turning a door knob or holding a cup of coffee painful.
If you perform repetitive elbow movements for work or during a sport such as weight lifting, you should consider using an elbow brace. A good elbow brace will bring immediate relief to your arm, and will also lessen the chance of further injury. A comfortable compression brace will increase blood flow and limit inflammation to the area. This helps decrease the amount of time it takes your tendons to heal from the tennis elbow. Preventing tennis elbow is very important, as this injury can leave you unable to do simple, day to day tasks.
The Best Full Elbow Brace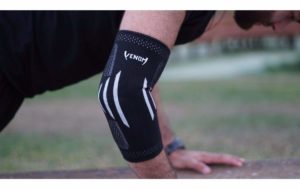 The Venom elbow brace is our top choice for anyone suffering from lateral epicondylitis. This is a high quality elastic brace that covers the whole elbow region. Using this compression brace will improve blood flow to the affected area and decrease pain. We've seen first hand how this brace has allowed athletes to get back into the swing of things. Specifically, this brace has done wonders for a few individuals we know who were having pains bench pressing and doing push ups. Using this brace they were able to go back to weight lifting without pain. This brace will increase blood flow, reduce muscle swelling, and alleviate pain and discomfort.
The brace fits securely and does not move around when you are being active. It does not bunch up or restrict your movement. This makes it perfect for anyone who leads an active lifestyle.
The great thing about this brace is that it is sold by Venom, who are a small, family owned American company. Their customer service is top notch, and if you are not satisfied with your purchase, they will do what they can to make you happy.
Whether you need an elbow brace for weight lifting, golf, tennis, or simply for using a computer mouse, this is the best elbow brace you can get.
The Best Half Elbow Brace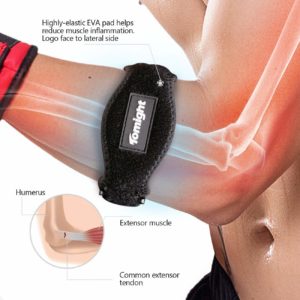 Some people do not want a full brace. If you are working out in a hot environment a full brace may be too warm for you. If you want something smaller than the Venom elbow brace, the best option is the Tomight elbow brace. This elbow brace fits just around your forearm. To use it, you place the brace on the upper forearms. This is where a compression brace does most of its work to relieve tennis elbow.
This brace uses high quality Velcro, so you can adjust just how much pressure you need to put on your forearm. It is comfortable on the skin and is designed to be extra breathable, so it's especially great for those who need an elbow brace that will not make them feel too hot.
While we find the full Venom elbow brace to provide better relief overall, if someone is looking for something smaller than a full elbow brace, the Tomight is their best choice. It's a great product and you won't be disappointed if you get it.
The Best Copper Compression Elbow Brace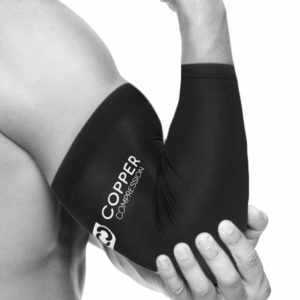 If you suffer from arthritis or believe that copper has anti-pain properties, you may want a high quality copper compression brace for your elbow. A copper compression brace needs to be two things in one: 1) A quality compression brace. 2) A brace that contains a high amount of copper ions (not copper oxide). This brace is both. Even without the infused copper ions this is a good brace that does what an elbow brace should do. What really makes this brace stand out is the high amount of quality copper in the brace. There are plenty of compression braces out there that claim to contain copper, but their copper content is so low it is not even detectable.
While there isn't a ton of scientific evidence that copper braces work better than non-copper braces, it won't hurt to try, especially since the cost difference between a copper brace and non-copper braces is negligible. There are definitely people out there who swear that copper helps relieve their aches and pains. Copper has been shown to deter bacteria and viruses, so maybe there is something to the whole anti-pain thing.
If you are looking to try out a copper compression brace for your pain, this is going to be the product you want.
How to Treat Tennis Elbow
As with other forms of inflammation, a regiment of RICE (rest, ice, compression, and elevation) is the best treatment for tennis elbow. If you are having serious pain, go see a physician. They will likely prescribe an anti-inflammatory form of pain medicine, such as ibuprofen.
While you are healing, a elbow brace will be important in helping you heal faster and also helping prevent further irritation. An elbow brace is also nice because it is a reminder to take it easy on that part of your body. If you've ever had tennis elbow, you know how easy it is to forget about your injury until you bend your elbow a certain way and then you feel the pain shooting up your arm. A brace will help you remember that you are injured, lessening the likelihood of you bending your elbow in a painful way.
After your tennis elbow heals, you must take care to prevent the injury from returning. A lot of lateral epicondylitis injuries are caused by poor form. This is especially true of athletes and those who get tennis elbow from their job. If you are consistently getting pain in your elbow area, you might have bad form at the repetitive task you are performing. Work with a coach to improve your form. Improper form, especially when weight lifting is a huge problem that can lead to numerous injuries.
Finally, stronger muscles will be better adapt at dealing with repetitive forearm and elbow movements. Be sure to train all of your muscles and watch out for muscle imbalances. If your supporting muscles are weak, and your forearms are strong, then your forearms will take too much pressure when lifting heavy things. Be sure to train the less sexy muscles such as the rotator cuff and the scapular muscles so that your forearms are not overworked.