Honest Garden of Life Raw Protein Review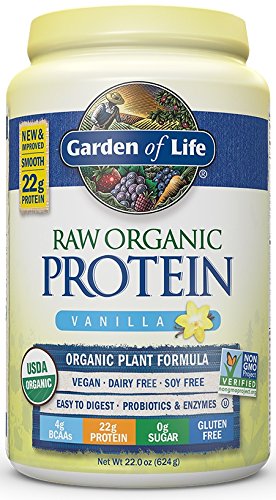 Garden of Life is a supplement company specializing in raw, vegan, organic, gluten-free products. If you are looking for a ethical company selling natural supplements, check our Garden of Life. They might have a product that will improve your health and diet.
One of their more popular products is the Garden of Life, Raw Organic Protein. This protein powder is USDA certified organic, non-GMO, vegan and gluten-free. It is made from natural whole food plant sources.
Protein is an essential macro-nutrient. It is the nutrient that helps your muscles grow. Without a proper level of protein your muscles would not be able to sustain themselves and your body would being to have many different types of health issues. If you want to gain muscle, have energy, loose fat, and generally stay healthy, you need to make sure that your body is getting a sufficient amount of protein.
Getting an adequate amount of protein is especially important for those who do not consume animal products. A vegan diet will benefit from additional protein supplements. The Garden of Life protein powder is made from plant sources and, unlike whey protein, is cruelty free. The Garden of Life protein powder stands out by not only being vegan, but also by being raw. This protein powder is a good choice for anyone practicing the raw food diet.
We tried out the Garden of Life raw protein powder mix and these are our honest and neutral findings:
Garden of Life Protein Flavor
This protein powder has 0 grams of sugar. This is great! Many protein powders on the market are packed with sugars and artificial flavors to mask their taste. The Garden of Life brand protein powder does not add sugar. Processed sugars are one of the absolute worst things you can consume.
Nothing is stopping an individual from adding sugar or other flavors to their protein shake or smoothie. But Garden of Life gives us the choice of if we want to add those things or not. Other protein powders add sugar and expect us to drink it.
The lack of flavoring leaves a fairly mild, earthy flavor. Garden of life raw organic protein powder is not the greatest tasting protein powder. The goal of this supplement is not to be the best tasting drink, but to provide a natural, organic, healthy source of vegan protein. Their target audience are not the people looking for a soda alternative. They are the people who want a healthy, raw source of protein. At the same time, the flavor certainly isn't terrible. I dried some with water and with soy milk and both were perfectly fine. Adding a banana or using this protein powder in a smoothie is an even better idea.
Does It Mix Well In a Shaker?
One problem that I found with this brand is that it does not dissolve in water as well as some other protein powders. It has a tendency to clump and takes a bit more shaking or stirring to get it to dissolve. This can be a problem if you are in a rush. This only occurred when using the powder with a liquid. It was fine in a smoothie with other ingredients to help stir the drink.
This is not the first protein powder that I have come across that had this problem, and it's not as bad as some other protein powders. But it could be better. The easiest solution is to simply buy a little bullet blender. They cost around $30, and will save you time and energy trying to mix and shake things like protein shakes by hand. It's a good little investment and will blend your protein shake up in about two seconds.
Protein
The protein in Garden of Life RAW Organic Protein is plant base. It is sourced from sprouts, rice and peas. Rice and peas are common protein sources for vegans. Sprouts are less common, and that's one of the cool things about this protein powder. Sprouts are a natural whole food which is full of nutritional value. Including sprouts in their vegan protein supplement makes Garden of Life stand out from their competitors.
Each scoop have 22 grams of protein for every 110 calories. That's a good ratio and is comparable to other protein powders. That is right around the same amount of protein to calories as many whey protein powders. Though Garden of Life RAW Organic Protein is vegan, it provides you with the same amount of protein as the non-vegan brands. You get the same amount of protein without any of the animal cruelty.
Conclusion
Garden of Life RAW Organic Protein is a great source of protein for vegans, raw foodists, and those looking for an organic plant-based source of protein. Nutritionally, it is all you would ask for in a protein powder. And what is better is that it does not include any processed sugar.
The biggest con for this brand is the taste. If you are looking for a great tasting protein powder, you may want to try a different brand. My suggestion is to use this protein powder in smoothies. That way, the fruits and vegetables that you are blending in with this protein powder will help add flavor and help create a more pleasant texture to the drink.
Get Garden of Life RAW Organic Protein and try it with your favorite vegan smoothie recipe.
Please note that unlike other review websites, we have not been paid anything by Garden of Life. This is an honest review.