Designer Whey Protein Powder Review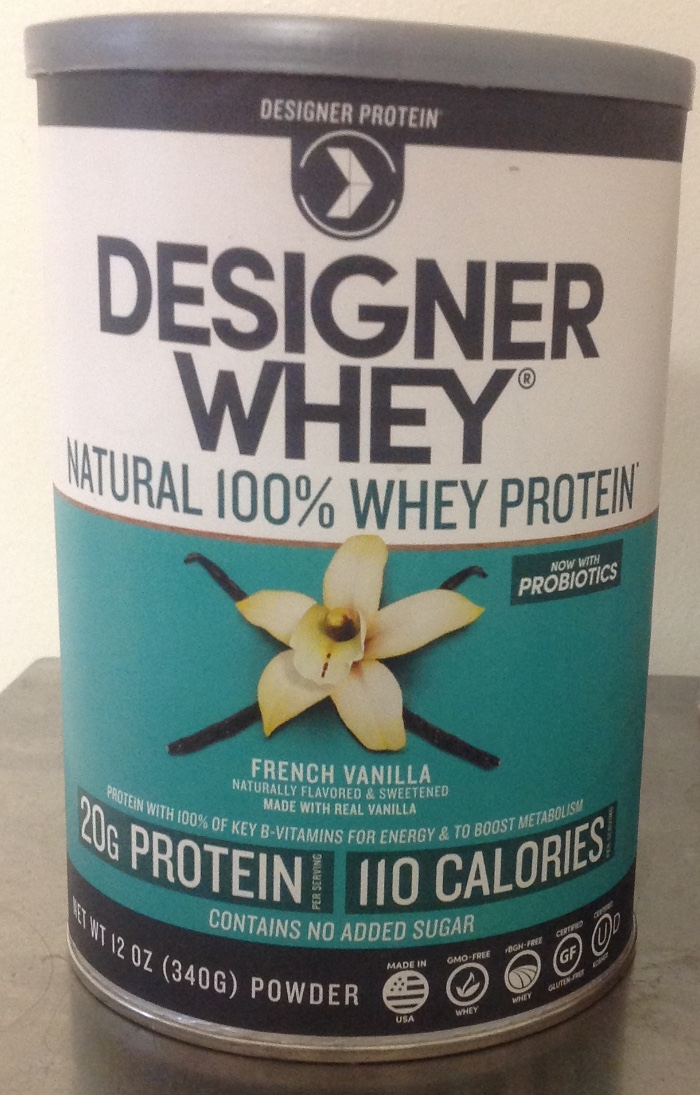 Designer Protein was one of the very first companies to sell pure whey protein directly to consumers. They have been selling protein powders direct to consumers for over two and a half decades and can now be found in a lot of retail stores and major super markets. Designer Whey protein is easily accessible, you can probably find a local retailer who caries it, or you can simply buy it online.
What makes this protein powder special is that the ingredients are all natural. You are getting natural ingredients, without artificial flavors or colors and without additives such as antibiotics.
100% Natural Whey Protein
Whey is a dairy product. It is protein made from milk.
What does the 100% natural whey protein label mean? It means that the whey found in this protein powder is made from non-GMO milk. That milk comes from cows who were not treated with artificial growth hormone or antibiotics. This is not necessarily organic milk, but the whey is top quality whey.
Scientists have found that antibiotics given to cows can travel through milk and affect the health of the humans who consume that milk. Whey that comes from cows that are not treated with artificial growth hormone or antibiotics will prevent this.
To some people, this label also implies that the Designer Whey protein contains 100% whey and nothing else. This is not true. This protein powder includes a number of other ingredients added for their nutritional and taste values. This is not a pure whey product.
Other Ingredients
Along with natural whey, the Designer Whey protein powder includes:
A full spectrum of peptides with added Glutamine, Leucine, Taurine and Phenylalanine.

100% daily value of important B-vitamins.

No added sugar.

Other vitamins and minerals such as Zinc, Vitamin D3, Calcium Phosphate, and Magnesium Oxide.
This brand of protein is:
Gluten Free
Kosher
Low Carb
Paleo Friendly
Corn Free
Egg Free
Fish Free
Peanut Free
Shellfish Free
Starch Free
Tree Nut Free
Wheat Free
Yeast Free
No Artificial Flavors
No Artificial Sweeteners
No Casein
No MSG
No Soy Protein
Some of these may or may not be what you are looking for in a protein powder. Some people want casein or soy protein, others do not. It depends on your goals.
Taste
Personally, I like the French vanilla flavor of Designer Whey protein powders the best. This is also their most popular flavor. I find that vanilla flavored protein powders are often flavored too strongly and are too sweet. But because there are no artificial flavors in this protein powder, this French vanilla flavor is not overwhelming. The double chocolate comes in second for me.
For those who are not interested in flavored protein powders, Designer Whey also comes in Purely Unflavored form. This is an unflavored version of their 100% natural whey protein powder. This is ideal for those of you who want to mask the taste of your protein powder with other smoothie ingredients.
They have plenty of other flavors including Gourmet Chocolate, Summer Strawberry, Vanilla Almond, Double Chocolate, Vanilla Praline and Purely Unflavored.
Nutrition
With this protein powder you get 20 grams of protein per 110 calories. This is about average in terms of popular protein brands.
You also get around 26 grams of protein per dollar when you buy the two pound container of Designer Whey protein powder. This is above average.
In essence you are getting a good amount of protein for your dollar. This protein powder includes things other than just protein, so you are also getting other nutritional value as well. This includes vitamins and minerals that are likely to help you with your fitness goals.
You are also getting a high quality type of whey. Designer Whey puts a lot of effort into making sure that the milk their whey comes from is high quality and natural. This ensures you are not getting unwanted byproducts such as bovine growth hormone seeping into your protein shakes.
| Item | Calories | Protein | Fat | Carbs |
| --- | --- | --- | --- | --- |
| Designer Whey Premium Natural 100% Whey Protein | 110 | 20 | 1.5 | 6 |