Authentic Asian Durian Fruit Smoothie Recipe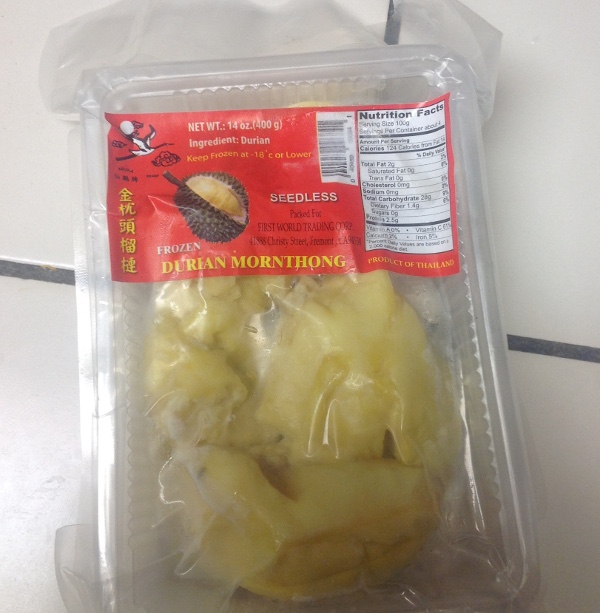 Durian is a fruit found in Southeast Asia. Places like Thailand and Malaysia grow and consume the fruit. For many people it is a delicacy, but it's certainly not for everyone. The most distinguishing feature of durian fruit is the strong smell that it comes with. Durian has an extremely strong aroma that many people find repulsive. In fact, because the smell is so strong, some public places in Asia ban durian fruits. You cannot bring a durian onto the subway in Singapore.
While some people find the smell of durian disgusting, others of us really like it. I heard about durian a while ago and always wanted to try it. I have yet to try fresh durian. I would have to travel to Asia to be able to do that. However, I am lucky enough to live next to a few Asian grocery stores which carry frozen durian fruit. The whole fruit looks like this: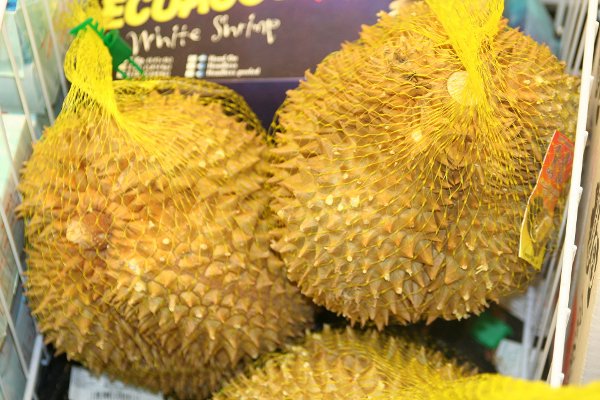 They're large and always stored frozen to minimize the smell. I don't bother buying the whole fruit, instead I buy bags of durian flesh that is removed from the shell and does not have any nuts. These packages are also frozen. This lets me place the frozen durian flesh directly into my blender without having to cut open the shell and remove the seeds.
Imported durian fruit is not cheap. I get my 14oz package of durian flesh for about 11 dollars. But because the flavor is almost as strong as the smell, I don't need much to make a durian smoothie. I usually end u making about five smoothies with a single package. Considering a smoothie at my local Asian drink place costs about 6 dollars, I'm saving plenty of money.
Asian Durian Smoothies
There is a Vietnamese dessert drink place near my work. They make sweet drinks with a ton of ingredients that looks something like this:
Ingredients include jellies, bobba, coconut flesh, condensed milk, red bean, avocado, etc. They're fun desserts.
They also do fruit smoothies, including durian smoothies (Sinh To Sau Rieng in Vietnamese). Finally I found an opportunity to try durian fruit! I was a bit concerned at first, hearing descriptions of the fruit smelling like feet, but it was actually really good.
The durian smoothies they make are sweetened and mixed with milk and ice. They're a great summer treat. The owners of the drink place were willing to share their recipe with me, and now I am sharing it with you.
If you are able to find durian fruit near you, I definitely recommend giving it a try. Though be warned, I shared my durian smoothies with about 8 people now, and 6 of them think it is gross and two of them think it tastes good but the smell ruins the smoothie for them. So I am the only one out of these people who actually likes durian smoothies. Like I said, it's not for everyone.
The best way to try a durian smoothie is to find a milk tea or Asian drink place and see if they serve them. If you do not have one of those near your house, try to make your own durian smoothie.
This is the recipe the Vietnamese drink place uses for their durian smoothies:
Ingredients:
1 Cup Frozen Durian
2 Tbsp Condensed Milk
1/2 Cup Milk – Whole
Ice
Directions:
If you buy a whole durian fruit you will have to remove the flesh from the shell and remove the seeds.
Place into blender, and blend.
Add as much ice as you like. Feel free to make the smoothie sweeter by adding move condensed milk.
Twists:
If you do not have condensed milk you can use sugar instead.
Add a frozen banana for a thicker and sweeter shake. Especially is the durian flavor is too strong for you.
Nutrition Info:
| Item | Calories | Protein | Fat | Carbs |
| --- | --- | --- | --- | --- |
| Smoothie | 562 | 11 | 20 | 94 |
| Durian | 357 | 3.6 | 13 | 66 |
| Condensed Milk | 130 | 3 | 3 | 22 |
| Milk – Whole | 74.5 | 4 | 4 | 6 |