Barbell Versus Dumbbell Bench Press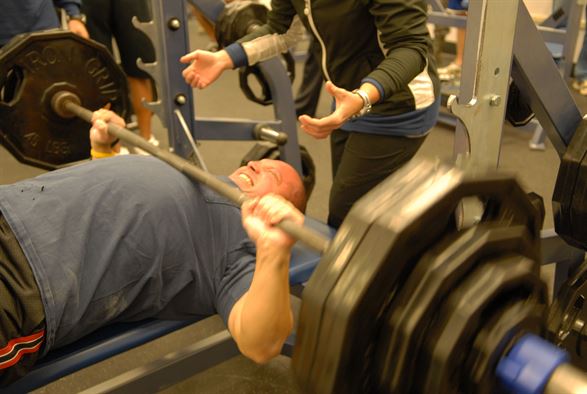 The bench press is probably the most popular weightlifting exercise. Though plenty of people will talk about how the squat or deadlift is the ultimate exercise, the bench press remains a staple is all fitness routines. Every gym bro benches. Everyone who does random exercises instead of a program benches.
People want big arms and a strong chest, the the bench press is great for that. Plus it's an impressive exercise.
There's a scene in the movie Good Will Hunting, where Matt Damon is comparing himself to Robbin Wiliams, and he asks how much Wiliams can bench. He asks about the bench and not some other exercise because the bench press is the way men measure their strength. Not the squat, not the deadlift, not the row. It's all about how much someone can bench.
The thing is, there's a whole lot of variations on the bench press. One can do inclined bench presses, declined bench presses, machine bench presses, etc. I will focus on barbell bench pressing compared to dumbbell bench pressing. There are some real differences between the two, and you might be wondering which one of them is better. Read on to find out the differences between a dumbbell and barbell bench press.
Benefits Of Barbell Bench Press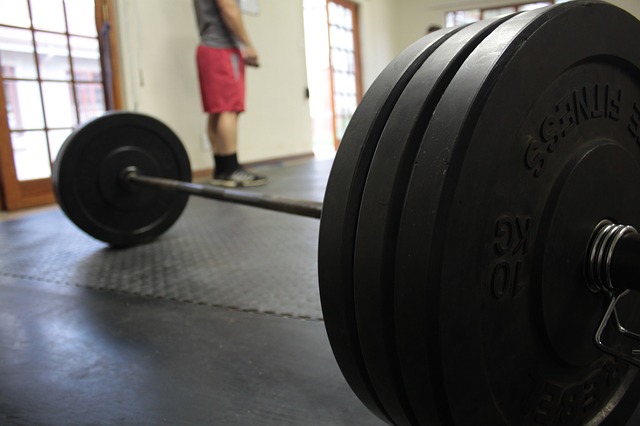 The barbell is a long bar where you add weights to both ends. It is found in every gym and is the most popular type of gym equipment. Most respectable weightlifting programs are based around a barbell. When someone asks how much you can bench press, they are almost always asking about how much you can bench press using a barbell. Barbell bench presses tend to be more popular than dumbbell bench presses.
There are a number of reasons why more people prefer the barbell for their bench press. These include the following.
Easier To Progress
A standard barbell is about 7.2 feet long and weighs around 44lbs. It's just a metal bar. To add more weight to the bar, you take plates that weigh a certain amount and attach them to the bar on each end of the barbell. This allows you to set any weight you want (over the initial 44lbs.) If you want to lift 50lbs, that's no problem. If you want to lift 52lbs, that's also no problem. You can list 54lbs, 56lbs, etc.
By comparison a dumbbell often has a set weight and the weights between dumbbells usually increment in 5lbs iterations. So you go from 45lbs, to 50lbs to 55lbs, with nothing in between. This is per hand, so every time you want to increase the weight with a dumbbell you are essential increasing the weight by 10lbs (5lbs per arm.)
Most weight lifting programs are based around a progression of weights. This is especially true for beginners, who are often able to add a little bit of weight every session. A barbell makes this progression easier. It is perfectly possible for a beginner to lift an additional 2lbs (1lbs per arm) every time they go to the gym. This type of linear progression is key to many beginner weight lifting programs. That is why most beginner programs focus on barbells rather than dumbbells.
If you attempt to do the same type of progression with dumbbells, adding 5lbs every session, you will fail almost as soon as you start.
The ability to slowly progress is probably the number one reason to use a barbell for bench pressing. To get bigger and/or stronger you need to increase either the weight or the amount of reps you are doing on a consistent basis.
Can Lift Heavier
What about guys and gals who have been going to the gym for five years and can bench press twice their bodyweight? Advanced lifters are not using the same type of linear progression as beginners. Eventually one gets to a point where they are no longer able to consistently add weight to their bench press every session. Usually, when this happens, that individual is lifting heavy.
A barbell allows you to lift heavier weight than a dumbbell. The highest weight for dumbbells depends on your gym, but there is always a limit to the amount to you can lift with a dumbbell. There comes a point where a heavier dumbbell cannot be found.
A barbell allows you to add as much weight as you want. You are able to decide how many plates you will put on the barbell. Getting a heavier amount onto a barbell is much easier than finding an equality heavy set of dumbbells.
Finally, a barbell is easier to lift than a set of dumbbells. Ask anyone and they will tell you that their max barbell bench press is heavier than their max dumbbell bench press. This is important because a lot of people want to be able to say that they can lift the heaviest amount possible. If you are looking to impress others, the amount you lift with a barbell will be more impressive.
Easier To Get Into Position
A part of the reason you can lift heavier with a barbell also has to do with how each weight type is set up. For a bench press, a barbell is set above you and you begin the lift on your back, ready to go.
A dumbbell on the other hand is usually set on the lifter's knees while they sit on the bench. To get into position the lifter will then kick their knees up, lifting the dumbbells while simultaneously falling onto their back to get into a horizontal bench press position. This is a much more complex and difficult way to setup a lift.
The heavier the weight you are lifting, the more difficult it becomes to prepare for the lift using dumbbells.
Safer With A Spotter
A barbell is easier to spot than a set of dumbbells. It is possible to spot dumbbells. The spotter will help the lifter by pushing on their elbows. But spotting a barbell is easier and more natural.
If you are lifting heavy enough that you need a spotter, a barbell is going to be easier to spot.
More Practical For A Home Gym
As I mentioned before, a barbell is more likely to be used in a weight lifting program. This is true of beginner and non-beginner programs. If you are looking to create a home gym, or work out on a program that is not designed by a personal trainer, then a barbell is likely going to be a better investment than a set of dumbbells. There are more programs that focus on a dumbbell.
Mark Rippetoe of Starting Strength</> fame says that the reason his program focuses exclusively on the barbell is to keep the program as simple as possible. He does not claim that a barbell bench press is necessarily better for beginners. He wants to keep his program simple and easy to understand. And the reason he uses a barbell is because that is the item that you should use for squats, deadlifts and other types of exercise.
Weightlifters can do squats with dumbbells, but that's not very common. The reason so many programs include the barbell bench press is that the other exercises in that program also use a barbell. If all the other lifts in a program use a barbell, it would be confusing to switch to a dumbbell bench press.
Benefits Of Dumbbell Bench Press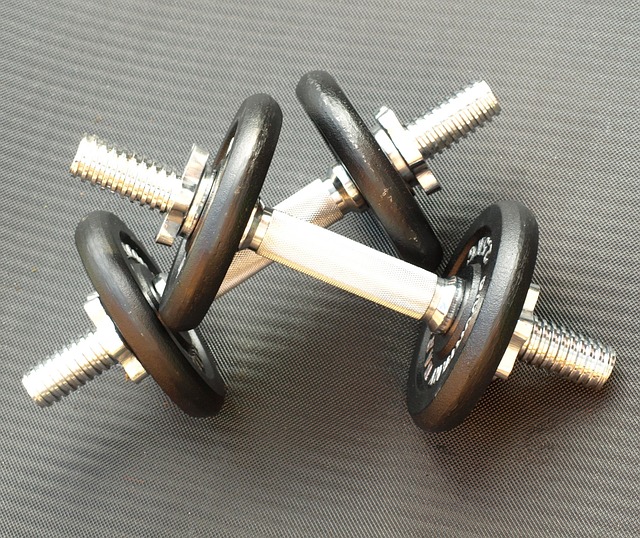 Dumbbells are two separate bars that are each held in one hand with weights attached to each bar. Usually the amount of weight on each dumbbell is not adjustable, though there are adjustable weight dumbbells. Dumbbells often increment in 5lbs differences.
Wider Range Of Motion
All the best reasons to do the dumbbell bench press have to do with the increased range of motion. A dumbbell allows you to move in different ways than a barbell.
Because a barbell is a single attached piece of equipment, you can only move it in a few different directions. Generally, while bench pressing a barbell moves up and down and then possibly towards your feet or towards your head.
A Dumbbell moves in all the same directions as a barbell, but can also move from side to side.
More Muscle Usage
A dumbbell has a wider range of motion. Because of this, more muscles are used to stabilize your arm while you lift with a dumbbell. Generally, an exercise that uses more of your muscles is going to be preferred to one that uses less muscles.
Many weightlifters hate using machines. One of the main reasons is that machines limit the range of motion your body is allowed to do. A barbell has a much larger range of motion than a machine, but a dumbbell has an even larger range of motion.
The Ability To Lift Lower
A barbell can only go down to your chest. A dumbbell can go down as low as your arms are able to stretch. The ability to go lower provides more of a stretch to your chest. This wider range of motion works your chest more.
Lifters are also unable to cheat using dumbbells. Some lifters bounce a barbell off their chest when doing a bench press. This is a dangerous form of cheating.
A dumbbell does not bounce off the chest. The lifter is only using muscle to lift the dumbbell back up.
More Natural Movement
Using dumbbells allows the lifter to rotate their hands and arms in ways than a barbell will not allow. This creates a more natural movement. Being able to move naturally helps prevent injury and allows those who may be prone to a specific injury to adjust the movement of the bench press to avoid injury.
You are also able to target different muscles based on the different angles of the bench press. Dumbbells allow a wider range of angels to be used.
Less Muscle Imbalances
Dumbbells are separately held in each hand. They are not attached to each other in any way. This means that each arm has to do an equal amount of work. When benching with dumbbells, you are guaranteed that each arm is being worked out the same amount and is growing in strength the same amount.
A barbell is a single piece of equipment, meaning that your arms work together to lift the weight. This leads to the potential of one arm doing most of the work. You can develop more strength in one of your arms, leading to a muscle imbalance.
A muscle imbalance can lead to poor posture and what bodybuilders call "asymmetry." This is when one side of your body is clearly larger and stronger than the other.
Many beginners start going to the gym with a muscle imbalance. Beginners have spent their whole life using their dominant arm for most things. Weight lifters focus on using each arm equally. Using dumbbells when a lifter is just starting out will help balance the strength between arms, helping each arm become equally strong.
Safer When Alone
Dumbbells are safer to use when you do not have a spotter or power rack to work in. If a lifter fails while bench pressing with a barbell the barbell will fall onto their chest, stomach, neck or face. You can find plenty of gruesome bench press fail videos online (view at your own risk.) Failing with a dumbbell is a lot less dangerous. Sure, the lifter can still drop the dumbbell onto their face, but they are more likely to navigate the dumbbell to drop harmlessly onto the floor next to them.
The relative safety of bench pressing with dumbbells allows the lifter to push themselves to their limit without the fear of failing, if no one is around to spot them.
Do Both
If you are really concerned with choosing between dumbbells and barbells for your bench press, do both. Each one has some valuable benefits that the other does not. Here's a short list of the pros of each:
Barbell Bench Press
Safer when spotter is present
Can lift more
Smaller increments of weight can be added
More weight lifting programs focus on the barbell
Easier to get into starting position
Dumbell Bench Press
Wider range of motion
Balanced muscles
Ability to stretch the chest out more
Safer when lifting alone
Uses more muscle groups
The bench press is a great exercise, and which ever type of bench press you do, the important thing is to stay safe and consistent.