An Honest Odwalla Protein Shake Review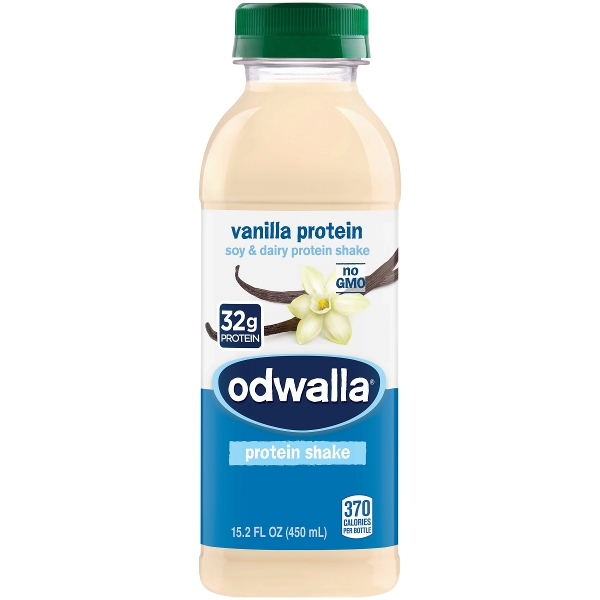 Odwalla began as a small, organic orange juice stand run by three hippies in California. With their orange juice success they moved on to producing juices and smoothies from whatever fruits were in season. Their idea was the make a healthy and natural drink that could serve as an alternative to processed juices made from concentrate.
The company grew in leaps and bounds and was soon producing millions of dollars worth of smoothies. Those who ran Odwalla believed that pasteurization hurt the flavor of fruit. As a result of Oswalla drinks being unpasteurized, there was an E. coli outbreak in 1996 that almost destroyed the company. Since then Odwalla has pasteurized their juices.
In 2001 Odwalla was bought by Coca Cola, making the original hippie founders multi millionaires. Today, Odwalla continues to deliver juices, smoothies and shakes to consumers around the nation. It is one of the most popular drink companies and is available is most major grocery stores.
It is also one of the most popular sources of pre-made protein shakes. If someone forgot their blender bottle or didn't have time to make a protein shake before leaving the house, they can run into any grocery store and get a pre-made, great tasting Odwalla protein shake.
Odwalla Protein Shake Taste Review
There are currently eight different flavors of Odwalla's protein brand: Blueberry Protein, Chai Vanilla Protein, Chocolate Protein, Mango Protein, Original Super Protein, Strawberry Protein, Vanilla Al'mondo Protein, and Vanilla Protein. The diverse flavors make it so that most people can find a drink that they would enjoy.
These shakes are sweet. Even the ones that are not based on fruit flavors have a good amount of sugar.
Mango Protein
Odwalla protein drinks taste a bit different from regular Odwalla juices and smoothies. This is because the protein drinks include whey or soy protein in them. These are real protein shakes with real protein powder added to the ingredients. Protein powder has a distinct taste and texture. If you really do not like the taste or texture of protein power, I would recommend the Mango Protein. This is the most juice-like of the protein shakes.
Vanilla Protein
If on the other hand you want a drink that tastes like a flavored protein shake, try the Vanilla Protein flavor. This flavor is most similar to a simple home made protein shake. The main ingredients are soymilk, cane sugar, and protein.
Original Super Protein
This is the longest lasting Odwalla protein flavor. It's sweet and juicy, but you can definitely notice the protein powder in the drink. The base is fruit juice not soymilk, so it's more juicy than some of the other flavors on this list. I have fond memories of drinking this on a somewhat regular basis. I can see this flavor being too sweet for some.
Blueberry Protein
Imagine adding some blueberries to your standard protein shake and you will have a good idea of how this shake tastes. I'm actually surprised that the blueberries are not one of the first three ingredients and that soymilk is the first ingredient. I never thought of this flavor as tasting like soymilk.
Chocolate Protein
Ever make a protein shake using chocolate flavored protein powder and soymilk? If so, this is the pre-made equivalent. you cannot go wrong with chocolate.
Chai Vanilla Protein
Nothing too surprising about this flavor. It's a standard protein shake taste and texture with some chai flavoring. It's not a bad idea, but I am more likely to get excited about some of the other flavors on the list.
Vanilla Al'mondo Protein
This is a little less sweet than the regular vanilla flavored shake. Because of this the taste seems a little more subdued, which is nice if you are looking for something more mild.
Strawberry Protein
This is similar to the blueberry protein flavor. I prefer the blueberry drink. If you use strawberry flavored protein powder you'll enjoy this.
Odwalla Protein Shake Nutritional Value
All of the flavors are non-GMO.
The vegan flavors are Mango Protein and Original Super Protein.
All the shakes are gluten free except for Chai Vanilla Protein.
One thing to notice is the high amount of sugar in these drinks. All of the Odwalla protein shakes have cane sugar added to them. The total amount of sugar per bottle is anywhere between 37g (Chai Vanilla Protein) and 56g (Original Super Protein.) That's a lot of sugar to be consuming in a single drink.
These protein shakes also contain a fair amount of calories. Anywhere between 310 (Mango Protein) and 410 (Chocolate Protein) per bottle. This can be good or bad, depending on your goals.
All of these drinks contain real ingredients. You can look at the ingredient list and you recognize pretty much everything. The ingredients for these drinks were not made in a lab somewhere, but were grown on a farm.
These drinks also contain a lot of important nutrients. Most of them have a ton of Vitamins B6 and B12. They also contain minerals such as iron, calcium, and zinc. The calories you are getting are not empty calories. They contain some real nutritional value.
When you buy a pre-made protein shake, you want it to have protein. These drinks are a good source of protein. They contain anywhere between 19g and 32g of protein per bottle. This is similar to a single scoop of protein powder. Your average protein powers contain about 24g of protein per scoop. Some have more some have less. So you are definitely getting your protein if you drink one of these.
Odwalla Protein Nutirion
| Item | Calories | Protein | Fat | Carbs | Sugars |
| --- | --- | --- | --- | --- | --- |
| Blueberry Protein | 370 | 25 | 7 | 48 | 44 |
| Chai Vanilla Protein | 370 | 25 | 7 | 50 | 44 |
| Chocolate Protein | 410 | 32 | 8 | 53 | 47 |
| Mango Protein | 310 | 19 | 1 | 54 | 47 |
| Original Super Protein | 350 | 19 | 0.5 | 62 | 56 |
| Strawberry Protein | 320 | 25 | 7 | 37 | 33 |
| Vanilla Al'mondo Protein | 360 | 19 | 10 | 48 | 37 |
| Vanilla Protein | 380 | 32 | 7 | 46 | 32 |
Overall these are good tasting, high protein drinks that are readily available at most grocery stores. If you want something sweet to drink these are great. If you are worried that you will not meet your daily protein goals, these are very convenient.
However, if you have the time to make a protein shake yourself, you are probably better off doing so. By making your own protein shake you are only using the ingredients that you want. My main reason for avoiding these pre-made protein drinks in the fact that Odwalla adds cane sugar into them.
I'll drink one of these when time constraints do not let me make my own smoothie.
What About Odwalla Protein Bars?
Odwalla has discontinued making their bars. They are now focusing entirely on their drink products.