SANS Vacuum Water Bottle Review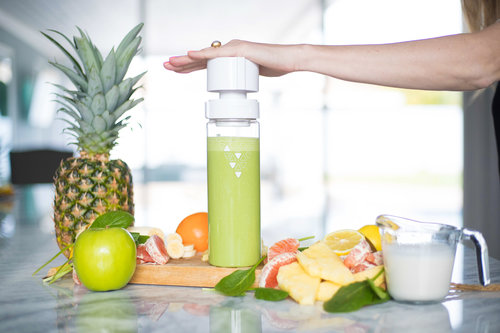 About a month ago I got a new SANS water bottle. For those of you who do not know, SANS makes vacuum pump water bottles. I'll explain in more detail how this works, but the point of this type of water bottle is to keep smoothies, juices, and other drinks fresh for a longer period of time. If you make smoothies or juices that you plan on drinking at a later time or a day or two in the future, a SANS water bottle might be just what you need.
Why Smoothies And Juices Go Bad
Have you ever noticed that juices, smoothies, milk, meats, and other products that you buy at the store say that you need to use them or freeze them within a certain amount of time? This is because as soon as you open one of these products you are exposing the product to the open air and all the bacteria that lives in the open air. Bacteria thrives on these types of products and starts to grow and multiply as soon as it lands on these products. A little bit of bacteria is fine and wont spoil a product, but after a few days your juices and smoothies will start to ferment, your milk will turn sour and your meats will become rotten. This is all due to the bacteria multiplying into colonies and turning your food bad.
A foods expiration date no longer applies once you open that food up and expose it to airborne bacteria. If you leave a juice unopened in your fridge it will stay fresh a lot longer than juice that you opened once and then put back into the fridge. The reason is that when foods like juices are packaged, they are sealed off from the outside world. Air does not get in or out of food packaging, and this keeps the foods from spoiling.
Refrigeration is also very important. Keeping food at a low temperature prevents bacteria from growing. Bacteria grows best in warm temperatures.
How A Vacuum Helps Preserve Foods
A vacuum seal works by removing the air from a container and then sealing off the outside air from coming into the container. SANS water bottles use a vacuum pump to create a water bottle where the air can be removed, but SANS is not the first product to use vacuum seals to preserve foods.
Anyone who has ever canned jams before knows all about killing bacteria and keeping bacteria out of containers. When you can jams you bake or boil the jars that the jam will be put into. This high temperature will kill off any bacteria and will also expand the air. Once the jar is sealed, the air compresses, creating a tighter seal on the jar. This is not a vacuum seal, but it is a seal which is sterile and has less air in it than if the jar was sealed when it was room temperature.
High temperatures work fine with jams and other cooked products, but that type of preservation will not work with juices or smoothies. These are raw products that one does not normally cook. So we need a different way to keep them from going bad. You have two options.
The first is refrigeration, which everyone already does. Keeping foods at a low temperature slows the spread of bacteria, but it does not stop it. If you leave juice in your refrigerator long enough, it will still go bad.
The second is to keep out the air that the bacteria lives in. Without air, bacteria will not spread as fast and your juices, smoothies, and other products will stay fresh longer.
One of the most memorable infomercials I ever saw on TV was one for a vacuum seal machine that sealed plastic bags. This machine would keep meats and other products fresher, in the same way that commercial products are kept fresh. By sealing the food in an airless vacuum.
Sealing food in a vacuum is by no means a new idea. It's been around for a long time, and it works. That's why so many foods you see in the grocery store are packaged in vacuum sealed containers.
SANS Vacuum Water Bottle Review

SANS is selling a vacuum sealed water bottle. This water bottle lets you manually pump out the air from the bottle, creating a vacuum that your smoothies, juices, or whatever can live in. This prevents bacteria from spreading into the bottle and will keep your food fresher longer.
One thing that I never really took advantage of when making smoothies is drinking them later. I usually would make a smoothie and drink it immediately. This is when the smoothie is the freshest. It's well mixed and hasn't had time to settle or go bad. With my SANS bottle I've started to take smoothies with me to work and other places. Now when I make a smoothie I know have the option of drinking it later without it going bad.
The Water Bottle
The water bottle is a pretty standard glass water bottle that comes in a nice protective silicone sleeve. The mouth of the water bottle is as wide as the rest of the bottle. If you use water bottles for smoothies you want a nice wide opening so that you can easily clean out the water bottle when you are done with with. This also allows you to use a spoon if you need to mix up your smoothie.
The silicone sleeve is not as tight as other water bottles that I've used in the past. When washing the water bottle I feel the sleeve move around a little bit. This is only when washing the bottle though. When I am handling a dry bottle the sleeve stays on fine. If anything, this might be a nice feature because it seems like if I need to take off the sleeve I can do so. With other water bottles the silicone sleeve just seems to be stuck on there with an iron grip and will never slip off.
I have the standard 16oz bottle which is fine. The company also sells a 32oz bottle which might be better for those who are using smoothies to gain weight or who want to carry around more than one serving of smoothie. The 16oz size fits in a cup holder, which is nice.
The Pump
The lid of the SANS water bottle is actually also the pump. There are two parts to the lid, a top and bottom, and to remove the air from the water bottle you screw on the lid and then pump the top up and down. You will known when the vacuum seal is formed when the pumping becomes difficult to do. Once you are done pumping, the top of the lid twists back together.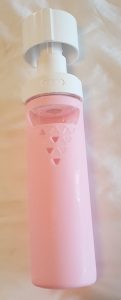 It's actually really simple and works the same way a bicycle tube pump or ball air pump works, but instead of pumping air into something this pumps the air out of something.
The pump seems to be well protected from the contents of the water bottle. This means that even if the water bottle is held upside down and the smoothie gets all over the bottom of the lid, the pump can easily be washed off. However, you need to pump when the lid and pump are clean. Once the lid gets dirty from smoothie you should not pump or else the smoothie will get into the inner parts of the pump and will clog it up. So either keep the water bottle up straight or only pump it when you are first filling up the water bottle. Once the contents of the bottle has started to pour around and onto the lid you should not repump the lid.
This might mean that once you open the smoothie you will not be able to re-seal it. You an of course just close the lid and use it like a regular water bottle that does not create a vacuum seal at that point. Or you can wash the bottom of the lid off.
This vacuum pump works great at keeping food fresher longer. The smoothies that I keep in the vacuum bottle last longer than those that are in a regular bottle. The lack of bacteria and lack of oxygen stops the smoothies from spoiling and from losing their color. I really like my bottle and will continue to use. I'm especially excited to starting bringing smoothies with me on hot summer hikes.
Other Uses
While I have mostly been using my SANS bottle for smoothies, there are actually a ton of other uses for this vacuum bottle that I am excited to try. One day I put an avocado half into the bottle, pumped the vacuum seal, and put it in the fridge. Two days later the avocado was still green! This is really exciting because as you probably know, avocados start to turn brown as soon as they are left out in the air. This process of oxygenation is stopped when the oxygen is removed from the container holding the avocado.
I'm sure this would also prevent apples and bananas from turning brown due to oxygenation.
You can use this water bottle for things other than just fruits and vegetables too. Dairy and other products can be kept fresh longer. Basically any food that would benefit from being stored in a vacuum can be placed into this water bottle. You can probably even use it to keep meat fresh longer, though I would not want to drink out of a water bottle that was used to store meat.
You can get the bottle directly from SANS. You can also read other user reviews and buy it on Amazon.