The Best Weighted Vest For Gaining Muscle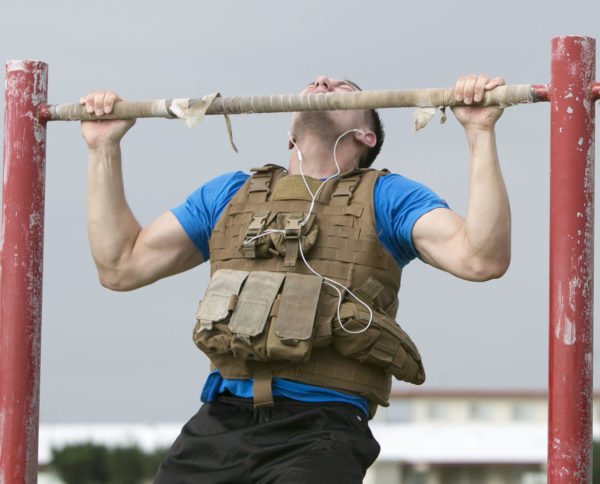 A weighted vest is one of the best fitness investments you can make, especially if you exercise outside a traditional gym or are coming from a body-weight program. A weighted vest can be used for a wide range of exercises, including pullups, chinups, dips, pushups, situps, running, etc. Basically any exercise that is part of a body-weight program can be improved by wearing a weighted vest.
A weighted vest is just what the name implies. It is a vest that has an adjustable amount of weight added to it, to increase the weight of your body. As anyone knows, there is only so far a body-weight routine can take you. Eventually you will need to add additional weights to your exercises to make any additional progress.
The best way to increase your strength and muscle size is to lift heavy things. A weighted vest will make your body heavy.
Why You Need A Weighted Vest
Lets say you are working on increasing the size and strength of your back. Pullups are one of the best exercises you can perform to increase your back strength and size. Pullups specifically target your lats. You can actually make really impressive fitness gains by doing a pullups only workout. The problem is that once you are able to do around 25 pullups comfortably, you have hit a plateau. Increasing the amount of pullups you can do from 25 to 40 is not going to increase your strength or muscle size. At that point you are just increasing the endurance of your muscles.
Increasing endurance is fine, but what if you are looking to increase strength and muscle size you need to increase the weight you are lifting. That is why you need a weighted vest.
If you do not have much time for working out, or don't want to go out of your way to workout a weighted vest is also great. You can wear one of these vests to the grocery store, on a walk or on a hike and you will be burning a ton of extra calories and increasing the strength and endurance of your legs. Walking around with a weighted vest is an easy way for someone who is overweight to lose fat faster.
What To Look For When Buying A Weighted Vest
There are a few things to look for when buying a weighted vest.
Adjustable Weight
The first is to make sure that the weight is easily adjustable. Not all of your muscles are equally strong. Most people have stronger backs than they do biceps, which means that they can lift more weight doing pullups than they can doing pushups. An adjustable weighted vest will allow you to add extra weight for pullups, and remove weights when doing pushups. This way every exercise has the correct and most challenging amount of weight used.
Doesn't Sit On The Shoulders
Second, a weighted vest should not sit most of the weight on your shoulders. A vest that is designed to sit on your shoulders will feel more like a backpack then a proper vest. This will result in your shoulders getting tired. If you plan on running with a weighted vest, you do not want your shoulders to tire out before your legs do.
Instead of resting the weight on your shoulders, the vest should have a good chest and waist strap that distributes the weight more like a belt than a backpack. Most of the weight should rest on your hips and chest, not on your shoulders.
Doesn't Hinder Movement
A weighted vest should never get in the way of your body's movements. One common problem is that some weighted vests are designed for running/walking but not for pullups. These vests add extra wide cushions around the shoulders to make them more comfortable. This is great for running/walking, but will get in your way when doing pullups. Make sure that the shoulder straps will not dig into your neck when you are trying to do pullups.
Uses Weights Not Sand Bags
A lot of weighted vests use bags of iron ore for the weight. These bags are similar to sand bags, but they weigh more. This is fine as long as the bags that the iron ore lives in are durable. The problem is that a lot of cheap weighted vests come with iron ore bags that are prone to ripping, especially if you often adjust the weight of the vest.
The whole point of having an adjustable weighted vest is that you can adjust the weight as often as you want.
A better option than bags of iron ore is to get a vest that uses solid metal as the weight. These will not tear or spill and will last a lot longer. In general, a heavier vest will use solid bars while lighter weight vests will use bags.
The Best Weighted Vests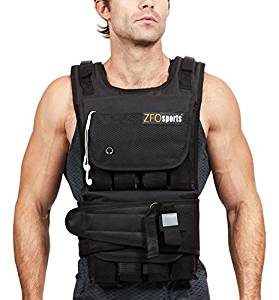 If you are looking for a versatile weighted vest, this is it. It's comfortable, looks good, and great for both running and bodyweight exercises like pushups and pullups. It ranges from 40lbs to 80lbs models, all of which have adjustable weights. The weights are bags of iron ore, but the bags are double sealed, so they are more durable than most other vests.
This vest includes a water bottle holder and a phone and ear bud holder. One of the best things about this vest is the large velcro strap across the waist. This strap can be tightened around the waist to make sure that the weight is resting on your waist/hips and not your shoulders.
The biggest drawback of the vest is that it is a bit hard to assemble, but once you get it assembled it is a great, comfortable product for just about any exercise.
This is one of the most popular vests on Amazon, and is the vest I would recommend for most people.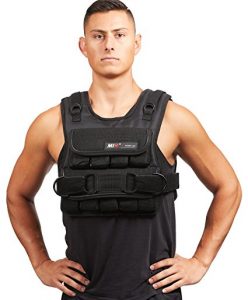 The MiR vest is a really close second to the ZFOsports vest. This vest sits higher up on the body, more on the chest than on the waist/torso. This is great for some added mobility, such as doing situps or burpees. Other vests can get in the way of exercises that have you bending your torso. At the same time, because this vest sits on your chest, it might hinder your breathing, especially if you wear it extra tight.
So the biggest consideration with this vest is if you plan to do exercises such as situps and burpees or not. If you do want to be able to easily move your torso, then go with this vest. If you known that you will not be doing these types of workouts, then you should probably get a vest that has a best across your torso not your chest.
This vest has solid bars for weights, which is another big plus. These bars each weigh 3lbs, and the vest can reach up to 60lbs total.
The weights fit in the vest very snugly and will not come lose, not matter what form of exercise you are doing.
This vest is a close second, and it might be a better choice for you if you want a vest that allows for a wider range of motion.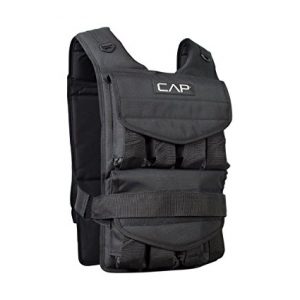 This is a great vest for anyone who wants a walking or running weighted vest. The shoulder straps are too wide for someone looking to do pullups though.
This vest comes in a wide number of weights, from 40lbs to 150lbs. The heavier models have solid bar weights while the lighter ones have bags or iron ore.
This vest is comfortable, has a strap across the waist and looks really cool. This vest looks like something a SWAT member or police officer would be wearing. The wide shoulder straps make sure that the vest is comfortable and the vest has a lot of different pouches, so that you can balance the weights just the way you like them.
The best thing about this vest is how heavy you can make it. Your legs have some of the strongest muscles in your body, and if you are looking for a vest for walking, hiking or running, you will want to be able to go extra heavy. This vest is ideal for those who want to lose weight.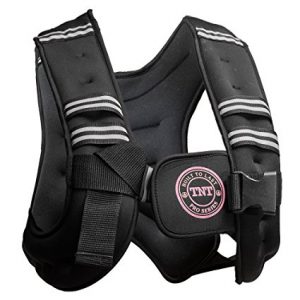 This is an 11lbs weighted vest designed for men and women alike. Eleven pounds might not sound like much, but it can make a world of difference, especially if you are using it for cardio. This vest is comfortable for men and women and has pockets for personal items such as a phone. The weights are iron pellets, which are little iron balls. These are different than sand, but are not solid like a bar. The weight is evenly distributed.
This is a great vest for someone looking for something more lightweight.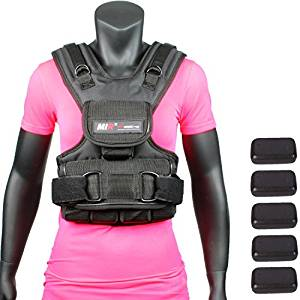 This is a great vest designed specifically for women. The vest is made with comfort in mind and is their best selling woman's vest.
Asides from the women focused design, this vest has a lot of great qualities. The weights are solid 3lbs bars that are removable, so you can adjust the weight of the vest as needed. This also means you can distribute the weight as you see fit.
The biggest concern with this vest is that the weights fit really snug and can be difficult to put back in place after being taken out.
This vest is especially wonderful for smaller women. If you find that weighted vests for men are too big for you, this vest should be a great alternative. Likewise, if you find that your chest is too uncomfortable using other weighted vests, the design of this vest will be great for you.
Best Weighted Vests
Weighted Vest Alternatives
A weighted vest is more comfortable, safer and easier than other DIY methods such as wearing a backpack. When I first started adding weights to my pullups and pushups I just put some books into a backpack. It worked OK, but the books would shift around in the backpack, and all the weight was distributed against my shoulders and pulling against me.
After a few months of this I borrowed a friend's weighted vest and realized how much more efficient it is to have the weight be evenly distributed around my torso. The next day I went online and ordered my own weighted vest.
If you are just starting out, a DIY method like a backpack filled with books can work, but once you know you will stick with an exercise routine on a regular basis, do yourself a favor and invest in a weighted vest.