Low-Carb Strawberry Coconut Smoothie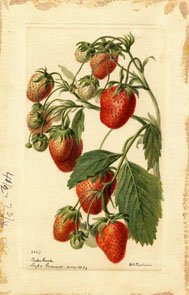 This smoothie has about 12 grams of carbohydrates. It's a great treat for those looking for a smoothie while on a low-carb diet. If you get lite coconut milk instead of regular coconut milk you will reduce the carbs in this smoothie down to 6 grams. That's pretty great for any low-carb diet.
Ingredients:
Directions:
Remove stems from strawberries, place everything in a blender and blend.
Twists:
Try Sugar-Free Chocolate Syrup instead of vanilla. Both have zero calories.
Get rid of about half the carbs in this smoothie recipe by usng lite coconut milk.
Frozen strawberries are a great idea.
Nutrition Info:
| Item | Calories | Protein | Fat | Carbs |
| --- | --- | --- | --- | --- |
| Smoothie | 299 | 2 | 27 | 12 |
| Coconut Milk | 80 | 0.5 | 5 | 7 |
| Strawberries | 14 | 0.3 | 0 | 3.3 |
| Heavy Cream | 205 | 1.25 | 22 | 1.5 |