Nut Butter Comparison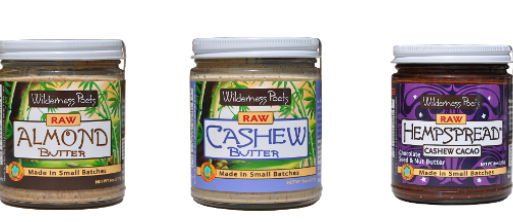 A peanut butter and jelly sandwich is a staple food for many Americans. Adding peanut butter to smoothies is a great way to get a large amount of healthy calories, protein and good fats. Nut butters also add to the flavor and texture of smoothies.
Peanut butter and bananas are a great flavor combination. Some people make peanut butter and banana sandwiches. The combination can be just as good in a blender. Add some milk and you have a delicious smoothie.
Peanut butter is especially useful on a bulk when you are trying to gain muscle. But is it the best nut butter available? There's a world full of peanut butter alternatives. Would almond, cashew or sunflower seed butter be a better muscle building ingredient? Take a look at the following nut butter comparison to see which is the right nut butter for your diet.
Peanut Butter
Because it is so common, this is the standard. You can find peanut butter in just about any grocery store and in most kitchens. Unless you have had a very unusual upbringing you also know what the taste is like. The nice thing about it being so common is that it's usually the cheapest nut butter. At the same time some really cheap brands will add a bunch of artificial sugar and other additives to their peanut butter. You're best off reading the nutrition label and avoiding those brands. Peanut butter is certainly a great addition to a muscle building smoothie. In two tablespoons you get 190 calories and 8g of protein. A regular 16oz jar of peanut butter had about 28 tablespoons in it, which means about 2,660 calories and 112g or protein per jar.
Almond Butter
This is probably the second most common type of nut butter. I think the taste of almond butter is better than any of the other butters listed here, but that is obviously a subjective opinion. Calorie wise almond butter is equal to peanut butter at 190 calories per two tablespoons, however it does have a tad less protein. 7g of protein per two table spoons.
Cashew Butter
Cashew butter is another nut butter that is largely available. Again be aware that some companies unnecessarily add sugar and other additives to their foods. Jif is a common brand which sells cashew butter but also adds sugar. Cashew butter is tasty enough without the additives so avoid them. Once again cashew butter is a nut butter that has 190 calories for every two tablespoons. However the amount of protein is lacking. Only 5g per two tablespoons. Unless you really enjoy the flavor, you should probably skip cashew butter. It's just not the most efficient addition to your smoothies unless you are looking for an extra bit of carbs. Cashew butter has more carbs than the other butters on this list.
Sunflower Seed Butter
Yes, I realized sunflowers are not nuts. But the consistency of sunflower butter is pretty similar to that of nut butters. It's also got more protein than peanut butter. Two tablespoons have 180 calories and 9g of protein. A tad less calories and a tad more protein than peanut butter. Sunflower butter is also tied for the least amount of fat per serving. The other great thing about sunflower butter is that it is a great alternative for those with nut allergies. Obviously read the nutrition labels to make certain, but there shouldn't be any nuts in your sunflower butter.
Tahini
Tahini is a Middle Eastern butter made out of sesame seeds. You may have had it on a falafel sandwich before. Like sunflower butter it is not a nut butter, but is still common enough to be worth mentioning. The calories are equivalent to peanut butter at 190 per two tablespoons, but the protein is only at 6g. Like cashew butter, unless you really like the flavor, tahini is not going to be the most efficient addition to your smoothies.
Macadamia Butter
Ok, now we are getting into the more exotic nut butters. These are usually going to be manufactured by smaller companies, with less distribution. Don't freak out, if they sound delicious and you must try one, just order them online
. Macadamia butter might not be the ideal to try if you are looking for a good source of protein. Two tablespoons only have about 4g of protein.
Pecan Butter
This is another favorite of mine purely for the flavor. The taste is amazing. Nutritionally it has about 175 calories and 4g of protein per two tablespoons.
Pumpkin Seed Butter
Another one you may have to buy online
. This is another good alternative to true nut butters. There are a lot of people with peanut allergies who do not look at the alternatives to peanut butter. With pumpkin seed you get a mean lean 160 calories and an impressive 10g or protein per two tablespoons. Even without nut allergies this butter might be worth looking into.
Hemp Seed Butter
Ok, hang with me here. I know when you hear hemp you think of skinny dreadlocked hippies. But this stuff is actually pretty great. It's got 11g of protein and only 145 calories per two tablespoons. The taste is kind of similar to pine nuts. Again, depending on where you live you may have to purchase this on the Internet
. And yes, it is legal and no, it will not get you high.
Pistachio Butter
I really like pistachios. However, for some reason pistachio butter just doesn't taste that great to me. It isn't bad, but it did not live up to my expectations. It might also be the priciest of the butters listed on this page. Because of that I tend to think you are better off just eating pistachios on their own rather than purchasing pistachio butter. The protein content isn't amazing either; 6g and 156 calories per two tablespoons.
Results
Per one tablespoon the nutritional value is:
| Item | Calories | Protein | Fat | Carbs |
| --- | --- | --- | --- | --- |
| Peanut Butter | 95 | 4 | 8 | 3 |
| Almond Butter | 95 | 3.5 | 8.5 | 3 |
| Cashew Butter | 95 | 2.5 | 7.5 | 5 |
| Sunflower Seed Butter | 90 | 4.5 | 6 | 4 |
| Tahini | 95 | 3 | 8.5 | 3.5 |
| Macadamia Butter | 97.5 | 2 | 10 | 2 |
| Pecan Butter | 87.5 | 2 | 8 | 3 |
| Pumpkin Seed Butter | 80 | 5 | 6.5 | 2 |
| Hemp Seed Butter | 72.5 | 5.5 | 2.5 | 3.5 |
| Pistachio Butter | 78 | 3 | 6 | 4 |
As you can see in the chart above, there are peanut butter alternatives that have higher calories, protein, fat, and carbohydrate contents. As always, when it comes to fitness and nutrition, the best food is the one which best meets your goals. If you are looking for the most calories or the most fat (keto anyone?) you should consider macadamia butter or macadamia nuts. If you are looking for the most protein per serving, check out hempseed butter. At the same time remember that the flavor of your food is important. If you hate the taste of sunflower seeds then sunflower seed butter probably isn't going to work for you.
Though salted butters may be good on a sandwich, unsalted butters are better for making a smoothie.
Depending on where you live, all of the above may not be available in your local grocery store. If you have a health food store you can try there, or you can purchase nut butters online. They do not need to be refrigerated before being opened so it isn't going to hurt any if you order a tub on the Internet. You can save money by ordering a gallon
or five
rather than buying individual jars. It's like buying a giant tub of protein powder. If you are serious about gaining muscle you need to get serious about your calorie and protein intake.
You can also save money by purchasing nuts in their normal form and grinding them up into a butter yourself. Or even just adding nuts directly into a blender along with the other smoothie ingredients you want to use. They might be a bit more chunky than if you added a butter, but it still works fine.
The above nutrition data was taken from a couple different companies' products (MaraNatha and Wilderness Poets). Different companies may use slightly different techniques and ingredients, changing the nutritional value. Get used to reading the labels on your foods.