Dried Dates + Vitamix = Heaven In My Mouth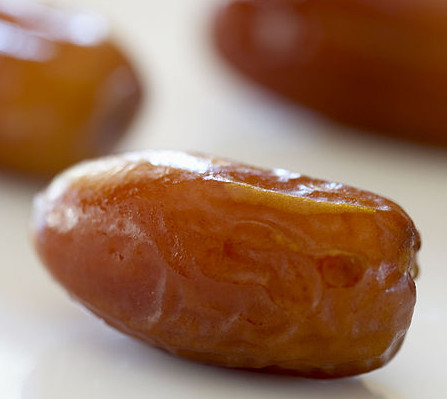 I fairly recently went all out and got a fancy Vitamix 5300 blender
. It's great and actually kind of intimidating in how massive it is and how powerful the motor is. The thing can definitely blend. It also looks cool and might impress guests who see my kitchen.
As far as blending goes, it's great, but for many smoothies that I make it isn't a life changer. I mean, honestly, cheaper blenders which I've had through the years worked just fine for most foods. Fruits like Bananas, berries, mango, etc. all blend easily because they are so soft. The real benefit of having a Vitamix blender comes when you attempt to blend harder or drier foods. I no longer need to soak dried foods before blending.
Cheaper blenders just cannot handle dried dates or oats as well. With a cheaper blender you end up getting noticeable bits of oats in your smoothie. Dried dates are even worse. They end up being so hard that a cheap blender has to blend and blend for a long time and you still end up with chunky bits of date.
My Vitamix has changed that. I turn the speed to 9 or 10 on the Vitamix and in less than a minute all the oats and dates I added to my smoothie turn into liquid. The Vitamix is able to get rid of all the chunkiness and instead I get a nice smooth drink.
And if there is one thing I love it is adding dates to a smoothie. Oats I add for the nutritional and caloric value, but dates are just pure sweetness. It's one of the best smoothie ingrediants, and allows my taste buds give me so much pleasure. Mmmm, dates….
Here is a sweet and delicious smoothie recipe that I recently made that was greatly enhanced by the addition of dates.
Ingredients:
2 Frozen Bananas
1 Banana
1/2 Cup Heavy Cream
1/4 Cup Milk
4 Pitted Dates
1 Tbsp Almond Butter
Directions:
If you have a cheaper blender, soak the dried dates for a bit before trying to blend. They will become soft and easier to blend. Otherwise, throw everything into a blender and enjoy.
Twists:
Add a teaspoon of maple syrup.
I think 2 frozen bananas plus one fresh banana work really well here, but of course you can change that around as you like.
Nutrition Info:
| Item | Calories | Protein | Fat | Carbs |
| --- | --- | --- | --- | --- |
| Smoothie | 1064 | 14 | 56 | 145 |
| Bananas | 315 | 3.9 | 1.2 | 81 |
| Heavy Cream | 410 | 2.5 | 44 | 3 |
| Milk | 37.2 | 1.925 | 1.975 | 2.925 |
| Dates | 207 | 1.8 | 0.3 | 55 |
| Almond Butter | 95 | 3.5 | 8.5 | 3 |