Reserveage Grass Fed Whey Protein – An Honest Review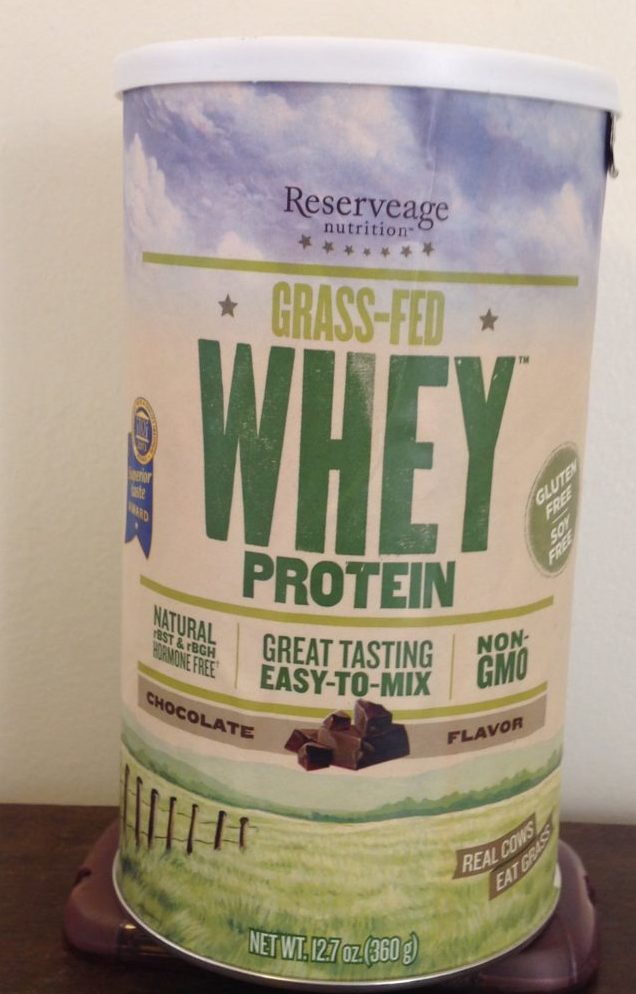 I was at the grocery store the other day looking at protein powders and I wanted to try something new. One protein powder that caught my eye was Reserveage's grass fed whey protein. It stood out from many other protein powders because the packaging and labels made it sound more like an organic tea, rather than a protein powder. The emphasis was on being non-GMO, grass fed and minimally processed. I was interested and took a look at the nutritional value and the ingredients and the protein powder actually looked pretty good. So I bought a can and have been using it for about a week now. When I got home I did some more research on the brand, and now I can give you an honest review of Reserveage's grass fed protein powder.
Who Is Reserveage?
Reserveage Nutrition is a wellness company selling nutritional supplements. This includes anything from hair strengthening supplements, or menopause supplements to prostate supplements.
The company is very into natural, environmentally friendly sources for their products.
When I read more about the company I became a little skeptical of their protein powder. The reason is that their main target is obviously not a gym rat. Most likely the target for their product are yoga or Pilates practitioners. That's just something that I'm not. I don't know the first thing about yoga and have never really thought about where my whey protein comes from. I just want it to help me gain muscle.
But then I looked at the nutritional values of their protein powder. The stuff is legitimately good protein with a very short list of ingredients. So while I might not be the target consumer for this grass fed whey protein, I can still benefit from it.
Is The Grass Fed Whey Protein Any Good?
Whey protein comes from cow milk. So when a protein powder says that it is grass fed, it means that the milk that the whey comes from came from cows that were grass fed.
Grass fed cows are a popular source of high quality meat, milk, cheese and other dairy products. Its no wonder that whey protein powders are also being produced using grass fed cows. The alternative to grass fed cows are cows fed mainly on grain. Grain is not the natural source of food for cows, but it is a lot cheaper to feed cos grain than it is grass.
Proponents of grass fed cows point out that meat and dairy products made by grass fed cows tastes much better than the cheaper alternatives. It's also healthier for the animal and procedures healthier products. Meats and dairy products produced from grass fed cows contains higher amounts of omega-3s, healthy amino acids, trace nutrients, antioxidants, and vitamins.
There haven't been too many studies done on grass fed whey protein versus conventional whey protein. However, studies on other dairy products do show that grass fed cows produce milk which has more nutritional and more complex forms of proteins. This is likely true of whey protein, and would result is a higher quality protein product.
It's very likely that grass fed protein powder produces a better, more complex, fuller form of protein. This protein is going to be more beneficial to the human body and specifically to creating muscle mass and repairing muscle fibers after workouts.
Reserveage Protein Powder Nutrition
The nutritional value of Reserveage's grass fed protein powder is very good. The first thing I noticed is the ingredient list is short and to the point.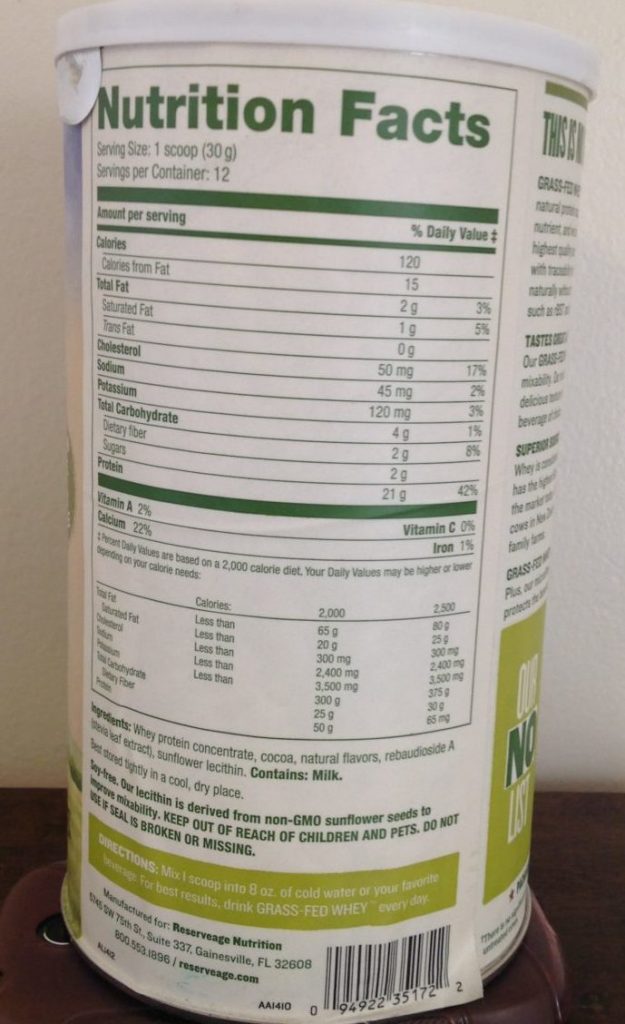 Many protein powders add a billion unnecessary ingredients into the product. They add ingredients with super complex names that don't really do anything. This makes the protein powder look more impressive to some people.
When I buy a whey protein powder, I want the main ingredient to be whey. Heck, I'd be happy if whey protein was the only ingredient. However, pure whey protein does not have a very pleasant taste. So most protein powders add a few ingredients to help with flavor. This makes protein shakes and smoothies much better tasting and easier to swallow. If you are interested, Reserveage also makes an unflavored product.
Reserveage is great in terms of the ingredients. The first ingredient is whey protein powder, followed by cocoa, natural flavors, a Stevie extract and sunflower lecithin. The lecithin helps with the mixability of the drink.
These are very simple ingredients. There's nothing artificial or unnecessary in this protein powder. And it's always impressive when a chocolate protein powder uses real cocoa instead of artificial chocolate flavorings.
In terms of protein, the Reserveage chocolate protein powder has 120 calories per serving. This includes 21 grams or protein, 2 grams of fat, and 4 grams of carbohydrates. You also get 22% calcium, 2% vitamin A and 1% Iron.
The milk used to make the protein is rBST and rBGH hormone free. All the ingredients and non-GMO. It's gluten free and soy free.
In sum, this is a high quality protein powder, that is likely even better than compatible protein powders because the whey comes from grass fed cows.
Reserveage Chocolate Protein Powder Flavor
I have only tried the chocolate flavored version of Reserveage's grass fed whey protein powder.
I can say without a doubt this is one of the best tasting protein powders I have ever had. I don't know if it is the real cocoa or if it is the fact that grass fed whey tastes better than regular whey, but this stuff is really good.
The very first thing I did was mix a tablespoon of this protein powder in with some whole milk. The result was a great tasting chocolate milk. I could have been fooled into thinking this was chocolate milk and not a chocolate protein powder mix.
I then added this protein powder to a smoothie. The result was a rich and creamy protein smoothie. I specifically noticed that this protein powder goes well with blueberries and almond butter.
The smoothie I made was:
2 Bananas
1 Tbsp Almond Butter
1/2 Cup Spinach
1 Cup Milk – Whole
1 Cup Blueberries (frozen)
1 Scoop Reserveage Protein Powder
| Item | Calories | Protein | Fat | Carbs |
| --- | --- | --- | --- | --- |
| Smoothie | 640 | 39 | 20 | 88 |
| Bananas | 210 | 2.6 | 0.8 | 54 |
| Almond Butter | 95 | 3.5 | 8.5 | 3 |
| Spinach | 3.5 | 0.5 | 0 | 0.5 |
| Milk – Whole | 149 | 8 | 8 | 12 |
| Blueberries | 62 | 2 | 0.7 | 14 |
| Protein Powder | 120 | 21 | 2 | 4 |
The smoothie was thick, tasty and great and you could definitely taste the addition of a high quality chocolate flavor from the protien powder.
Is Reserveage Grass Fed Protein Powder Good?
Overall, I would rate this protein powder very highly.
It's a high quality product with a few simple ingredients.
There is a very good chance that grass fed protein powder has higher quality whey than grain fed protein powders.
The chocolate flavor tastes great.
From my research, I'm definitely convinced that grass fed whey protein is better, and I plan on only using grass fed whey from now on.
You can read more reviews on Amazon. Leave a comment of what you think of this protein powder.