Reusable Metal Smoothie Straw Review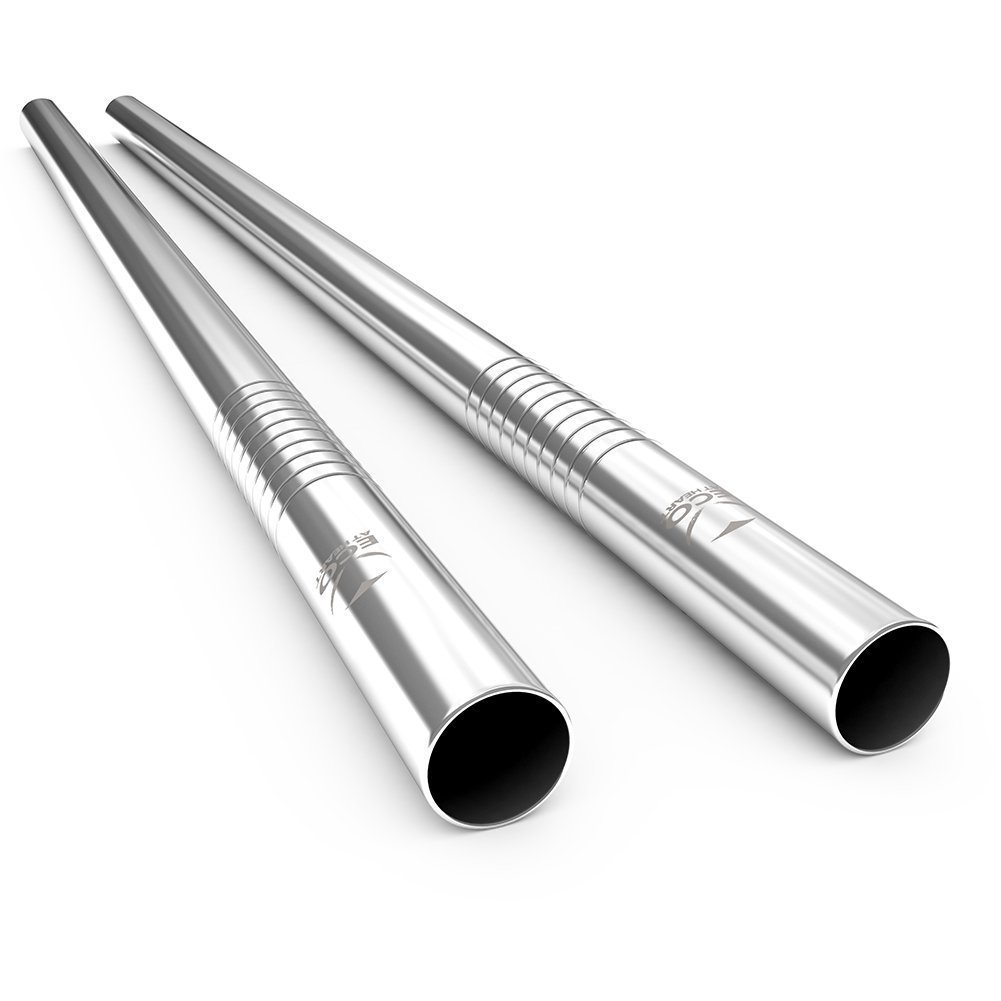 It's funny, when I think about the drinking straw, I'm kind of amazed that someone thought to create something like that. OK, most likely humans used straws by finding reeds or grass or whatever long before any straws were manufactured. But still, I don't think I would have ever thought to make a long tube for the sole purpose of getting liquid into my mouth.
What I am trying to say, is that I think drinking straws are really cool. A regular drinking straw is just too narrow for most smoothies. But a few weeks ago I went and bought myself a set of five high quality, reusable metal straws specifically made for drinking smoothies and other thicker drinks. After reading a lot of online reviews I went with the Eco at Heart brand.
I have to say, I love the smoothie straws I got. They're fun to use, easy to clean, and I just store them in the drawer with all my other metal utensils, like my forks and knives.
These smoothie straws create a fun way to drink up my favorite smoothies. Smoothie straws are extra wide, allowing thicker drinks to be sucked up without any problem. I can drink straight out of the blender container if I feel like it.
The nice thing about having a metal straw is that it wont break. Straws also come in glass and plastic form, but I would be scared of breaking the glass straw, especially when storing or washing it. The last thing I would want is to accidentally drink out of a broken straw.
Plastic straws are OK because they won't break. However, plastic is an artificial man-made substance. Some plastic straws contain BPA and other toxins. Plastic straws are also usually not meant to be reused. This means every time you drink a smoothie you are creating more waste and adding more plastic to our landfills. There are hundreds of thousands of plastic straws thrown away every single day.
The cleanup for these metal smoothie straws is simple. For me, I just run some water through the straw right after I am done using it. Any smoothie drinker will tell you, the easiest way to clean up after your smoothie is to wash it right after you are done drinking.
If you do not have time to wash the straw right away, it's not a big deal. I put mine through the dishwasher without any problems. The package of straws also comes with a handy little brush that fits inside the straw and makes cleaning by hand simple and quick.
These straws are stainless steel. This means no rust, no metal taste and no chemicals. I am very happy with this set of smoothie straws and recommend them for anyone who enjoys smoothies, milkshakes, or proteins shakes through a straw.