You Know You Love Smoothies If…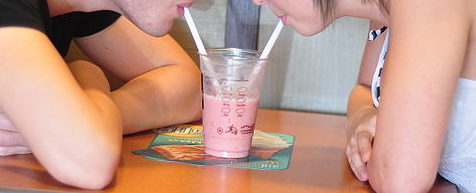 If the most of the following are true, you might be a true smoothie lover…
You Drool Over Vitamix Blenders The Same Way Others Admire Sports Cars.
"Oh baby, that is one powerful engine. Two horsepower and up to 29,000 RPMs. This thing goes from banana to smoothie in under two seconds."
Your Freezer Has More Frozen Fruit Than Frozen Dinners
Think of how many extra frozen strawberries you can fit if you get rid of those ice trays. And don't even think of being able to fit a frozen pizza anywhere in there. It was just mango season, and you did have to stock up for the rest of the year.
You Judge A Grocery Store By It's Banana Prices
I just don't get why Bananas aren't a loss leader. Think of how much more business a grocery store would get if it were known as the "cheap banana place".
You Find Chewing Is A Waste Of Time
Seriously, who has that kind of time on their hands? You'd never get anything done if you had to constantly chew your food. And lets not even think about having to use a fork and knife. Inefficient!
You Wonder If Random Foods Could Be Blended
Hmm, what if the chicken and potatoes are mixed in with some gravy? They all end up getting chewed up anyway, right? How could this idea not work?
Your Diet Is Correct
Whether you are high carb or no carb, you know your diet is the best, and you make sure everyone else knows it.
And you have a whole set because you never know when someone will come over for lunch.
You Let Your Kids Eat Ice Cream Everyday
Because your ice cream is really a healthy smoothie recipe.
Your Water Bottle Has Not Been Filled With Water For Three Years Now
Water is an ingredient, not a drink!