Starting Strength Fitness Program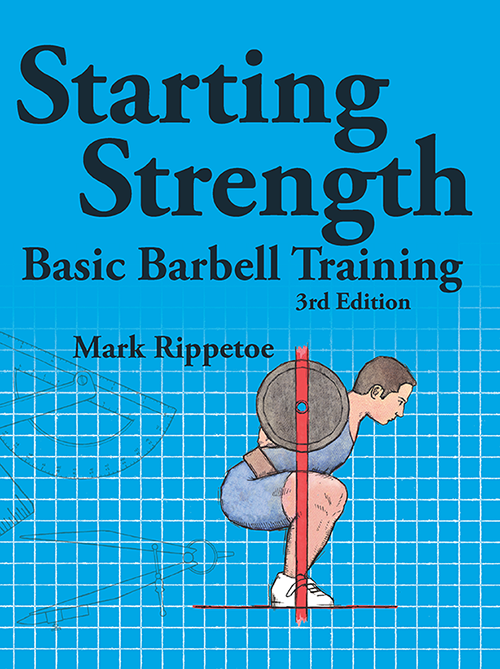 Starting Strength is a book and fitness program written by strength coach and former powerlifter Mark Rippetoe. It is the best beginner program for building strength. The focus is on compound barbell lifts and linear progression until a base of whole body strength is built. The main exercises are the squat, deadlift, bench-press, overhead press and the power clean, though some people do bent-over rows instead of power cleans. The program is designed to build muscle and strength at a rapid pace.
I have done Starting Strength and have gone from skinny (slightly skinny-fat) to more muscular. I have also seen my lifts improve quiet a bit and have definitely become stronger due to the program. It is a great starting guide to lifting weights.
Why Starting Strength?
Starting Strength (SS) creates a whole body exercise routine from five of the best compound lifts. Because each of these lifts targets multiple muscle groups, the whole body gets a workout and just about every muscle in the body is able to get stronger and grow. At the same time using only 5 exercises the program is fairly simple. An overly complex program is only going to server in intimidating beginners from stepping foot into a gym in the first place.
The focus of SS is to increase the weight lifted every trip to the gym in a linear progression. Someone new to lifting is going to have newbie-gains. That is, they are going to be able to increase their lifts at a faster rate than someone who is already at the intermediate or advanced stage of strength building. By increasing the weight every session gains in strength grow at the fastest rate possible. The body is constantly being pushed.
Spending a few months on SS will build an impressive base of strength and power which can then be used to transfer over to a more complex and advanced weight lifting program, and which will also transfer well to other sports such as football.
The Basic Program
Starting Strength has two workout routines, which are alternated every session, with a day of rest between each session. So Monday you would do Routine A, Tuesday rest, Wednesday Routine B, Thursday rest, Friday routine A, Saturday rest, Sunday routing B, Monday rest, Tuesday routine A… etc. Though many people like to only work out 3 days a week with a two day rest period somewhere in the week. This allows for a more structured routine where gym days are always Monday, Wednesday and Friday for example. It's up to you which you prefer.
The routines look something like this:
Routine A

3×5 Squats
3×5 Press
1×5 Deadlift

Routine B

3×5 Squats
3×5 Bench Press
3×5 Power Clean
Of course you can make changes to the above. As already stated, a lot of people substitute bent-over rows for power cleans. I like to throw in dips on bench press day and pull-ups on deadlift days to focus a bit more on my upper body. That's largely because I am happy with my lower body due to all the bicycling I do.
Buy The Book
Seriously, the Starting Strength book
is a fantastic resource. It explains all of the lifts and the whole program in greater detail than you will find on the Internet. It talks about diet and how to avoid common mistakes and will probably answer any questions you might have.
What Starting Strength is Not
SS is not a bodybuilding program. The emphasis is building strength, not aesthetically pleasing big muscles. Those two are not exclusive, by any means, but they are also not the same thing. With SS you will have a higher body fat percentage than with a bodybuilding program. This is because you must eat at a calorie surplus to properly and quickly gain strength. Some of this surplus is going to turn into fat. This does not mean you will become obese, but you will not look as 'tone' as you might expect. Most people agree that one should build a strong muscle base before moving on to a bodybuilding program. Even if your goals are pure aesthetics, you will meet them faster if you first develop strength and then cut your body fat and focus on muscle size.

SS is not the healthiest program. Because SS has such a strong focus on gaining muscle and strength you will need to eat at a caloric surplus. This can be hard to do. Mark Rippetoe recommends a GOMAD diet of a gallon of milk a day to help meet these goals. This is definitely not the healthiest diet around. Lifting weights is not the best form of exercise for a strong heart or healthy lungs. That's what cardio is for. Starting Strength is for getting strong, which is not always the same thing as working out for optimal health or longevity.
The nutritional recommendations of the book are pretty weak. The main idea is that one should eat a surplus of calories if one is to become stronger, which makes perfect sense, but there is no focus on overall body health. No mention of vitamins and minerals or eating healthy, which is a shame. If you search the Internet you will find folks who have tried Starting Strength, and while they have gotten stronger, they have also gotten fat. This is largely likely due to eating too much unhealthy food. You can certainly hit your calorie intake goals for Starting Strength by eating a bunch of ice cream and pizza, but don't expect to have a great looking of great feeling body if that is your diet, no matter your workout routine.
While participating in SS I was drinking healthy smoothies, which helped me meet my calorie surplus needs while keeping my body fat low. My lifts and gains went up, but my health health did not suffer from a poor, over-indulgent diet. Smoothies can be a great help in building strength. They make meeting your daily macro and micro nutrients easier. The great thing about smoothies and shakes is that whether you are looking to gain muscle or cutting fat you can incorporate smoothies into your diet. Different smoothie ingredients will lead to different results.
Get all the details on how to do this fitness program along with how to do the specific compound exercises, buy the book
!