Strength or hypertrophy First?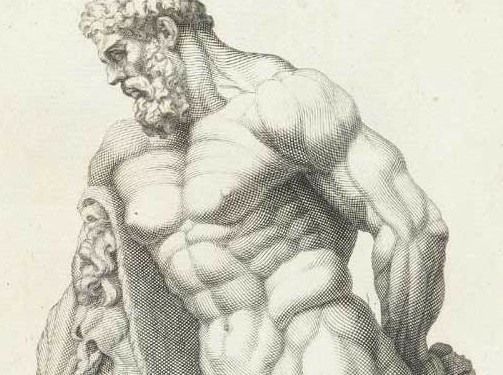 When I first started lifting weights I basically wanted to get bigger and stronger. I thought the two were interchangeable. The truth is working towards strength does not always mean you will gain large muscles. Likewise, getting bigger does not mean you are getting as strong as you could be. Different workouts focus on different goals, some focus on strength, others on hypertrophy.
The largest person in the room is not always the strongest. Here's a video of someone who weighs 166.6 lbs and is able to squat 507, bench 347 and deadlift 661:
166.6 pounds is not very large, but those lifts are really impressive. Even for someone a lot larger would be proud of those numbers. So while that person is really strong, they are not huge and probably would not do great at a bodybuilding competition, where aesthetics is key. Strength and size are not the same thing.
Strength work is usually centered around programs that lift heavy weights for less repetitions. A hypertrophy workout focuses on slightly lower weights but a higher volume of reps. Strength training often has 5 or less reps per set, while hypertrophy would be in the range of 8-12 reps per set. For strength the important thing is lifting really heavy things so that the body is able to recruit more motor units. For hypertrophy the important thing is training until the muscles are close to failure, increasing the muscle during recovery. The effectiveness of repetition numbers are debatable, however, that is another subject.
That being said, what if you want to have both, strength and a great looking muscular body? If you are a weak and skinny beginner, you should focus on strength first. Focusing on strength first will allow you to reach both strength and hypertrophy goals faster. Think about it. Lifting light weights, even for a larger amount of reps is not going to build up muscle as fast as lifting heavy weights for a large amount of reps.
The individual in the above video is able to bench 347. If they put all their focus on developing their pecs they would see massive gains – above and beyond that of someone who already has a nice chest but is only benching 200. They would catch up and pass the person benching 200.
Muscle hypertrophy is largely a result of bringing muscle fibers close to failure. A stronger person is able to do this a lot easier than a weaker person. Lifting heavier weights will fatigue more muscle fibers faster than lifting lighter weights. Because of that, even if your goals are simply looking great, focus on strength as a beginner. Once you are able to lift a respectable amount, then start to consider hypertrophy options and programs. And of course as you gain strength, your muscles will grow, so even while you focus on strength, there will be some physical muscle gains as well.