Vegan Bodybuilding Protein Shake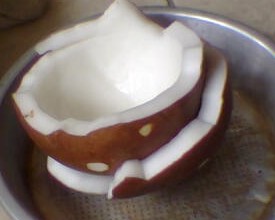 Vegan athletes have been a strong presence in the natural bodybuilding community. This coconut and chocolate flavored vegan smoothie is just the kind of dietary nutrition needed to promote a trim fit figure while being cruelty free.
The coconut milk ensures you get some of that saturated fat that certain vegan diets lack. A 1/2 cup of coconut milk has about 25g of saturated fat.
Ingredients:
2 tbsp Flax Seed
1 tsp Vanilla Extract
1 Frozen Banana
1 Pair
1 Pack Vega Protein Powder (Chocolate)
1/2 cup Coconut Milk
Directions:
Soak flax seeds for about half an hour before blending. This will help them blend into a smoother texture. Add ingredients into a blender, making sure that the frozen banana chunks are not right at the bottom. If the bottom of the blender is packed with frozen ingredients it will be harder to blend the smoothie. Blend everything and cherish the vegan bodybuilding lifestyle.
Twists:
Indulge and add some vegan coffee ice cream. The smoothie becomes less healthy, but the taste is superb.
Nutrition Info:
| Nutrition | Smoothie | Flax Seed | Vanilla Extract | Banana | Pair | Protein | Coconut Milk |
| --- | --- | --- | --- | --- | --- | --- | --- |
| Calories | 623 | 37 | 12 | 105 | 103 | 90 | 276 |
| Protein | 21g | 1g | 0g | 1g | 1g | 15g | 3g |
| Carbs | 68g | 2g | 0g | 27g | 28g | 5g | 6g |
| Fat | 31.5g | 3g | 0g | 0g | 0g | 0.5% | 28g |
| Vitamin C | 34% | 0% | 0% | 17% | 12% | 0% | 5% |
| Calcium | 17% | 2% | 0% | 1% | 2% | 10% | 2% |