Why You Should Add Spiritulina To Your Next Smoothie (Especially If You Workout)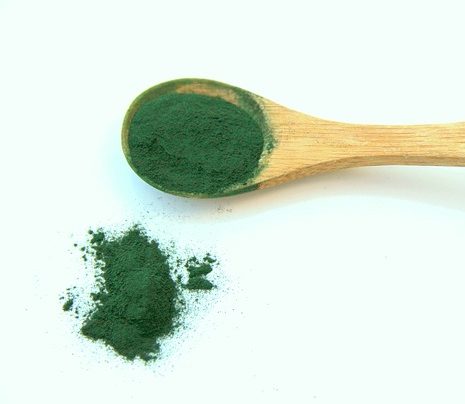 I first heard of spiritulina years ago when I tried Odwalla's Original Superfood. This is a pre-made green smoothie found in many grocery stores. It tasted good and had a lot of health claims and it just looked healthy, being so green. Back then I never made my own smoothies and didn't even really know that green smoothies were a thing.
One of the ingredients of the Original Superfood was spiritulina. I had no idea what this was, but it sounded healthy. Now that I am a bit older and wiser, I know what spiritulina is and I know what health benefits it contains. Spiritulina has strong health benefits and you would be wise to add it to your next green smoothie.
What Is Spiritulina?
Spiritulina is a blue-green algae. I used to think this meant seaweed, but that is not the case. First off, spiritulina comes from lakes, not the oceans. Second off, algae are tiny little plants that grow in water. They are very simple biologically, and reproduce very rapidly. This has a lot of benefits that I will get into shortly.
Spiritulina has been used as a food and nutrition source for centuries by American Indians such as the Aztecs. They were harvesting and eating spiritulina before European contact. Usually the Aztecs would dry out the spiritulina and consume it in a sort of cake.
Spiritulina really caught the world's attention when NASA began to study it as a protein source for astronauts and even as a food source for the colonization of mars. NASA scientists began to study and verify the nutritional benefits of spiritulina.
So basically, spiritulina is a simple plant that grows in freshwater. You can find spiritulina in powder form, which is best for smoothies, as well as tablet and flake form.
Today, spiritulina is one of the fastest growing nutrition supplements available. It is also used as a sustainable and natural food source for animals.
Spiritulina Health Benefits
The main thing I remember about the Odwalla green smoothie I used to drink was the claim that spiritulina is the most nutrient dense food on the planet. I've examined the nutritional benefits of spiritulina and believe this claim. Ounce for ounce, spiritulina has more natural health benefits than any other food. That's the reason the Original Superfood continues to be one of Odwalla's best selling smoothies. People want to be healthy, and spiritulina helps. It really is a superfood.
Protein
Spiritulina has a ton of complete protein. It can be a bit hard to find plant-based sources of complete protein. Spiritulina is a great supplement for vegans who are having trouble finding complete proteins in their other foods or in their protein powders. Spiritulina contains all the essential amino acids one needs.
Doctors and dietitians agree that people should have a diet that has a majority of plant-based foods. Spiritulina is great in ensuring that a healthy, most-vegetarian diet still gets a good dose of complete protein.
A single tablespoon of spiritulina contains 5 grams of protein! 60% of the makeup of spiritulina is protein. That's huge!
At the same time, spiritulina is expensive as a protein source. It is best to use spiritulina as a supplement to ensure that you are getting all the amino acids your body requires, and also use other protein sources in your diet. If you attempt to get all of your protein from spiritulina alone you will be spending a lot of money on spiritulina powder.
Tons Of Vitamins And Minerals
It's a bit silly to list all the vitamins and minerals that spiritulina contains. There's just so many, and they have so many different health benefits. Here is an incomplete list along with just one or two things each vitamin and mineral is good for. I'm specifically focusing on benefits for those of us who are active and go to the gym on a regular basis.
Potassium: Regulates body electrolyte balance.
Calcium: Bone and dental health.
Zinc: Normalizes metabolic processes.
Magnesium: Prevents muscle and heart disorders.
Manganese: Promotes proper neurotransmitter functions.
Selenium: Improves cardiac efficiency.
Iron: Healthy blood.
Phosphorus: Helps digest carbohydrates.
Vitamin B6: Helps breakdown proteins.
Biotin: Helps breakdown carbohydrates.
Folic Acid: Proper red blood cell formation.
Inositol: Liver health.
Vitamin B2: Boosts energy levels.
Vitamin E: Promotes oxygenation of cells.
Take a look at the above (incomplete) list of spiritulina vitamins and minerals. You have nutriants that help regulate the blood, the liver, the heart, the lungs, and electrolytes. You also have nutrients that help keep bones and the heart strong. These are all essential to healthy active bodies. Spiritulina is great for anyone, especially those who exercise regularly.
Increased Endurance
A study looking at nine runners found that "spirulina supplementation induced a significant increase in exercise performance, fat oxidation, and GSH concentration and attenuated the exercise-induced increase in lipid peroxidation." Those who were given spirulina were able to run longer before getting tired than those given a placebo.
This suggests that if you are an endurance athlete, such as a cyclist or marathon runner, spirulina can help you go further and longer before you "bonk" or start to get tired.
Reduces Cholesterol
There are studies showing that spiritulina helps reduce cholesterol in the human body. A double-blind, placebo controlled study found that "spirulina has favorable effects on lipid profiles, immune variables, and antioxidant capacity in healthy, elderly male and female subjects and is suitable as a functional food." It was found that there was a reduction in unhealthy cholesterol (LDL) and an increase in healthy cholesterol (HDL).
Helps With Allergies
I was actually skeptical of this claim when I first heard it. But then I read the study and found that it was a double-blind, placebo controlled study. These are the kinds of scientific studies I trust. They are the most rigorous and most trustworthy. The study "discovered that Spirulina, administered at 2,000 mg/day, significantly reduced IL-4 levels by 32% from PHA-stimulated cells." Basically, spirulina helped with hay fever allergies.
If you get allergies in from pollen, adding spirulina to your diet might help with your symptoms.
Spirulina Risks
Spirulina itself is totally healthy for human consumption. There have been a number of studies done to see if spirulina supplements have negative impacts on human health, and none have been found. However, not all spirulina comes from high quality and safe sources. Some spirulina supplements, especially those produced in China have been found to be contaminated with toxins. To avoid this, you should always use high-quality, USA grown spirulina powders or supplements.
Some spirulina also claims to contain high amounts of Vitamin B12. This is very important for vegans, because it is almost impossible for find a plant-based source of B12. The truth is that spirulina itself does not actually contain B12. B12, may be added to spirulina supplements, but the B12 will have been produced in a lab.
There's nothing wrong with consuming man-made B12. If you are vegan you must find a source of B12 or you will suffer negative health effects. Just be aware that pure spirulina is not a good source of human digestible B12.
Adding Spirulina To Smoothies
Spirulina is one of my favorite ingredients when making a green smoothie. This might be a lasting effect of the Odwalla drinks I used to love when I was young. Even if it is, the nutritional benefits of spirulina cannot be denied.
I unusually add about a tablespoon of spirulina to my smoothies. This ends up being around 23 calories and 5 grams of protein.
You can add spirulina to any type of smoothie, but I think it works best in green smoothies that already contain ingredients such as spinach, kale and lettuce.
The spirulina powder I use in my smoothies is called Pure Hawaiian Spirulina Pacifica. It's vegan, non-GMO, pesticide and herbicide free and grown in the USA. This means it's produced in a safe and regulated environment.
Spirulina Is Sustainable
I mentioned above that spirulina is a simple plant. This means it is able to grow rapidly and reproduce quickly, given the correct environment. Because of this, spirulina is easy to renew and regrow. Spirulina is a renewable resource that take far less energy than other protein sources to grow. That is one of the main reasons that NASA studies spirulina as a food and protein source for astronauts.
| | Calories | Protein | Fat | Carbs |
| --- | --- | --- | --- | --- |
| Spirulina | 23 | 5 | 1 | 2 |