Homemade Odwalla Original Superfood Recipe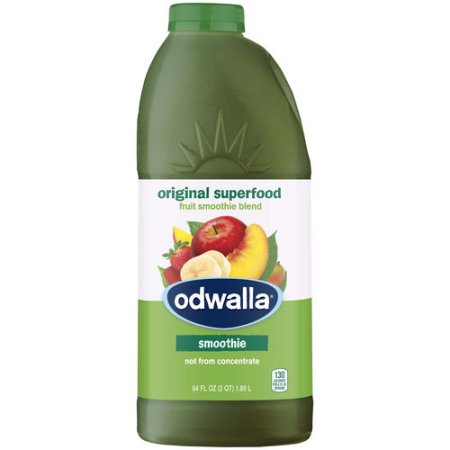 I'm a big fan of Odwalla's Original Superfood. Drinking these smoothies was my first introduction to a good tasting green smoothie. I would buy them from the grocery store long before I started making smoothies of my own. The biggest problem with Odwalla and other pre-made smoothies is their price. These smoothies are expensive. These days I make my own smoothies.
It's actually really easy to make the same smoothies we see in the grocery store. The ingredients are always listed on the bottles, it's just a matter of figuring our exactly how much of each ingredient to add to the smoothie recipe to get the taste and nutritional values the same as those in the store. Sometimes we get lucky and make an improved version of the store smoothie.
If you read Odwalla's Original Superfood ingredient list, you see that each drink has:
Juice from 2 1/3 apples
1/2 of a peach
1/3 of a mango
1/4 of a banana
1,850mg spirulina
55mg kale
The Original Superfood also contains a bit of lemon juice, wheat grass, barley grass, wheat sprouts, Jerusalem artichoke, nova scotia dulse, pectin and gellan gum.
Each 15 ounce bottle has 240 calories, 2 grams of protein and 58 grams of carbohydrates.
So for the flavor, Odwalla is relying mainly on apple juice and peach, mango, and banana purees.
Why I No Longer Drink Odwalla
I used to love buying Odwalla drinks. However, those drinks are not cheap and the costs add up quickly. I found that using my own fresh ingredients at home with a blender made similar, if not better results and saved me a bunch of money.
Odwalla, Naked, Bolthouse and other smoothie brands are also flash pasteurized. This is done to avoid food poisoning. Pasteurization is a necessity for juices and smoothies being sold days after they are produced. A fresh homemade smoothie does not need to be pasteurized because it is made in a clean kitchen and not kept out on store shelves for days. Pasteurization can kill off some of the beneficial nutrients of foods. You get more nutritional value from fresh food than you do from pasteurized foods.
Finally, I love being able to experiment and play with new flavor combinations. Smoothies from a grocery store are going to be the same every time. With homemade smoothies I am able to tweak and adjust the ratios and ingredients and get surprisingly good results.
Homemade Odwalla Original Superfood Recipe
I listed the ingredients of Odwalla's green smoothie above. To make a homemade version of this Odwalla drink, you can use the same ingredients. Here is a homemade recipe for Odwalla's Superfood drink:
1 Cup Apple Juice
1/2 of a Peach
1/3 of a Mango
1/4 of a Banana
1 Tbsp Vitamineral Green
The nutritional value is:
| Item | Calories | Protein | Fat | Carbs |
| --- | --- | --- | --- | --- |
| Smoothie | 221 | 4 | 0 | 52 |
| Apple Juice | 113 | 0 | 0 | 28 |
| Peach | 29.5 | 0.5 | 0 | 7 |
| Mango | 29.7 | 0.42 | 0.18 | 7.5 |
| Banana | 26.25 | 0.325 | 0.1 | 6.75 |
| Vitamineral Green | 23 | 2.4 | 0 | 2.7 |
So this homemade Odwalla recipe is about 20 calories less than the Odwalla version, and also has a but more protein. The original Odwalla drink has 240 calories and 2 grams of protein.
The taste is almost identical. This is not surprising, as the ingredients are almost all the same.
For all the extra green ingredients that Odwalla uses, I use a tablespoon of Vitamineral Green. This is a well know vegan supplement that is packed with different nutrients and ingredients. It's my green supplement of choice. If you have a different green powder that you use in your green smoothies, let me know by making a comment on this post. I'm always looking for new things to try.
A Healthier Homemade Odwalla Original Superfood Recipe
So the above recipe is about as close to the original Odwalla recipe as you are going to get. My guess is that Odwalla uses a bit more apple juice in their recipe to add those extra 20 calories that my recipe is missing.
The above isn't the healthiest smoothie recipe. Fruit juice is one of the worst smoothie ingredients, and you may want to avoid it. try experimenting with the above and see if you can make a great tasting alternative. Here is my healthier alternative to the original Odwalla recipe.
The ingredients are:
1/2 Peach
1/3 Mango
1/4 Banana
1 Tbsp Vita mineral Green
1/2 Cup Spinach
1/2 Of A Whole Apple
1/2 Cup Water
This recipe gets rid of the apple juice and instead adds half a whole apple. A whole fruit is going to have fiber and a bunch of other things that fruit juice is missing. I also add half a cup of leafy greens. You can use any leafy greens you would like. Spinach is a good one. Finally, every smoothie should have a bit of liquid to help mix the ingredients up. Water is just fine for this.
Basically this recipe cuts down on the sugars and calories of the original recipe.
| Item | Calories | Protein | Fat | Carbs |
| --- | --- | --- | --- | --- |
| Smoothie | 159 | 4 | 0 | 37 |
| Peach | 29.5 | 0.5 | 0 | 7 |
| Mango | 29.7 | 0.42 | 0.18 | 7.5 |
| Bananas | 26.25 | 0.325 | 0.1 | 6.75 |
| Vita mineral Green | 23 | 2.4 | 0 | 2.7 |
| Spinach | 3.5 | 0.5 | 0 | 0.5 |
| Apple | 47.5 | 0 | 0 | 12.5 |
Let me know if you have any alternative recipes or tips for making your own Odwalla drinks.