4 Great Reasons Why You Should Be Adding Bananas To Your Smoothies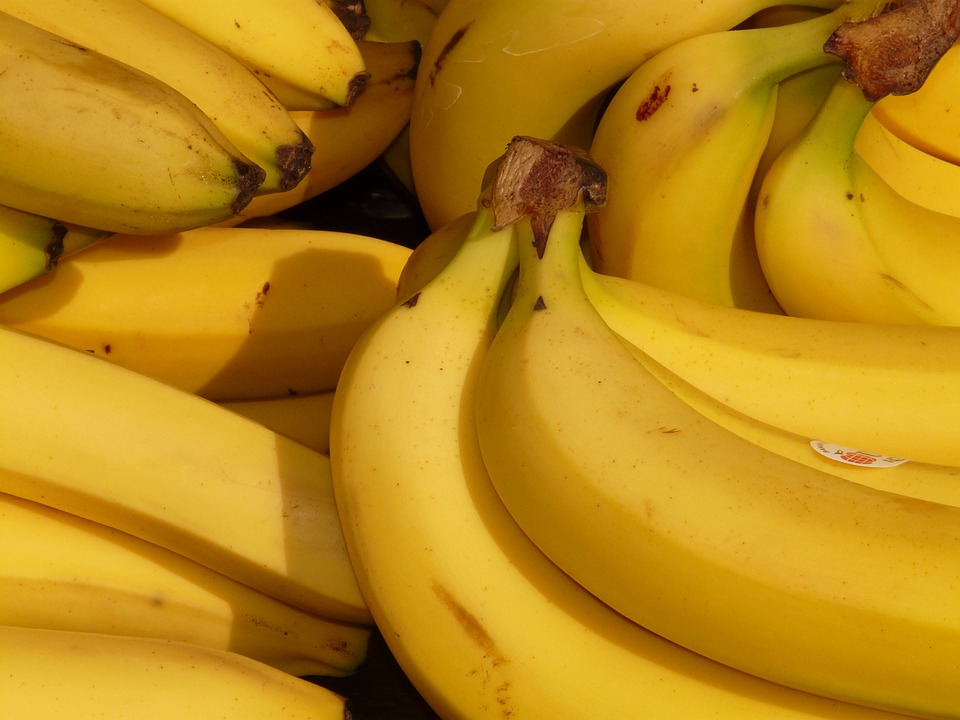 Bananas are the best selling fruit in America in terms of weight (they are third best in terms of cost). There's a lot of reasons why bananas are so popular. They are easy to transport, available year-round, they are easy to eat and do not leave a mess, and they are cheap. I like the taste of bananas, but I wasn't always sure how healthy of a food they are. I did the research, and found that there are some really good reasons to use bananas in smoothies. These are four excellent reasons to add a banana to your next smoothie.
Texture
Bananas have a unique texture among fruits. Most fruits are high in water. If you attempt to make a smoothie using strawberries and water, you will end up with a very watery smoothie. It will be more of a juice than a smoothie. Add some bananas to the same recipe and all of the sudden you have a thick smoothie texture.
Bananas are a popular smoothie ingredient because they have the perfect smoothie texture. They have enough moisture to blend well, but are still thick enough that they do not turn into pure liquid when blended. Bananas have a rich, creamy texture. Adding a banana or two to most smoothie recipes will create a smooth, thick texture.
Frozen bananas are also great for smoothies. When blended up they create an airy creamy texture similar to ice cream, especially soft serve ice cream. Frozen bananas definitely create a thicker smoothie. I often have to eat these smoothies with a spoon.
Taste
Bananas are great tasting. This is one of the main reasons why bananas are the most popular fruit in America. People love the sweet taste of bananas. If you are looking to add some natural sweetness to your smoothies, a ripe banana is an excellent choice.
A banana can be used in a green smoothie to mask some of the bitter flavor that certain greens have. It can also be used to make protein shakes more tasteful. A banana will add a lot of flavor to bland ingredients such as oat meal or protein powder.
Bananas are also a great combination fruit. They blend well with a huge amount of other fruits. Banana and strawberry is a classic example, but just about all berries and tropical fruits combine great with bananas. Bananas have a flavor that works well with most other smoothie ingredients.
Nutrition
A banana contains about 100 calories. If you are attempting to gain weight, this is one of the most calorific fruits available. When I am bulking I throw up to five bananas into a smoothie on a regular basis.
Bananas are a great food to eat. They contain a bunch of Vitamin B-6, Vitamin C, Potassium and Magnesium. They contain almost no fat, cholesterol or sodium. Bananas are high in fiber.
Bananas contain properties that are important in sports. Bananas contain low glycemic carbohydrates. This means that the sugar from bananas enter the blood system at a more constant rate. This is is why bananas are such a popular food for high endurance athletes. Long distance cyclists and runners love eating bananas. Studies have shown that bananas can be just as effective as artificial endurance drinks. Personally, I often drink a specially designed endurance smoothie before a long bicycle ride. They really do help me keep my energy up.
Bananas are also great for your cardiovascular system. They help regulate blood pressure and cholesterol. They have also been liked to a decrease in hearth disease.
Finally, bananas are superb at keeping your digestive system healthy. They contain a large amount of fiber, which is crucial to a healthy digestive system. They will regulate your bowel movements and make going to the bathroom easier.
One thing to note is that bananas are not a good source of protein. A single banana contains only about a gram of protein.
Availability and Ease
Bananas are available year-round. There is a number of different countries that export bananas. Most exported bananas come from Central and South America. Bananas play a huge role in those country's economies.
There is no season for bananas. Other fruits have a yearly season. Fresh cherries are only available for a certain time of the year. Bananas are available year round.
Bananas are also cheap to transport. They do not bruise or crush easily and their skin is thick. They can be picked before being fully ripe and will ripen on their own.
Because of all this, bananas are cheap. By weight, they are one of the cheapest fruits available. A single banana can be bought for less than a quarter and you end up getting 100 calories and a ton of nutritional value.
The low costs of bananas makes them great for someone like me who drinks many smoothies per week. I cannot afford to add blackberries to every smoothie I make. Berries just cost too much. Bananas offer a great value.
Bananas are also easy to care for. They come in a natural peel that is very easy to remove. Eating a banana is a quick and painless process.
Tips For Adding Bananas To Your Smoothie
Adding bananas to a smoothie is not too complicated. Be sure to remove the peel of the banana. Many bananas also contain a little piece a the very bottom of the fruit that tastes gross that I throw out. I am not sure what it is, but it's found at the very tip of the bottom of a banana, inside the peel.
There is no need to wash a banana before using it, as it is protected by its peel.
A banana is perfectly ripe when it is yellow and has a splattering of brown dots on it. You don't want to wait until the banana is totally brown, or else it will start to get too mushy and will eventually ferment and go bad. You also do not want to eat a greenish banana as these are not going to be very sweet, and might have a chalky taste to them. This is a good example of a ripe banana: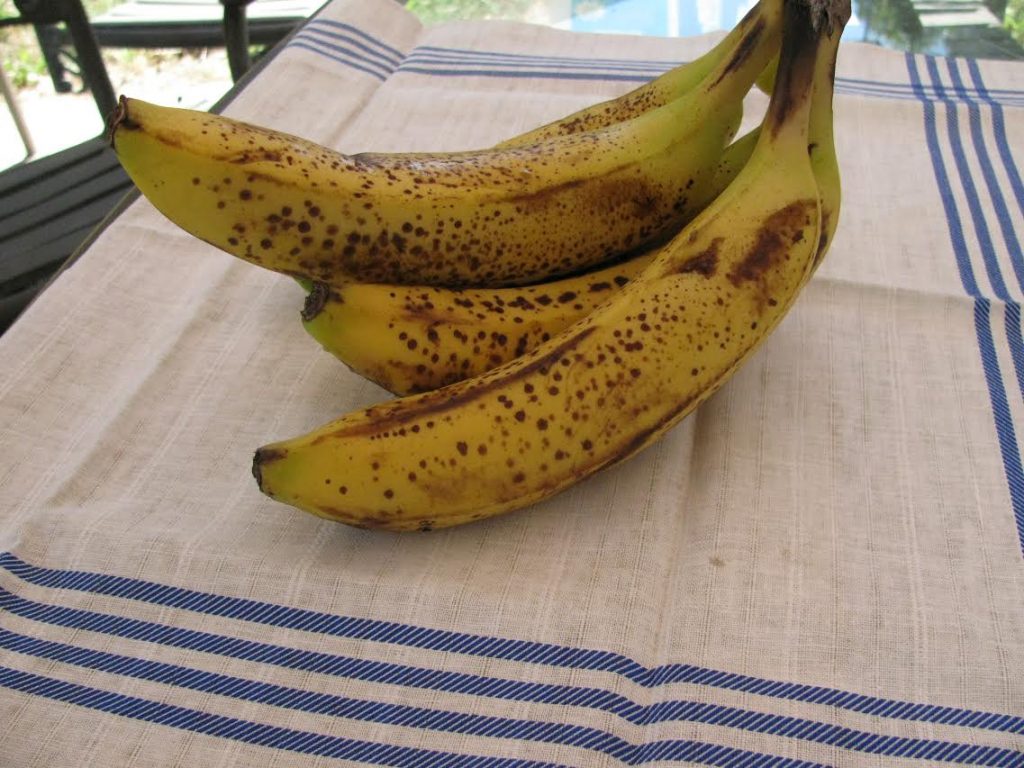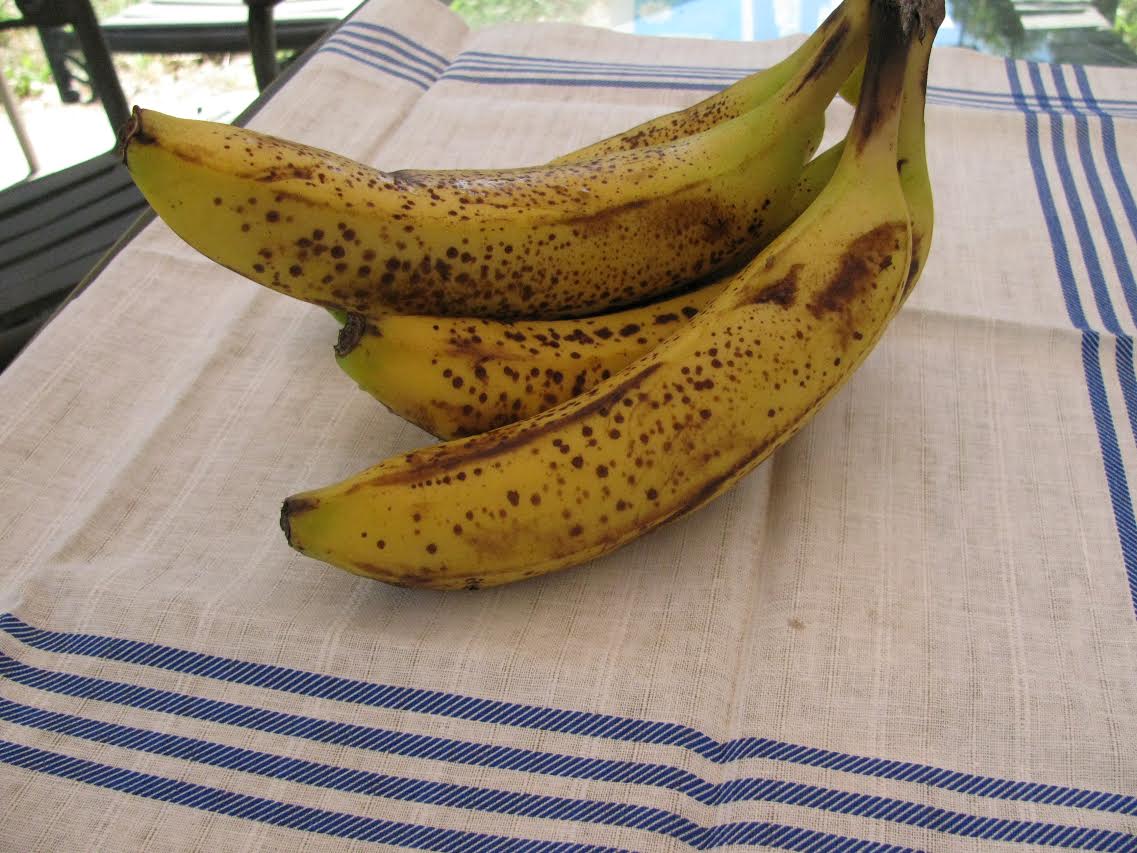 Note that most stores sell bananas that are not fully ripe yet. It's difficult to find fully ripe bananas. My local grocery store sells ripe bananas at a discount. For some reason most people buy bananas that are slightly green and yellow rather than the yellow and brown bananas that are fully ripe.
If you are going to freeze bananas, be sure to peel them before freezing them. I always peel mine and then place the peeled bananas into a Tupperware container. It's also a good idea to cut the bananas into smaller pieces before freezing.
I add bananas to almost all my smoothies. Check out my banana smoothies.