Cheaper and Better Shakeology Alternative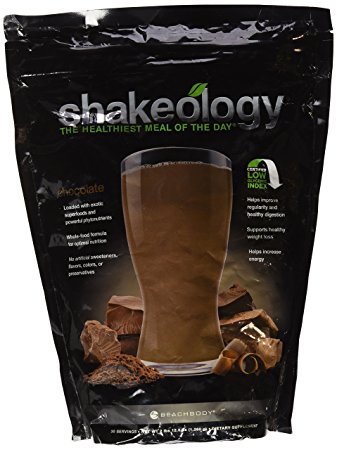 Shakeology is a hip, cool meal replacement formula. It's been heavily marketed and has become very popular. The important thing to know is that the ingredients of Shakeology are pretty similar to a number of other meal replacement shakes.
The main reason for Shakeology's success is the large amounts of money the company has spent on marketing. They have commercials and paid celebrities touting their formula. The marketing is very cleaver as it sells not just the shake, but a whole lifestyle.
There's nothing necessarily wrong with the Shakeology formula. It works for a lot of people. But a cheaper and similar shake is likely to work just as well, if not better. It really depends on your body and your fitness goals.
If you are looking for a Shakeology alternative, check out one of the following mixes. They are likely to be cheaper, and might be better nutritionally than Shakeology.
Sweet, Lactose-free, gluten-free and Heart-healthy, a full serving of fiber with 25 Vitamins and Minerals, this meal replacement mix is a great bang for your buck. This meal replacement is both healthy and delicious, it actually tastes like cake! It's great for those with a sweet tooth, looking to loose some weight.
It has a blend of whey protein and soy protein for those looking to stay strong while loosing weight.
A vegan alternative. Garden of Life is also a brand that relies heavily on their image or being a vegan and earth-friendly brand. However, unlike Shakeology they are more affordable.
This Non-GMO product is certified USDA Organic, is gluten free and has 20 grams of vegetable-based protein per serving. This is more protein than Shakeology.
It also contains 21 vitamins and minerals.
This is a responsible brand, and is great for vegans. However, because it is vegan, all the protein is plant-based. Plant-based protein is not always as well absorbed as whey protein.
Vega One is another vegan meal replacement brand. This is one of the best tasting meal replacement mixes. It comes with 20 grams of plant-based protein. The protein comes from a divers set of plant sources including pea, hemp, SaviSeed, and flax. The fact that the sources are varied means that your body will be getting all the protein types that it needs.
It has a lot of vitamins and minerals, all of which come from natural sources, such as broccoli, kale, spirulina, and strawberries. It is non-GMO and does not contain soy.
If you are vegan and want a soy-free Shakeology alternative, give this a try.
IdealShake helps you control your hunger. It is designed to make sure that your meal replacement shake actually replaces the meal you would have had otherwise.
Other meal replacements put all their emphasis on how healthy their ingredients are. That is well and good, but it is important to remember that even the healthiest meal replacement shake is not going to help you loose weight if it does not suppress your hunger. If you continue to eat after drinking your shake, you will never loose weight.
IdealShake contains whey protein, is gluten free and has 22 vitamins and minerals. It is a great alternative to Shakeology for those looking to loose some pounds.
This is more of a traditional meal replacement shake. It is not focused on vitamins or being vegan. It instead focuses on helping people gain muscle and get fit, while loosing weight. It has both slow and fast proteins. The protein amount is twice that of Shakeology.
This is the type of meal replacement that bodybuilders and weight lifters use while on a cut. If you are lifting weight and trying to gain muscle while at the same time trying to loose weight, this is a good mix. It will also leave you feeling more full than Shakeology.
The Shakeology alternative that I can recommend is to simply make whole-food smoothies. You can decide exactly what foods to drink and how much of them to drink. You decide what to add or not to add into the smoothie.
As great as meal replacements are, they are not the answer to a poor diet. A diet with whole foods, lots of fruits and vegetables and natural sources of protein is going to be better in the long term.
Shakeology and other meal replacements are a fantastic tool for helping individuals get into a healthy lifestyle and diet, but they should not be relied upon forever. They should be used as a way to reach a more healthy diet without any meal replacement mixes being needed.
While you work on achieving a well rounded and healthy diet, save some money by trying the Shakeology alternative above.