Joe Rogan's Green Smoothie Recipe
You probably know that Joe Rogan is a funny guy. He's a comedian, podcaster and UFC commentator. He's also a fit individual. He trains like a MMA fighter and seems to be especially fond of kettlebell workouts. But did you know he also enjoys green smoothies?
That's right, here is a green smoothie recipe that Joe Rogan posted to his Instagram feed not long ago: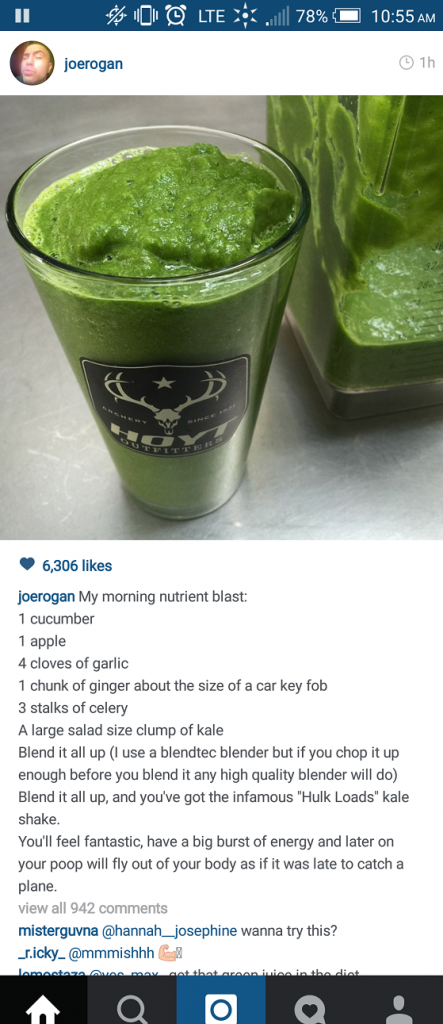 It's low in calories and high in green nutrients. It's a good smoothie to drink in the morning as it wont make you bloated or too full and your body will be able to use the nutrients throughout the day.
Ingredients:
1 Cucumber
1 Apple
4 Cloves Garlic
1 Tbsp Ginger
3 Stalks Celery
1 Cup Kale
Directions:
Like Joe says, blend it and drink.
Twists:
Four cloves of garlic might be a bit much.
Try some other greens in there. Maybe substitute collard greens for kale.
Nutrition Info:
| Item | Calories | Protein | Fat | Carbs |
| --- | --- | --- | --- | --- |
| Smoothie | 231 | 7 | 1 | 53 |
| Cucumber | 47 | 2 | 0.3 | 11 |
| Apple | 95 | 0 | 0 | 25 |
| Garlic | 20 | 0.8 | 0 | 4 |
| Ginger | 18 | 0.4 | 0.2 | 4 |
| Celery | 18 | 0.9 | 0.3 | 3 |
| Kale | 33 | 3 | 0 | 6 |