Sugar Free Strawberry Milk Shake Recipe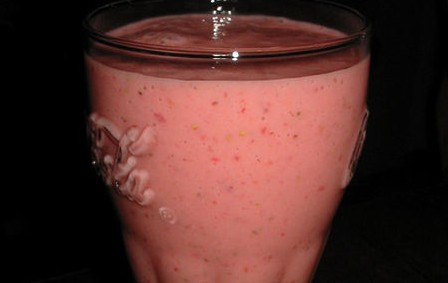 The other day I had some left over heavy cream in my refrigerator that I didn't know what to do with. It was also middle of summer and really hot out. I was definitely in the mood for some ice cream, but didn't want to destroy my body with all the processed sugar that comes in ice cream. So I came up with the idea to make my own sugar free milk shake. I do have an ice cream maker, but didn't have the time or desire to make a batch of actual ice cream. I wanted instant gratification.
So I got some frozen strawberries I've been saving, threw them into a blender with the heavy cream and blended it up. The result didn't taste bad, but it wasn't sweet enough to satisfy my sugar cravings. So after a couple sips I added half a frozen banana into the blender. That was a lot better. The banana acts as a natural sweetener to the drink.
If you find yourself with some leftover heavy cream and don't have the time or energy to use it for something, make a sugar free milkshake out of it. The cream has a lot of calories and a lot of fat in it. But that's one of the reasons ice cream is so amazing. It is full of creamy fats.
Ingredients:
1/2 Cup Frozen Strawberries
1 Cup Heavy Cream
1/2 Frozen Banana
Directions:
Place in blender and blend. Be aware that frozen fruit can take a bit of time to blend, depending on how fancy your blender is. If you are having trouble getting the frozen fruit to blend try putting frozen strawberries into the blender, then add the heavy cream and then on top of that add a unfrozen banana (instead of the frozen one). The unfrozen banana can help push the strawberries down onto the blades of the blender. Otherwise just give it some time and eventually the frozen fruit should blend. You can always get a fancy blender.
Twists:
This sugar free milk shake recipe would work just as well with other types of fruit. Frozen mango instead of strawberry would be delicious.
If this is too many calories, try to use only half a cup of heavy cream and half a cup of milk instead.
If you are lactose intolerant or want to avoid dairy use some coconut cream instead of heavy cream. Or just add some coconut cream to the above to make it more tropical tasting and creamier.
Nutrition Info:
| Item | Calories | Protein | Fat | Carbs |
| --- | --- | --- | --- | --- |
| Smoothie | 896 | 6 | 88 | 25 |
| Strawberries | 23 | 0.5 | 0 | 5.5 |
| Banana | 52.5 | 0.65 | 0.2 | 13.5 |
| Heavy Cream | 820 | 5 | 88 | 6 |