1000 Calorie High Carb Low Fat Vegan Smoothie Recipe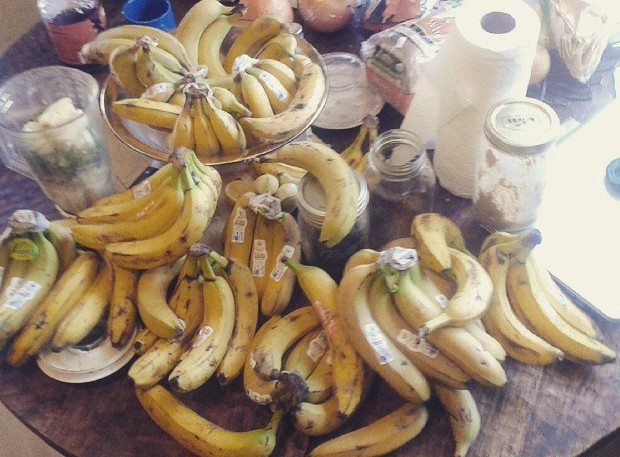 Ever hear of people who eat 30 bananas a day? Well, they are out there and they are true believers. Just like the gallon of milk a day diet, the 30 bananas a day diet is probably too extreme to be healthy. A single food should not take up that much of our diets, whether it is milk or bananas or something else.
That being said, I eat a lot of bananas a day. Bananas are a great food and a healthy diet should definitely include bananas. I know a lot of athletes who are in great shape and are on a high carb low fat vegan diet. This 1000 calorie smoothie recipe is one that I learned from a vegan rock climber. He would chug it down in the morning for breakfast before going climbing.
Ingredients:
2 Cups Coconut Water
6 Bananas
1/2 Cup Dates
1/4 Cup Oats
Directions:
Pit the dates. You don't want to drink the pits.
Some people blend the oats ahead of time on their own. This is optional. I always just throw mine directly into the blender with the other ingredients.
Blend, drink, go rock climbing.
Twists:
Add some papaya for a nice smooth texture.
If you do want higher fat or calories try adding some peanut or almond butter to the mix.
Obviously the amount of bananas you include is up to you. If this is too much, just lessen the number.
Bananas are thick. If you don't like this smoothies try adding more coconut water and less bananas.
Nutrition Info:
| Item | Calories | Protein | Fat | Carbs |
| --- | --- | --- | --- | --- |
| Smoothie | 1004 | 15 | 3 | 242 |
| Coconut Water | 92 | 4 | 0 | 18 |
| Oats | 75 | 1.25 | 0.75 | 6.75 |
| Dates | 207 | 1.8 | 0.3 | 55 |
| Banana | 630 | 7.8 | 2.4 | 162 |