Trail Mix Smoothie Recipe (Can You Add Trail Mix To A Smoothie?)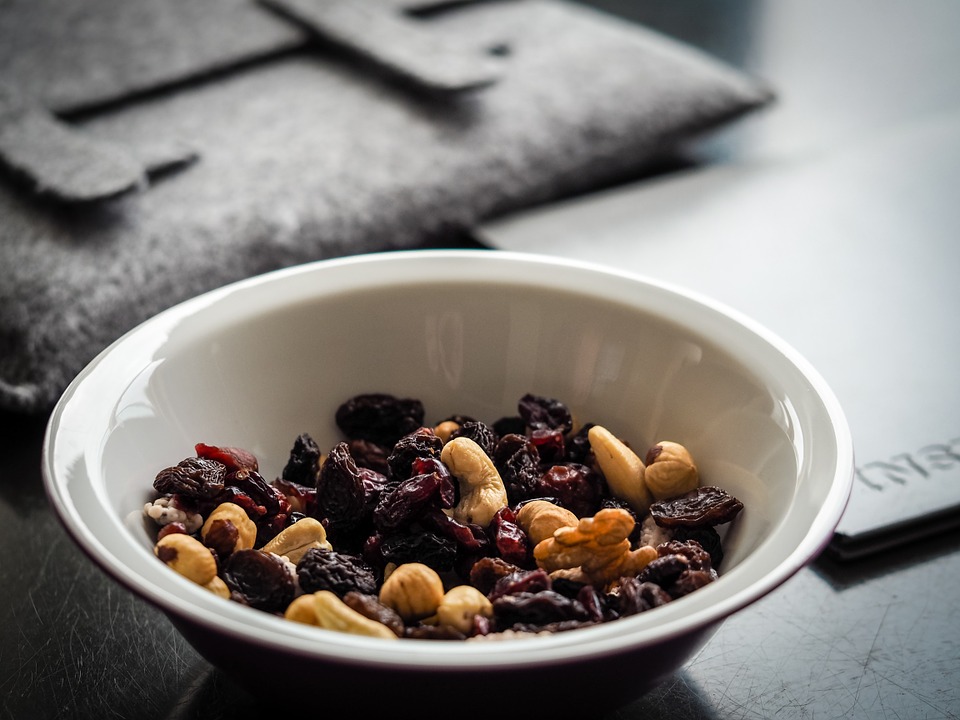 Peanut butter and almond butter are common smoothie ingredients, especially for those people looking for a healthy source of fat. Even more common than nut butters are fruits. Almost every smoothie recipe has a banana or some sort of fruit in it. These two things are the main ingredient in most trail mixes. So why not use trail mix in a smoothie?
Why Use Trail Mix In A Smoothie?
Trail mix is popular because it is considered healthy, is easy to eat and does not need any additional preparations. These are things you want when out on a hike. But trail mix can be a good addition to a smoothie.
First off, nuts are super healthy and most people don't eat very many nuts. Specifically, nuts are dense in healthy fats. Fats are essential to a healthy body.
A good trail mix will have a variety of different nuts. Each of these nuts will have a slightly different nutritional makeup. You should always try to vary your diet to ensure that your body is getting all the essential nutrition that it needs. This is one reason eating trail mix might be better than eating peanut butter. Peanut butter only contains one type of nut. There are other types of nut butters like almond butter, but they usually only contain a single nut. There's not variety with nut butters.
If you want more variety in your foods, using a nut mix or trail mix might be a better solution than adding nut butters to your smoothies.
In addition to nuts, most trail mixes include dried fruit. Dried fruit is actually one of the highest calorie fruits available. I love adding dried dates to my smoothies, but this is not a great idea for everyone. It all depends on your fitness and diet goals. If you are looking to gain weight, then dried fruit can be a great addition to your diet. If not, then you may want to avoid dried fruit and instead opt for fresh fruit. Fresh fruit tends to be more filling per calorie due to the moisture in the fruit.
On the plus side, the variety of dried fruit in a trail mix is usually higher than they types of fruit most people have in their kitchen. Like with nuts, different fruits add different nutrients to your diet.
Along with the variety of ingredients, a trail mix does not need any sort of preparation before being added to a smoothie.
If you are looking for additional ingredients to your high calorie smoothies or gainer shakes, then trail mix might be a good option.
Why Avoid Trail Mix In A Smoothie?
High Calories
As mentioned above, the number one reason to avoid trail mix in a smoothie is that nuts and dried fruit tend to be high in calories. If you are trying to lose weight, then you should avoid trail mixes.
Might Have Unwanted Ingredients
A lot of cheaper trail mixes have chocolate chips or even M&M candies in them. These added calories might not be for everyone. If you are on a dirty bulk or are desperate to gain weight, then you should have not problem with some chocolate in your trail mix.
But a lot of people would rather avoid the processed sugar that comes in candy.
One simple solution is to buy higher quality trail mix. If your local grocery store does not have trail mixes that don't contain sugar, try ordering one online.
Another common ingredient that you may want to avoid is salt. Most trail mixes include salt, partly because if you are hiking on a trail your body needs to replenish all the salt you are seating out. The problem is that too much salt will make your smoothie taste unpleasant. I don't like the idea of drinking a salty smoothie. If I am adding tail mix to my blender, I will get an unsalted one. Again, if you cannot find one in your local grocery store, trying online.
Finally, you might have allergies or want to avoid specific nuts of fruit that are commonly found in trail mixes.
Cheap Blenders Might Have Trouble Blending Whole Nuts
A good blender should be able to handle dried fruits and nuts without a problem. But if you have a low powered cheap blender, you might not be able to blend the nuts all the way. The only real solution is to buy a new, better blender. If you are in need of a new blender, check out our blender recomendations for blenders that meet any budget.
Trail Mix Smoothie Recipe
You can usually add a high quality trail mix to most smoothie recipes that call for peanut butter or almond butter. Again, I would make sure that your trail mix does not have a bunch of salt or sugar in it or else that will affect the flavor of the smoothie.
Here is a healthy trail mix smoothie recipe.
Ingredients:
1/4 Cup Trail Mix
1 Cup Soy Milk
1 Cup Frozen Papaya
1 Cup Spinach
Directions:
Throw everything into the blender and blend.
Twists:
The dried fruit in most trail mixes will be sweet enough that no additional sweeteners are needed. If you find your smoothie to not be enough, feel free to add a little honey or a banana or whatever you usually sweeten smoothies with.
I use soy milk because I want this smoothie to be vegan and have a decent amount of protein. However, you can use regular milk or if you want a bunch of extra calories you can use half and half.
Nutrition Info:
Be sure to check the nutritional values of your trail mix. These values will vary depending on the trail mix you are using.
| Item | Calories | Protein | Fat | Carbs |
| --- | --- | --- | --- | --- |
| Smoothie | 379 | 14 | 18 | 42 |
| Trail Mix | 200 | 4 | 13 | 16 |
| Soy Milk | 110 | 8 | 4.5 | 9 |
| Papaya | 62 | 1 | 0 | 16 |
| Spinach | 7 | 1 | 0 | 1 |