Nutrition of Different Yogurt Types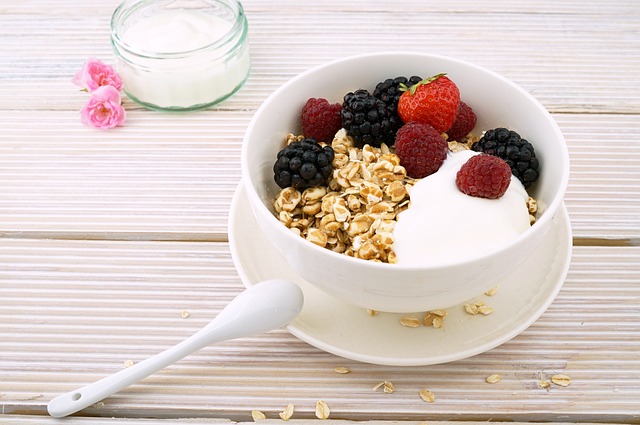 It's difficult to figure out what the best type of yogurt is. Stores used to only carry "yogurt". They only had a few brands like Yoplait and Dannon, and the only real difference between these was the flavors (strawberry versus vanilla). Now choosing between different types of yogurt can require a college degree in nutrition.
Now everyone is concerned about their nutrition and always on the lookout for the next great super food. The yogurt selection at most grocery stores has expanded to a ton of new brands, each trying to stand out from the rest. It first began with Greek yogurt. Then Icelandic yogurt, Australian yogurt and even Bulgarian style yogurt. Each of these claims to be better than the rest. It seems like there's a million different types of yogurt! So which style of yogurt is actually the most nutritious?
Yogurt is a dairy product that is produced by the bacterial fermentation of milk. It has a creamy texture and a tangy flavor. All types of yogurt are known for their health benefits, and being a good source of protein, calcium, and probiotics.
International Types Of Yogurt
Yogurt is a versatile and delicious dairy product that offers numerous health benefits. With its creamy texture and tangy flavor, yogurt has become a staple in many households. However, the yogurt aisle in the grocery store can be overwhelming, with various types and options to choose from. In this guide, we'll explore the most common types of yogurt and their unique characteristics.
Regular Yogurt
Regular yogurt is the classic and most widely available type. It is made by fermenting milk with specific strains of bacteria, such as Lactobacillus bulgaricus and Streptococcus thermophilus. This process results in a smooth and creamy texture with a slightly tangy taste. Regular yogurt is a good source of protein, calcium, and probiotics.
Greek Yogurt
Greek yogurt has gained immense popularity in recent years. It is made by straining regular yogurt to remove the whey, resulting in a thicker and creamier consistency. The straining process also reduces the lactose content, making it a suitable option for lactose-intolerant individuals. Greek yogurt has a higher protein content compared to regular yogurt and is often favored by those looking for a more substantial and filling option.
Skyr
Skyr is a traditional Icelandic yogurt that shares similarities with Greek yogurt. It is made by fermenting skim milk with specific bacterial cultures. Skyr has a thick and creamy texture, similar to Greek yogurt, but with a slightly sour taste. It is known for its high protein content and is often enjoyed with toppings like honey or fresh fruits.
Yogurt Drinks
Yogurt drinks have gained popularity as a convenient and refreshing way to enjoy yogurt on the go. These are liquid forms of yogurt that come in various flavors. They are often blended with fruit juices, sweeteners, or other flavorings. Yogurt drinks provide the same nutritional benefits as regular yogurt but in a portable and easily consumable form.
Plant-Based Yogurt
For those who follow a vegan lifestyle, are lactose intolerant, or have other dietary restrictions, plant-based yogurt is an excellent alternative. These yogurts are typically made from soy, almond, coconut, or other plant-based milks. They are fermented with bacterial cultures to achieve a similar creamy texture to dairy yogurt. Plant-based yogurts come in various flavors and can be a great source of nutrients like protein and calcium.
Probiotic Yogurt
Probiotic yogurt contains live bacteria cultures that are beneficial for gut health. These cultures, such as Lactobacillus and Bifidobacterium strains, support digestion and boost the immune system. Probiotic yogurts can be found in various types, including regular, Greek, and plant-based options. They provide the same nutritional benefits as their non-probiotic counterparts, along with the added advantage of promoting a healthy gut microbiome.
When choosing yogurt, it's important to consider factors such as taste preferences, dietary needs, and health goals. Opting for plain or unsweetened varieties is recommended to avoid added sugars and artificial ingredients. You can personalize your yogurt experience by adding your favorite fruits, nuts, or sweeteners.
This info graphic, first posted on Reddit, is a simple way of comparing all the different styles of yogurt.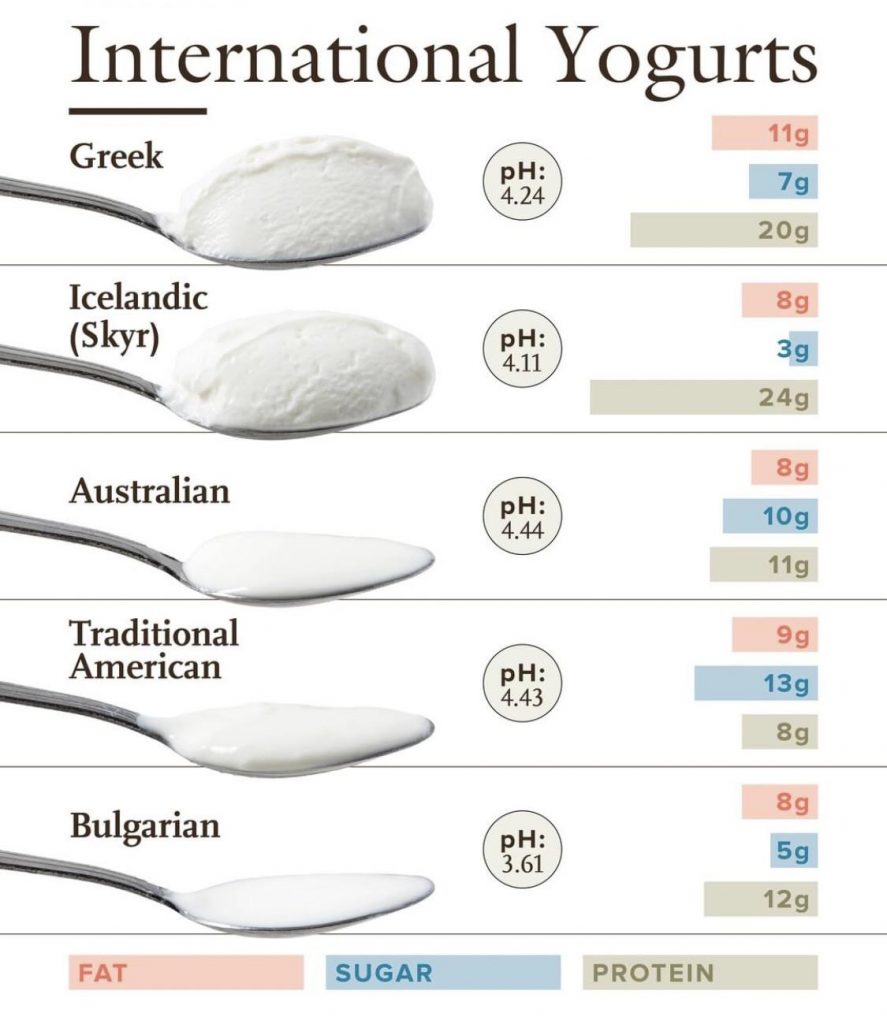 Yogurt pH levels
Yogurt pH levels give you an idea of how acidic a certain yogurt style is. The lower the pH number, the more acidic a food is, with a 7 being "neutral". As you can see, all yogurts are acidic foods. Bulgarian yogurt has a pH value of 3.61, making it the most acidic of the listed yogurt styles.
This means that Bulgarian yogurt is naturally going to taste the most sour. Highly acidic foods can cause irritation for individuals who tend to get acid reflux or have other stomach issues. If you have a sensitive stomach, you may want to stay away from Bulgarian yogurt.
Luckily, most fruits are alkaline and have a pH level higher than 7. So if you consume yogurt in smoothie form, you are less likely to get stomach irritation or acid reflux.
Thickest Yogurt
Greek yogurt and Icelandic yogurts are the thickest. Bulgarian yogurt is the most liquid.
Yogurt Protein
One of the main reasons Greek yogurt became so popular is the high level of protein in a serving. Greek yogurt has much more protein than traditional American yogurt. In fact, traditional American style yogurt has less protein than any other style of yogurt.
Icelandic yogurt has even more protein than Greek yogurt. About 24g of protein per cup. Siggi's is a popular Icelandic yogurt brand which has 23g of protein per cup.
If you are looking for a rich, creamy, high protein yogurt, try out Icelandic or Greek yogurts.
Sugar in Yogurt
Most flavored yogurts sold in stores are packed with added sugar. This is unfortunate because it takes away much of the health benefits of eating yogurt. That being said, you can usually find a "plain" flavored yogurt which does not include and added sugars.
This sugar is naturally occurring and is also found in milk (which is what yogurt is made from).
Even plain, unflavored yogurt will contain some natural sugars. Traditional American and Australian yogurts have the most natural sugars. Icelandic yogurt has the least amount of sugar.
While you may want to avoid eating lots of sugary foods, be aware that the amount of sugar does matter for how good a yogurt tastes. A lot of people do not like Icelandic and Bulgarian yogurts because they taste too tart or sour.
Yogurts have a lot of great health benefits, including being high is healthy probiotics. You should make sure you enjoy the flavor of the yogurt you are eating. Even though Icelandic yogurt might be the healthiest type of yogurt, you won't get any benefits if you avoid it because you hate the way it tastes.
When trying new yogurts, or new foods in general, I recommend getting a small container first and making sure you like the food enough to eat it.
Yogurt Fat
Greek yogurt contains 11g of fat per cup. The other styles of yogurt are all about the same at 8g of fat. This is not a huge difference, and I would only care about this if I were on a low-fat or high-fat diet.
Overall yogurt is a healthy food and can be added to your diet in a lot of great ways, including adding yogurt to your favorite smoothie recipe.