Banana Mocha Smoothie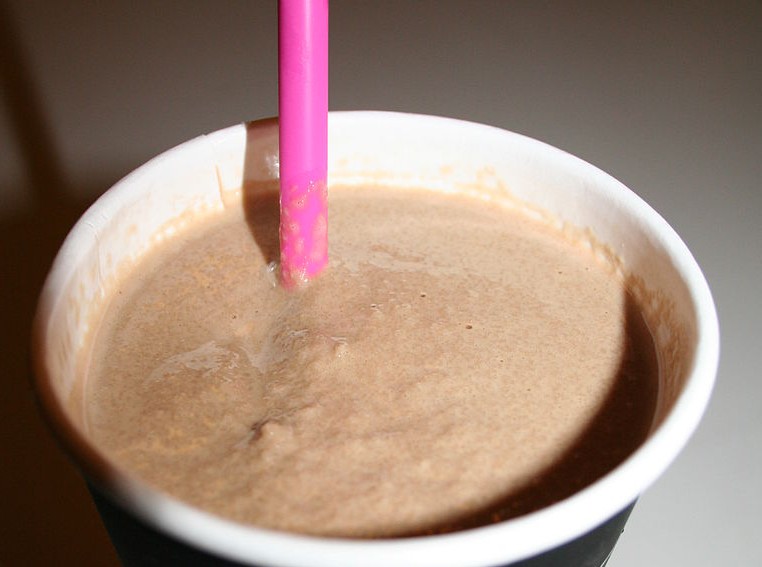 I really enjoy coffee flavored drinks and candy. This smoothie has a great banana and coffee flavor mix. I usually drink one of these before going on a day long bicycle ride or a long run.
The glycogen will give you energy and help with your endurance.
Ingredients:
1 Milk
1/2 Cup Cooled Coffee
1/2 Cup Greek Yogurt
1 Frozen Banana
1 Tbsp Almond Butter
2 Tsp Cocoa Powder
1/2 Tsp Cinnamon
Directions:
Blend and drink. Use cooled coffee and a frozen banana.
Twists:
You can add a tiny bit of agave or honey or an extra banana for some added sweetness.
Nutrition Info:
| Item | Calories | Protein | Fat | Carbs |
| --- | --- | --- | --- | --- |
| Smoothie | 426 | 25 | 17 | 50 |
| Milk | 148.8 | 7.7 | 7.9 | 11.7 |
| Coffee | 0.5 | 0 | 0 | 0 |
| Greek Yogurt | 65 | 11.5 | 0 | 5 |
| Almond Butter | 95 | 3.5 | 8.5 | 3 |
| Cocoa Powder | 7.84 | 0.68 | 0.48 | 2 |
| Cinnamon | 4 | 0.06 | 0 | 1.2 |
| Bananas | 105 | 1.3 | 0.4 | 27 |