Milk Alternatives Compared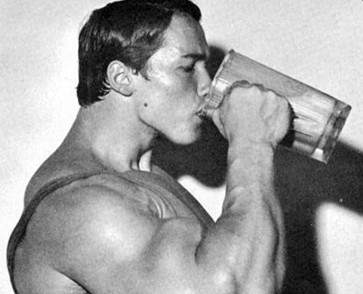 Whole milk is a great way to drink a bunch of extra calories and protein. In fact there are whole diets based around drinking a gallon of milk a day (GOMAD). While cow milk is great for gaining weight and gaining muscle, not everyone is able to drink it. Vegans and lactose intolerant individuals must find an alternative to milk. Here are some milk alternatives. At the bottom of the page is a table of the nutritional makeup of milk and milk alternatives.
Almond Milk
Almond milk has a good taste to it and is widely available. It is low in calories and also low in protein. Almond milk is often fortified to include a good amount of calcium and other nutrients which it naturally lacks. While it might be good for weight loss, almond milk is not a great substitute for milk when attempting to gain muscle.
Cashew Milk
Cashew milk is also low in calories and low in protein. It is a great substitute for almond milk if you do not like the taste of almond milk. However it is also not the best milk drink for gaining weight or muscle. If you are DIY type of person, cashew milk is quicker and a bit easier to make than almond milk.
Coconut Milk
Coconut milk is good for those looking for a milk alternative with a large amount of fat. Coconut milk contains 5g of fat per cup, but at the same time it does not have a large amount of calories. This might be good for those on a keto diet, but for those looking purely to bulk up, a drink with more calories per serving might be better.
Hazelnut Milk
This is probably my favorite type of milk in terms of flavor. It is a stronger flavor than most other nut milks. It's also a good source of vitamins B1, B2 and B6. It is gluten, lactose, and soy free and has no saturated fat or cholesterol.
Oat Milk
Oat milk has the highest amount of calories and carbohydrates out of all these cow milk alternatives. It is also great for those who are allergic to nuts. It is high in calcium and vitamin A. It is also a good source of iron. It comes in second place in terms of protein, beat only by soy milk. From a nutritional point of view oat milk is a great alternative to cow milk. All that being said, if you already consume a lot of oats in your diet, you may want to drink a different type of milk. It's always good to have a wide range of foods in your diet, and you should make sure that the majority of your calories do not come from a single source, such as oats.
Rice Milk
Rice milk is pretty good in the amount of calories it has, but it isn't great when it comes to protein. It you are able to find a brand which fortifies its rice milk with extra protein this would be a great drink of muscle gain. If you already meet your protein intake in your diet but are simply looking for a way to boost your calorie intake rice milk might be the way to go. The taste is fairly neutral so if you find other milks to taste 'off', give rice milk a try.
Soy Milk
The original milk alternative, soy milk is widely available and offers an equal amount of protein to cows milk. It's also a good source of vitamins A, B12, D, and potassium. It's actually a tad lower in calories than whole milk. Soy has been shown to lower cholesterol levels in some studies. On the other hand soy has been linked to changing estrogen levels and testosterone levels. None of these studies are conclusive, so basically science isn't sure about the health benefits or harms of a diet with a large amount of soy. This is actually true of many of the foods we eat.
If you are vegan and eat a lot of soy based products already, maybe soy milk isn't the best option. You shouldn't be eating too much of any single food. For most people soy milk is a fine drink to include in their diets.
Arnold Schwarzenegger was once asked if he drank milk. He replied "Milk is for babies. When you grow up you have to drink beer." This was obviously a joke, and cow milk is a great thing to drink, especially when looking to build muscle. However, there are some great alternatives which can take the place of milk without having a negative impact on calorie and protein intake.
| Item | Calories | Protein | Fat | Carbs |
| --- | --- | --- | --- | --- |
| Whole Cow Milk | 149 | 8 | 8 | 12 |
| 2% Cow Milk | 124 | 8 | 5 | 12 |
| Nonfat Cow Milk | 83 | 8 | 0.2 | 12 |
| Almond Milk | 60 | 1 | 2 | 8 |
| Cashew Milk | 60 | 0.5 | 2.5 | 9 |
| Coconut Milk | 80 | 0.5 | 5 | 7 |
| Hazelnut Milk | 110 | 2 | 3.5 | 19 |
| Oat Milk | 130 | 4 | 2.5 | 24 |
| Rice Milk | 120 | 1 | 2.5 | 23 |
| Soy Milk | 110 | 8 | 4.5 | 9 |