Is Watermelon Fattening? What You Need To Know To Diet Smart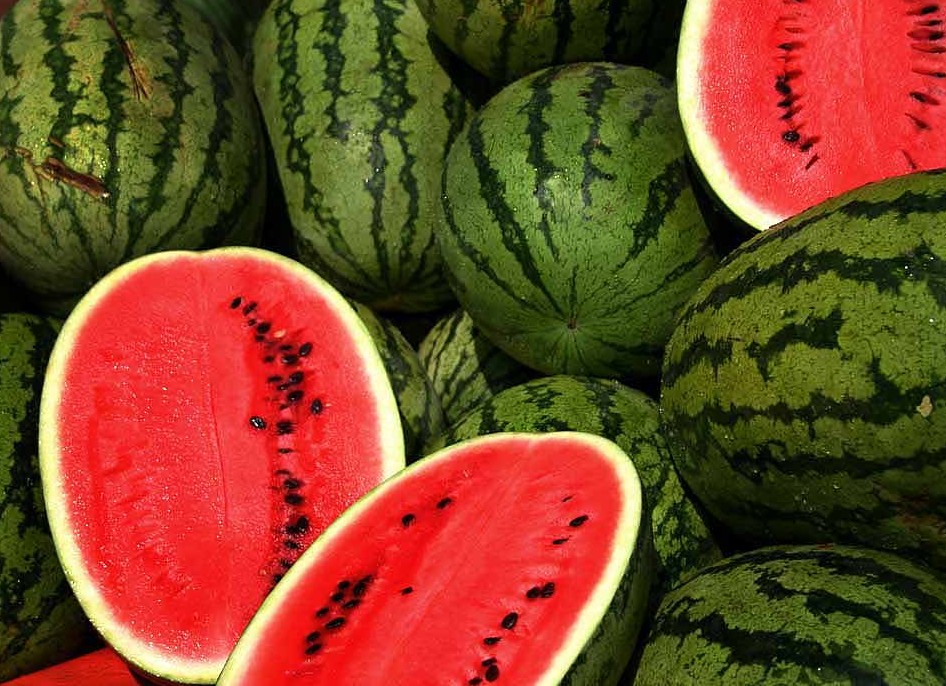 No other fruit says summer quite like a juicy watermelon. These sweet fruits are a popular treat during barbecues and picnics. But how much watermelon is safe to eat? Is watermelon fattening? Will watermelon help with weight lose?
These are common questions people ask every summer. As they see grocery stores fill their shelves with the summer fruits, people start to wonder just how healthy is watermelon.
Scientists know enough about our diets and about the molecular makeup of watermelons to give a definite answer. With this information it is now possible to judge if you should include watermelon in your diet.
Is Watermelon Fattening?
Not really. Correct nutritional information is never a 'yes' or 'no' answer. It's always more complex. But generally speaking, watermelon is not a food that will lead to weight gain.
To really answer this question we must consider how weight is gained. Weight gain is is all bout calories. If you burn more calories than you consume, you will loose weight. If you eat more calories than you burn, you will gain weight. That's all there is to it.
Watermelons have calories. A cup of watermelon has about 46 calories. So in a sense, watermelon if fattening. If you consume enough watermelon you will get more calories than you burn, and you can gain weight. However, to get 2000 calories from watermelon alone, you will need to eat over 43 cups of watermelon. That's about 29 pounds of watermelon.
An average watermelon weights 20 pounds, including the skin.
What this means is that to get 2000 calories from watermelon you will have to eat close to two whole watermelons!
No one is actually eating that much watermelon. So while in theory it is possible to become fat from eating too much watermelon, unless you are eating more than two watermelon a day, you do not have anything to worry about.
Watermelon is not going to make you fat.
What About The Sugar?
One concern with eating watermelon is the sugar content of the fruit. Some people worry that eating any sort of sweet fruit will make them fat. This is not true. You don't get fat from eating sweet things, you get fat from eating too many calories. (It just happens that most sweet things have a lot of calories.) It's not the sweetness that leads to weight gain, it's the calories.
As mentioned above, a cup of watermelon only have 46 calories. Within that is 9 grams of sugar. This is not a small amount of sugar. It's this sugar that accounts for almost all of the 46 calories in watermelon.
Though watermelon has sugar in it, it's not enough sugar to spike your blood sugar levels. The Glycemic Load (GL) of watermelon is 8, which is low. What this means is that the sugar in watermelon in not concentrated. Watermelon has enough water and fiber so that when you eat the fruit, the sugar does not get immediately absorbed. Watermelon will not spike your blood sugar levels in the same way candy and other high GL foods would.
Compared to other fruits, watermelon actually has a low sugar content.
If you are eating a whole watermelon, that is probably going to be an unhealthy amount of sugar. But if you only eat a couple slices of watermelon, then the amount of sugar you are consuming is insignificant and is totally healthy.
Watermelon Is Mostly Water
Watermelon is actually good for weight lose. The reason is that watermelon is mostly water. Around 92% of a watermelon is pure water. This water is naturally filtered by the plant and used to create it's fruit.
This is one reason why watermelon is so popular in the summer. It's a great fruit for hydration.
Eating a cup of watermelon is like drinking a 9/10ths cup of water. Water is 100% non-fattening and is actually really good for hunger suppression. Water contains zero calories, so almost all of what you consume when eating a watermelon doesn't have any calories in it.
This is why watermelon can be a useful fruit for those looking to lose weight. The large amount of water in the fruit will fill you up and make you feel satisfied, without adding to your daily caloric intake. It will prevent you from overeating.
You get the benefit of hydration, great taste, and nutritional value, while also helping cut down your cravings for other foods.
Watermelon Is Good For You
Most people do not get enough fruits and vegetables in their diets. Watermelon is a great fruit to add to a diet when looking to loose weight. Not only is it low in calories, but it also contains some really powerful nutrients.
Watermelons are rich in lycopene. This is a red carotene that is found in fruits such as the tomato and pink grapefruit. Lycopene is an antioxidant that has been linked to cancer prevention. It helps keep your eyes and heart free of disease and helps to keep your bones strong.
Watermelon is good for muscle soreness. If you workout, then the citrulline found in watermelon can help reduce how sore you feel after a workout. This will allow you to get back to the gym even faster, burning fat more quickly. More exercises means more calories burned.
Watermelon also contain some important vitamins, including vitamin C, vitamin A, and vitamin B6. Vitamin C is actually helpful in burning fat, so if you are worried about your weight, be sure to get your recommended daily amount of vitamin C.
Like all fruit, watermelon contains fiber, which helps with your digestive system and your circulatory system. Fiber is actually really great for weight loss.
Watermelon contains minerals, including potassium, manganese, magnesium, and copper.
Watermelon contains no fat, no cholesterol and no sodium.
How Much Watermelon Should You Eat?
This really depends on the rest of your diet. It is very important that you eat a good amount of fruits and vegetables. Plant-based foods should make up the majority of your diet. If you are attempting to loose weight, watermelon is a great fruit to eat.
Eating a few slices of watermelon every day will help fill you up with all that water that watermelons contain, but will keep your calories low. Watermelon will also improve your digestion and help in weight lose from all the fiber that it contains. Watermelon is not fattening.
As long as you don't over do it and eat half a watermelon a day, then you will be good.