Arugula Ice Cream Recipe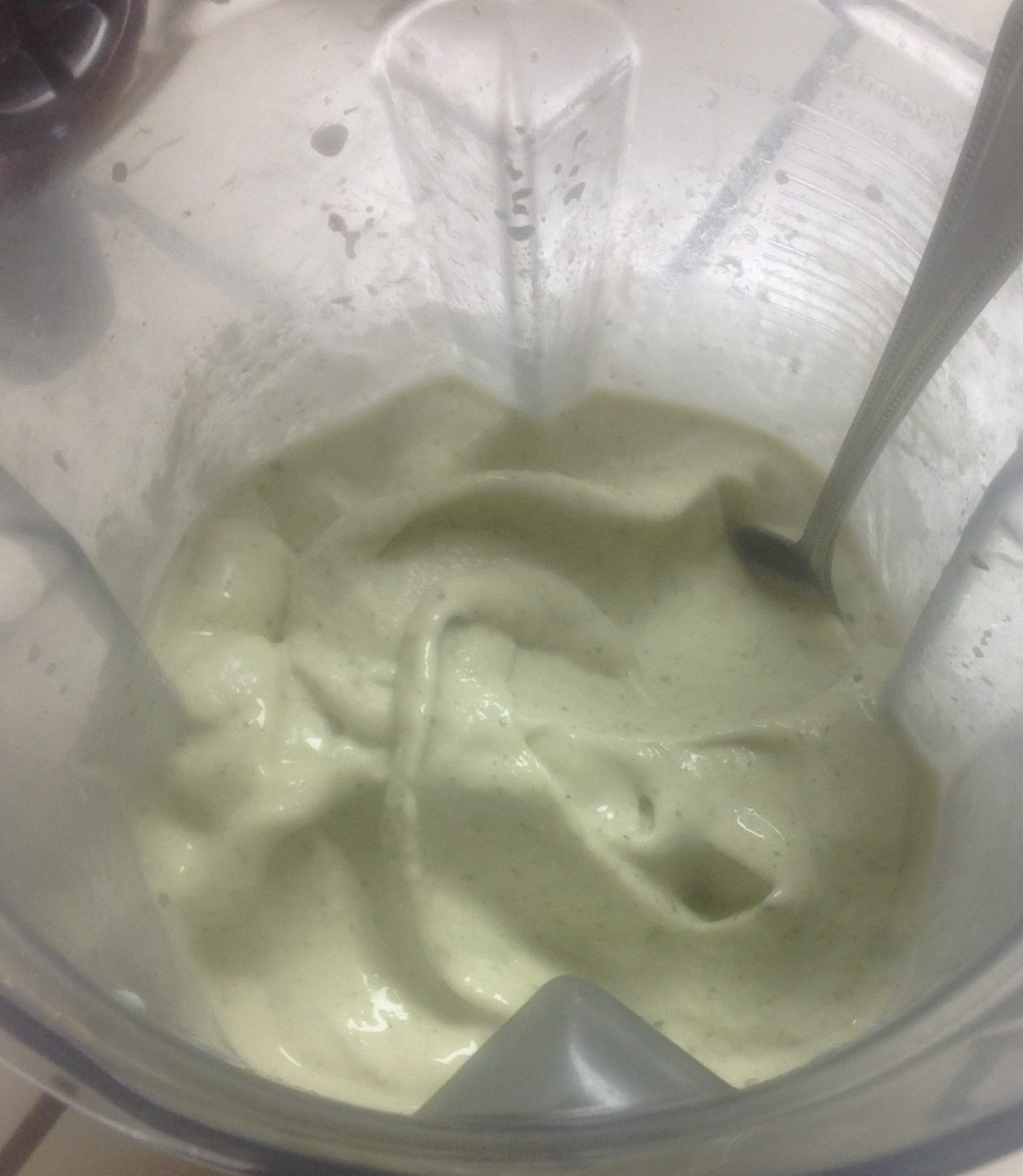 You read correctly, this is a recipe for arugula soft-serve ice cream. Well, not exactly, but pretty close. I made this last night kind of by accident. I was experimenting with making a cold smoothie and instead for something that is the same texture as soft-serve ice cream. As you can see in the picture above, I had to eat it with a spoon rather than drinking it like I would a regular smoothie.
This recipe avoids all the processed sugar and other artificial ingredients found in real ice cream.
The taste is sweet and mostly banana, but you can definitely taste the arugula. The walnuts add a little crunch. You can always add more or less arugula, depending on how strong you want the arugula flavor.
This recipe is one of those "weird but good" ideas. Like garlic flavored ice cream. Every year Gilroy, California has a garlic festival and one of the most popular treats is garlic flavored ice cream. Like this arugula ice cream recipe, the garlic flavor is noticeable but not overwhelming.
Maybe that's what I will try next time. Making a healthy garlic flavored ice cream alternative in my blender….
Ingredients:
4 Bananas (3 frozen, 1 fresh)
1/2 Cup Arugula
1/4 Cup Walnuts
1 Cup Milk – Whole
Directions:
I didn't actually measure anything out when making this smoothie/ice cream. I put in a fresh banana into my blender, then added about three more frozen bananas.
From there I poured in about a cup of milk and added a generous handful of arugula. I would say it was less than a cup of arugula, but might have been more than half a cup. You have to decide/experiment how strong you want the arugula flavor to be. Remember, arugula is not a mild flavor. You will notice it.
Finally, for a bit of crunch and some extra fat calories I added a handful of walnuts. Again, I can't say for sure this was 1/4 of a cup, but it was close to that.
Twists:
Add some dark chocolate chip pieces.
For extra creaminess add heavy cream or coconut cream.
Nutrition Info:
| Item | Calories | Protein | Fat | Carbs |
| --- | --- | --- | --- | --- |
| Smoothie | 763 | 18 | 29 | 125 |
| Bananas | 420 | 5.2 | 1.6 | 108 |
| Arugula | 3 | 0.3 | 0 | 0.5 |
| Walnuts | 191.25 | 4.5 | 19 | 4 |
| Milk – Whole | 149 | 8 | 8 | 12 |