My First Rice Smoothie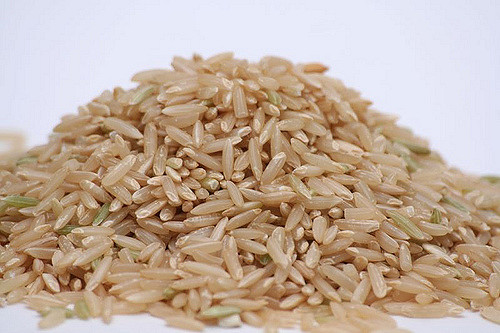 A few days ago someone requested that I add rice to my smoothie calculator. I thought about it for a second, because I have never put rice in a smoothie before. I've never blended rice at all. But then I realized that drinks like horchata or rice milk have rice in them and taste really good.
It seems like I've been missing out on a great, high-calorie ingredient all these years! Don't get me wrong, I eat plenty of rice. But now I'm going to have to start experimenting with blending rice.
Something similar happened to me a while ago when I first added tofu to a smoothie. I was skeptical, but it turned out good. With rice I'm a lot less skeptical because I keep thinking about horchata.
So I tried my first rice smoothie. I like brown rice for both the better nutritional value than white rice and the flavor, so that's what I used. I'm sure white rice is just as good and plan to experiment with both.
I wasn't attempting to make horchata with this rice smoothie recipe. I wanted something a bit thicker and different, but in the end I just kept thinking of horchata. I feel like I played it pretty safe with this recipe. I feel like rice, milk, bananas all go well together. I'm going to wait to try other ingredients, like orange juice. I'm not entirely sure that rice and orange juice are going to taste great together. But I'm excited to try. Experimentation is one of the best things about smoothie making. I have no doubt I will make some gross smoothies while playing around with rice and seeing what works and what doesn't work with it.
I'm happy enough with this recipe to post it here. I'm surprised how few calories it has. I was expecting the rice to add a bunch of calories. I'd definitely make it again.
Ingredients:
1/2 Cup Rice, Brown, Cooked
1 Banana
1 Cup Milk – Whole
2 Tsp Cinnamon
Directions:
Cook the rice. Let it cool, unless you are looking for a hot smoothie. I let mine cool, so I cannot say how good a warm or hot version of this drink would be.
Blend and drink.
Twists:
Use almond milk instead of cow milk. Or if you really want to keep with the rice theme, use rice milk.
Add as much or as little cinnamon as you desire. Nutmeg would be another great flavor to add.
You can sweeten with with your favorite sweetener. Something like brown sugar would work well.
Nutrition Info:
| Item | Calories | Protein | Fat | Carbs |
| --- | --- | --- | --- | --- |
| Smoothie | 373 | 12 | 9 | 65 |
| Rice, Brown, Cooked | 108 | 2.5 | 0.9 | 22.5 |
| Bananas | 105 | 1.3 | 0.4 | 27 |
| Milk – Whole | 149 | 8 | 8 | 12 |
| Cinnamon | 11.4 | 0.18 | 0.06 | 3.6 |