High Protein Mango Lassi Recipe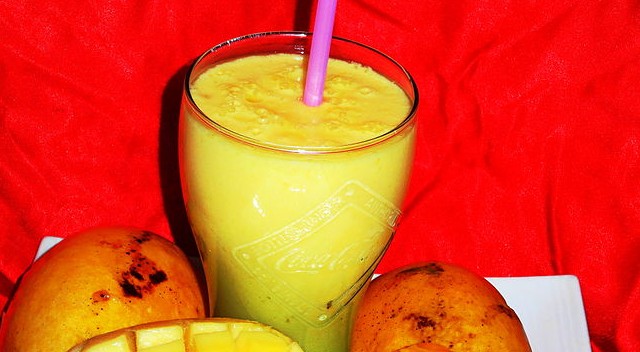 Lassi is an Indian yogurt desert. It is a mixture of yogurt, spices and fruit. Mango flavored lassi is one of the most common sweet varieties of lassi. It is commonly made with yogurt, spices, and a bunch of refined sugar. The following recipe skips the sugar and uses Greek yogurt, creating a healthy muscle building treat.
Ingredients:
1 Cup Greek yogurt
1 Cups Frozen Mango
1 Scoop Vanilla Protein
1/2 Frozen Bananas
1/2 Cup Milk
Directions:
You can either use frozen fruit or unfrozen fruit. If you use unfrozen fruit, you should refrigerate the lassi for at least an hour before consuming, as it is best cold.
Add everything into a blender. Place milk in before the yogurt, as the ingredients will blend better with a liquid base rather than a semi-liquid base.
Blend until smooth.
Refrigerate everything that you do not consume right away.
Twists:
This is a sugar-free recipe. Though the banana adds some sweetness, the result can be a bit too sour for some. If that is the case, add honey or sugar to make the taste more dessert like.
The banana is there mainly for added sweetness. Feel free to exclude it, as the only fruit in a traditional mango lassi is mango.
Add spices! A traditional lassi will have ground cardamom or possibly rose water.
Nutrition Info:
| Item | Calories | Protein | Fat | Carbs |
| --- | --- | --- | --- | --- |
| Smoothie | 476 | 53 | 6 | 57 |
| Greek Yogurt | 130 | 23 | 0 | 10 |
| Mango | 99 | 1.4 | 0.6 | 25 |
| Protein | 120 | 24 | 1 | 3 |
| Bananas | 52.5 | 0.65 | 0.2 | 13.5 |
| Milk | 74.4 | 3.85 | 3.95 | 5.85 |