Pecan Smoothie Recipe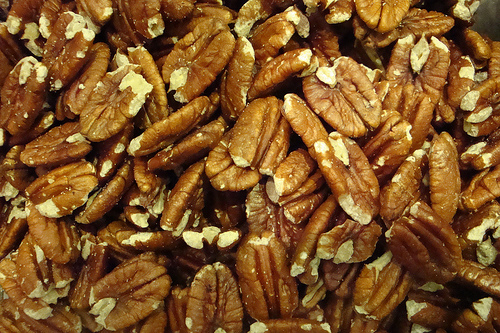 This is a great pecan smoothie recipe. The strong flavor of pecans goes really well with the more subtle sweet flavors of papaya and bananas. The texture is smooth with bits of pecan here and there.
I made this last night after coming home from work. I was in the mood for a smoothie with some nuts in it. Recently I've been using peanut butter, but saw I had some pecan pieces used for baking laying around. I really like pecans. Pecan pie might be my favorite pie, and pecans go great in a smoothie. I also have a papaya and some bananas, and that right there creates a sweet taste, but also a very pleasant smooth texture. So I did what all smoothie lovers do and experimented with the ingredients I had on hand. I have to say, it turned out great!
I used chopped pecan pieces because those are what I had laying around, however, whole of halved pecans work just as well. They all get blended in the end, so it doesn't really matter. You can also use pecan butter for a smoother texture. If you use anything larger than pecan butter you may end up with little whole bits of pecan. Your blender will turn these into small enough pieces that you wont have to chew them, but you can if you wish to do so. I enjoy being able to bite down on the little bits of nut while drinking my smoothie.
If you like pecans I definitely recommend this smoothie recipe. I'll probably be making it again tonight.
Ingredients:
1/4 Cup Pecans
1/2 Cup Papaya
3 Bananas
1/4 Cup Heavy Cream
3/4 Cup Milk
Directions:
The bananas I used were straight from the refrigerator. They added a nice coolness to the smoothie. Frozen bananas would work also, or even a single frozen banana and two none frozen ones. It's all up to how cool you want the smoothie to be. I like a bit of cool in my smoothies.
Blend everything up. The longer you blend the smaller the pecan pieces will be. If you want no noticeable pecan pieces, blend for a longer time or just use pecan butter.
Twists:
Use other nuts. Walnut would be good for example.
As stated above, freezing the bananas or papaya could be a good idea.
To make this pecan smoothie vegan you can use coconut milk and coconut cream as substitutes for milk and heavy cream.
Nutrition Info:
| Item | Calories | Protein | Fat | Carbs |
| --- | --- | --- | --- | --- |
| Smoothie | 834 | 14 | 47 | 103 |
| Pecans | 171 | 2.25 | 17.75 | 3.5 |
| Papaya | 31 | 0.5 | 0 | 8 |
| Bananas | 315 | 3.9 | 1.2 | 81 |
| Heavy Cream | 205 | 1.25 | 22 | 1.5 |
| Milk | 112 | 5.8 | 5.9 | 8.8 |