Valentines Day Blueberry Chocolate Smoothie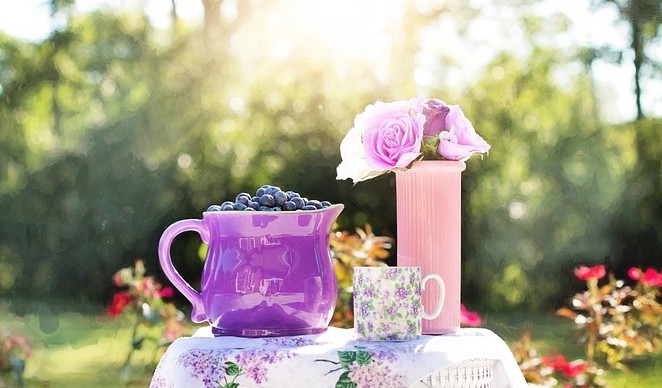 Well, Valentine's Day is tomorrow, and that means cup cakes, cakes, chocolates, and other sweets, right? But if you are on a diet or trying to stay healthy, none of that is an option. Instead, you can try this blueberry chocolate smoothie. It's got a rich, defined flavor, not too sweet. And it's got a ton of health benefits.
Blueberries, cocoa powder, chia seeds are all super-foods highly recommended by nutrition experts. The smoothie is low in sugar and high in pleasure.
Just because you are trying to eat healthy does not mean you should not enjoy the holiday. Make this smoothie as a healthy breakfast or dessert for your loved on.
And if you forgot about Valentine's Day, this smoothie can be made in less than five minutes.
Ingredients:
1 Cup Frozen Blueberries
1 Tbsp Cocoa Powder
1 Tsp Chia Seeds
1 Cup Hazelnut Milk
Dash of Cinnamon and/or nutmeg
Directions:
Place milk, powder, berries and all other ingredients in a blender and blend. Add milk in first to make sure that the powders do not get stuck to the bottom of the blender.
Twists:
There are just so many different ways to alter this blueberry and chocolate smoothie recipe. Here are just a few ideas.
Use chocolate flavored protein powder rather than cocoa powder. This is greatly improve the protein content of the smoothie.
For even more protein use a different type of milk.
For a sweeter taste add a banana or some agave.
Try doing a 1/2 cup blueberries and 1/2 cup strawberries. This will make the smoothie into more of a red color, which is a bit more appropriate for Valentine's Day.
Nutrition Info:
Here is the nutritional information for this blueberry and chocolate smoothie, but if you look at the 'twists' section above you can find some easy ideas to change the nutrition of this smoothie to meet your goals.
| Item | Calories | Protein | Fat | Carbs |
| --- | --- | --- | --- | --- |
| Smoothie | 225 | 5 | 6 | 45 |
| Blueberries | 85 | 1.1 | 0.5 | 21 |
| Cocoa Powder | 12 | 1 | 1 | 3 |
| Chia Seeds | 18 | 1 | 1.2 | 1.5 |
| Hazelnut Milk | 110 | 2 | 3.5 | 19 |