Vanilla Milkshake Protein Smoothie Recipe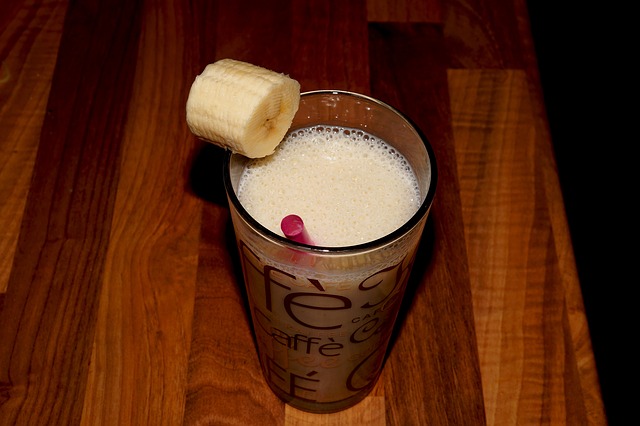 This recipe is for a healthy milkshake-alternative protein smoothie with a strong vanilla flavor. It's similar in consistency to a milkshake, but is actually healthy. Empty sugar-calories found in traditional milkshakes are not going to help you get fit or healthy.
This milkshake alternative will help you gain or maintain muscle as it had a large amount of protein and calories. It will also boost your immune system with vitamins C, E, A and selenium.
A large McDonals McCafé vanilla shake has 820 calories, 18g of protein, 23g of fat and 135g of carbs. Some of the main ingredients are sugar and corn syrup. A Burger King vanilla milk shake (20oz.) has 930 calories, with 17g of protein, 23g of fat and 163g of carbs. I did not see a list of ingredients on the Burger King website. By making your own milkshake alternative drink you are getting more healthy calories, more nutrition, and more protein. I love milkshakes, but I love the gains even more, that's why I drink healthy alternatives.
Ingredients:
1 Vanilla Boost Plus
1/2 Cup Milk
1 Scoop Vanilla Protein
1 tbsp Coconut Oil
1 tbsp Almond Butter
1 tbsp Greek Yogurt
1/2 Cup Oats
1 Banana
Directions:
If possible, grind the oats up separately before adding them to the blender. You should be able to do this in a coffee grinder if you own one.
Add the ingredients into a blender. Try not to add the powder, such as the protein in first as it tends to clump to the bottom of the blender if you do that.
Blend and say goodbye to unhealthy milkshakes forever.
Twists:
Add ice cubes to make the shake cold like a true ice-cream milkshake.
Try other flavors of Boost Plus and protein powder to create different flavored milkshake alternatives; chocolate, strawberry, etc.
Nutrition Info:
| Nutrition | Smoothie | Boost Plus | Milk | Protein | Banana | Coconut Oil | Almond Butter | Greek Yogurt | Oats |
| --- | --- | --- | --- | --- | --- | --- | --- | --- | --- |
| Calories | 1235 | 360 | 73 | 130 | 105 | 116 | 101 | 50 | 300 |
| Protein | 64g | 14g | 4g | 24g | 1g | 0g | 2g | 6g | 13g |
| Fat | 48g | 14g | 4g | 1g | 0g | 14g | 9g | 1g | 5g |
| Carbs | 140g | 45g | 6g | 5g | 27g | 0g | 3g | 3g | 51g |