High Protein Smoothie Ingredients Other Than Protein Powder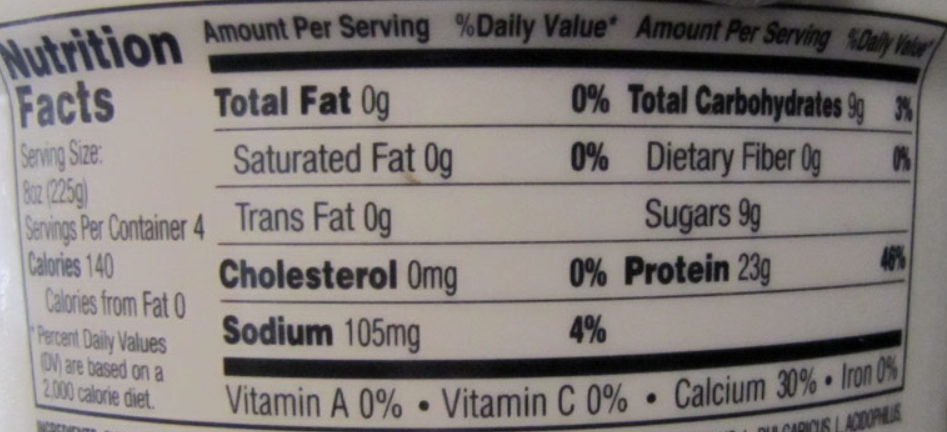 Whey protein powder is a great way to get an increase in your total daily protein intake. It is actually a really good value in terms of money spent for the amount of protein you get. However, not everyone wants additives in their smoothie or shake. Some people would prefer whole foods to be their only source of protein and nutrients. Others might not like the taste of protein powder.
Typical whey protein will have about 24 grams of protein for every 120 calories. This is a higher ratio than just about any food, but there are plenty of foods that do have a great protein to calorie ratio.
Here is a list of great protein sources that are not protein powder. You can use these smoothie ingredients as an alternative to protein powder in your shakes. These are the top protein to calorie ratio ingredients you can use.
Dairy Products
Whey comes from milk. If you want a whole food substitute for whey protein, milk and other dairy products are a great place to start. Milk has 8 grams of protein per 100 calories. This is not as condensed as protein powder, but still really great.
Greek yogurt is even better. It is right up there with protein powder in terms of how much protein you get per calorie. Plain Greek yogurt has 23 grams of protein for every 130 calories!
Leafy Greens
Leafy greens are some of the healthiest foods in the world. They also have a very high ratio of protein to calories. Spinach leaves has about 1 gram of protein for every 7 calories. Though they are healthy for your and pack a lot of protein per calorie, leafy greens do not have a large amount of calories or protein in total, so they usually cannot be relied upon for ones daily protein intake. That being said, adding some green to a smoothie is always a good idea.
Check out the leafy green comparison to see which green is best for your fitness goals.
Nut Butters
Nuts and nut butters are a great source of fats, but they also provide a good amount of protein. They are especially great if you are looking to bulk up as they have a high concentration of calories for a small amount of food.
If you want a high concentration of protein to calories, check out hemp seed butter. It has 5.5 grams of protein for every 73 calories. Other nut butters are not far behind this ratio.
Take a look at the nut butter comparison table to see how other nut butters compare.
Vegetarian Milks
Soy and soy milk had a good amount of protein. In fact, some soy milk brands will have just as much protein as animal milk. A common soy milk brand might have 8 grams of protein for every 110 calories. This is right around the same as cow milk.
Other types of vegetarian milks are not as great as soy milk in terms of protein content, but you can sometimes find fortified almond milks and other types of milk that have protein added to them.
See how your favorite veggie milk compares.
Cocoa Powder
Though you may want to avoid protein powders, you might still want a chocolaty taste to your smoothie. Cocoa powder is actually pretty high in protein. A tablespoon will have about 10 calories and a gram of protein. That's actually a really good ratio of protein to calories. A simple smoothie might be a cup of milk a couple bananas and some cocoa powder.
Seeds
Flax seeds, chia seeds and hemp seeds are all high in protein. Flax seed meal is common at most health food stores and can be added to a smoothie in the same way a protein powder might be added. A tablespoon of flaxseed has about 2 grams of protein and 55 calories.
Other Types of Protein Powder
If you are looking for smoothie recipes without protein powder because you are a vegetarian or allergic to certain types of protein, consider using a different type of protein powder. Whey protein is not the only type of protein powder available. You can get vegan soy or rice or pea protein or even hemp protein. Adding any of these to your shake will make hitting your daily protein goal a bit easier.